Bob's Red Mill is a food manufacturing company that specializes in making natural, organic and gluten-free whole grain products. Their products can be found in various countries including the United States, Canada and other locations like the Caribbean. Currently, they produce more than 400 products that are prepared using special quartz millstones. Apart from zero-gluten whole grains, they also make baking mixes from nuts, seeds, beans, spices, herbs and dried fruits.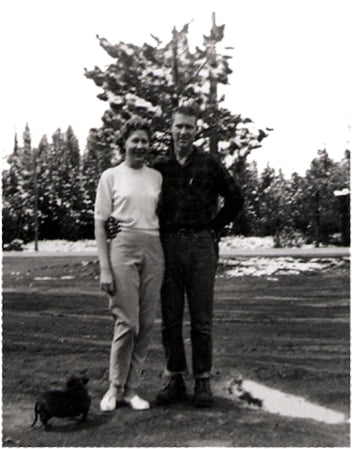 The company's story begun when Bob first met his wife Charlee on a blind date back in 1952. About 26 years later, they mutually founded Bob's Red Mill as a symbol of their love. It was Charlee who first came up with the idea of starting a whole grain business. During the early 1960's, she embarked on a journey to create healthy food for her family by serving them only wholesome, natural products like fruits, beans, vegetables and whole grains.
According to Bob, the first whole grain bread that came from their 5-acre farm in the 1960's, prepared by Charlee, was the tastiest loaf he has ever eaten. During its inception, Charlee played a significant role in coming up with the company's cooking formula, something that helped them gain a massive following in their local community. She also performed other duties in the company such as packaging items by hand.
To this day, the couple still love spending time at their whole grain stall. You can occasionally find them there, talking to customers or enjoying a hearty breakfast. Their passion for gluten-free whole grain products seems to be growing stronger by the day.
For more than 30 years, Bob has been spearheading the company's goal of providing customers with the highest possible standard of foods. His drive for healthy living has never faded, despite the passing of time. Bob plays a key role in the business' daily operations, with his "honest-to-goodness" approach also being shared by the employees. It's this dream of creating the best nutritional whole grain products that has helped Bob's Red Mill over the years, making them the number one health food company in America.
Company Info
A report released in 2005 showed that Bob's Red Mill's yearly revenue was between $30 million and $50 million. Two years later, they announced that they were moving their headquarters, manufacturing and storage facility to a new 325,000 square foot building, moving away from the original 130,0000 square foot facility. Their new facility was expected to triple their manufacturing capacity. Recently, the company expanded distribution into Japan and are also in the process of launching distribution channels in other foreign countries.
Gluten-Free Products
This manufacturer is dedicated to providing nutritious gluten-free cereals, gluten-free flours, grains and baking mixes for those who are sensitive to the protein. Having decades of experience in the industry, it's safe to say that they know quite a lot about what it takes to make the best whole grain products in the market.
To ensure the integrity of their gluten-free products, the company adheres to a motto of adding only less than 19 parts per million of gluten to their products. They've even built a new gluten-free facility with unique machinery to ensure all products meet the highest standards of purity. By going t0 these lengths, they guarantee that individuals with wheat allergies, gluten intolerance or celiac disease can trust their products.
To ensure the oats stay fresh and clean during the production stage, they always test each batch individually for quality control immediately after it arrives from the farm, and again after packaging in the gluten-free factory.
The company is constantly looking for innovative methods of helping people enjoy authentic whole grain foods, which is probably the reason why they have a massive inventory consisting of more than 300 items. They offer a variety of natural, organic and gluten-free products that are suitable for all groups of people, particularly those who have been diagnosed with Celiac Disease.
The Facility
Bob's Red Mill's gluten-free factory is equipped with some of the latest mixers, high-speed packaging lines and mills, including a specially designed piece of equipment that's used for packing single servings Oatmeal Cups that do not contain gluten. All their machines are run and managed by competent staff members who are always dedicated to manufacturing the best gluten-free products on the market.
Their team of mechanics and electricians strive to make things run smoothly, while the shop team also continues to perform amazing work and help customers get exactly what they want. Whether it's running the automated 25 pound bulk bag packaging line, or simply jump-starting the newest gluten-free mixer they have, Bob's Red Mill constantly works hard to provide customers with quality products that do not contain gluten.
Employee Ownership Plan
In February 2010, Bob Moore relegated ownership of the company to employees using a staff stock ownership program. This policy was implemented on Moore's 81st birthday. Rather than receiving presents like most people, he reversed the roles by giving away his greatest gift which was the business. Bob surprised all of his employees by providing them with total ownership of the Bob's Red Mill brand through an initiative known as the Employee Stock Ownership Program or ESOP.
Those who know Bob personally say this is yet another manifestation of his kind-hearted nature. The founder himself admits that it was just "the right thing to do". He has individuals who've been working for him for close to 30 years and each one of them deserves the gift of ownership which was awarded by Bob himself. As for customers, they can be assured that every employee is still committed to sourcing, grinding, testing, packing, labeling and selling the best products on offer.
The Non-GMO Promise
Bob's Red Mill has made a commitment to customers that all ingredients sourced from suppliers are safe to consume and contain no dangerous substances made from modern biotechnology. Though they've always been practicing this model, the company is now making their commitment visible on all of their packaging so that customers can make purchases with confidence.
The company has cultivated many trusted relationships with farmers and suppliers alike, generally requiring them to provide proper documentation that proves ingredients haven't been genetically modified in any way. Moreover, for assurance purposes, they always conduct thorough audits on suppliers every year.
Sources