Eating a gluten-free breakfast can be a delicious and nutritious way to kick start your day, these meals are easy to prepare and packed with essential vitamins required for a healthy body. Below are some sumptuous gluten-free breakfast recipes that you can try at home.
Gluten-Free Breakfast Recipes
1. Zero-Gluten Banana Bread
This healthy morning treat is packed with potassium and can also help alleviate bloating and water retention conditions. After preparation, simply slice your loaf and store in a nice dry place for a breakfast which you can take on the go. One can even sweeten things up by adding a mixture of honey and brown sugar for extra flavor/texture. On average it takes around 50 minutes to prepare the banana bread.
Ingredients
1/ 4 cup maple syrup, melted butter and coconut flour
1 teaspoon cinnamon
1 cup millet flour
2 teaspoons baking powder, vanilla extract
2 eggs
3 ripe mashed bananas
How to Prepare
Preheat an oven to 350 (F) then place a loaf pan on the surface with some parchment paper, or alternatively spray some nonstick solution at the top.
Gently apply some grease on your cooking pan. Then in a medium-sized bowl pour in the banana mash and stir.
In another bowl mix all the remaining ingredients and blend well till all lumps are gone. Whisk vigorously so that the components can combine.
Pour some butter into the pan and bake for around 1 hour. When ready it should feel sturdy and crackly with a golden brown color on top. To test if your meal has been fully cooked insert a toothpick at the center, it must come out clean without feeling sticky on the sides.
Let the meal cool for about 5 minutes before serving, this will make slicing even easier.
The banana-flavored bread can serve 6 people.
2. Raspberry and Cranberry Mix Smoothie
It's a low fat smoothie packed with vitamin c to commence your day on a high note .Though raspberry is the main ingredient, you can still substitute it with strawberries or blueberry for a different taste.
Ingredients
100ml milk
175g defrosted raspberries
200ml fresh natural yogurt
200ml cranberry juice
1 tablespoon caster sugar for tasting and mint to serve
How to Prepare
Chop your raspberries to small pieces then place inside a bowl
Gently add in all the other ingredients and stir until a thick paste is formed
Pour the mixture into a blender and leave for about 5 minutes
This smoothie makes one large serving
Tip: If you want to make it even healthier, sprinkle a half tablespoon of flax seed extract on top before adding into the blender. Pour into a glass and serve with fresh mint topping.
3. Dairy-free Pumpkin Pancakes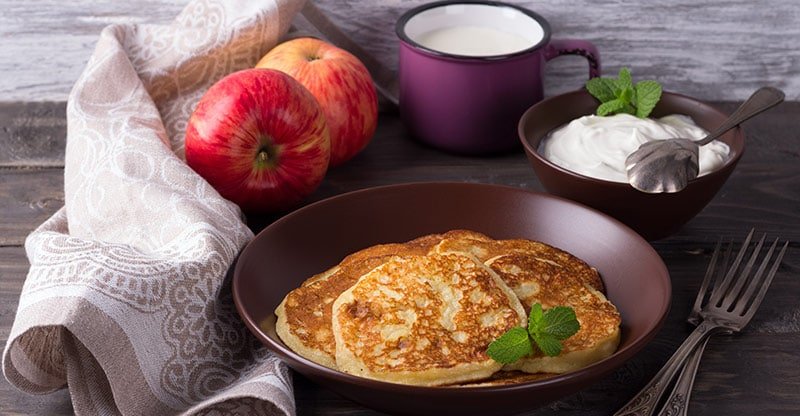 These gluten-free pancakes can add real nutritional value to your food because they are a real source of beta-carotene, something that the body needs to make Vitamin A. An important antioxidant for enhanced vision, muscular health and protein synthesis. You can either use plain pumpkin or mix it together with chopped pecans or apples for a better taste.
Ingredients
1/4 teaspoon guar gum
1/2 teaspoon salt
1 teaspoon baking soda, vanilla extract and allspice solution
1 1/2 teaspoons grounded cinnamon
1 1/2 cups canned smooth coconut milk
2 tablespoons apple cider vinegar, olive/canola oil and zero-gluten baking powder
4 tablespoons brown sugar
1 cup tinned pumpkin puree
2 cups all-purpose gluten-free flour
3 beaten eggs
Cooking oil for the pancakes
Optional ingredients:
1 cup chopped pecans
1 medium-sized finely chopped apple
How to Prepare
Combine pumpkin, coconut milk, eggs, vanilla, vinegar and oil in a medium-sized bowl then beat till it forms a smooth creamy paste.
In another bowl, mix sugar, baking soda, salt, baking powder and guar gum with gluten-free flour. Stir everything until well blended.
Combine the two bowls together and continue mixing.
Pour 1/2 teaspoon cooking-oil into a robust skillet then heat over medium temperature
Pour 1/4 cup of pancake dough into the pre-heated skillet and smoothen out with a spoon. Cook each side evenly until golden brown, it take about 2-3 minutes to prepare both sides. For the best yields, remember to add 1/4 to 1/2 teaspoon oil into the preheated skillet before pouring batter paste. Serve when still warm.
If you choose to use apples or pecans then sprinkle on just one side of the pancake. Flip and cook for a few minutes so that the ingredients can hold on. The recipe is perfect for everyone, both young and old.
4. Almond, Cashew Nut and Skillet Pear Cream
This is a natural delicious creamy breakfast with numerous health benefits to the consumer. It helps reduce cholesterol levels inside the bloodstream and also contains sufficient fiber for better digestion of food. Top this healthy cereal with a few dried cherries for a hearty and satisfying morning meal.
Ingredients
1/4 teaspoon almond chops, salt
1/2 teaspoon ground cinnamon
1 tablespoon fresh butter
2 tablespoons sugar, water
1/4 cup toasted almonds, dried cherries
Half cup cashew nut cream
2 cups sliced ripe pear, fat-free milk
Cooking spray
How to Prepare
Pour milk into a medium-sized saucepan over moderate heat
In a sizable food processor, grind your cashew nuts for about 5-10 minutes till they start releasing their own natural oil. Continue beating until a smooth paste is formed and there are no more lumps.
Once it takes the form of thick cashew butter, add in some water then mix again to combine.
Heat a standard pan over medium heat and coat with some cooking spray. Place the chopped pear, sugar, cherries, almonds and cinnamon. Bring everything to a simmer and boil for 4 minutes. There's no need to peel off the ripe pears since the skin adds more flavor and texture.
Stir in the cashew nut paste and then add hot milk while continuing to mix frequently with a spoon. Bake for around 20 minutes until golden brown and remove from oven. Let it cool down before serving.
5. Hot Quinoa Cereal with Maple Syrup and Apples
Quinoa flakes are gluten-free and a healthy substitute for wheat which is known to contain this substance. When blended properly it can produce a rich smooth texture which is not just delicious but packed with nutrition as well.
Ingredients
1/4 teaspoon nutmeg powder
1/2 teaspoon grounded cinnamon
A pinch of salt
1 teaspoon gluten-free vanilla extract
2 tablespoons sugar, butter
2/3 cup quinoa flakes
3 tablespoons fresh maple syrup
1/4 cup water
2 cups chopped apples
2 cups water
An ounce of ground cloves
How to Prepare
Combine 1/4 cup water and apple in a skillet pan then bring to boil. Stir in nutmeg, cinnamon, and cloves as you reduce heat. Simmer for 4 minutes until tender. Remove pan from heat; unseal and let it stand for a few minutes.
Boil 2 cups of water in a larger saucepan over high temperature, add in salt and quinoa flakes then cook for 2 minutes, all the time while stirring frequently. Take out from heat, put in sugar and allow to rest for about 5 minutes until slightly thickened.
Meanwhile, return your apple mixture to moderate heat. Add syrup, gluten-free vanilla and butter as it slowly melts to a paste. Serve the syrup over cereal.
Sources