Fall is in the air, and though it may still be warm in some parts of the country, the nights are cooling down, and you can start to feel a chill in the air. The leaves are turning beautiful shades of red, orange and yellow, and we start to think about delicious comfort foods; like gluten-free soups.
Gluten-Free Soups for Fall
One of my favorite fall dishes is a hot, steaming bowl of soup. There are so many different varieties that I could eat soup each night of the week. Prior to my diagnosis with Celiac Disease, I would often stop by a restaurant or the grocery store to pick up a bowl of soup to go, for lunch, or a quick dinner. However, after my diagnosis, I became concerned about eating prepared soups.
The Celiac Disease Foundation lists soups and sauces as one of the biggest sources of hidden gluten. Many companies use wheat flour as a thickener, or modified food starch which contains gluten. Another common ingredient in soup is bouillon, which usually contains gluten, and many soups include pasta (like chicken noodle soup) or a cream base that contain wheat. Most commercially available broths contain wheat, and this is a very common base for soups that are made in restaurants.
Hot soup that is served in grocery or specialty store is tempting, but it is often difficult to find the list of ingredients. And in restaurants, most servers would be hard pressed to tell you all the ingredients in the soup of the day. So, unless I am dining at a gluten-free restaurant, I avoid ordering soup.
Gluten-Free Soup Brands
Fortunately, I still eat a lot of soup at home, and have many choices. In general, I prefer to cook my soups from scratch, but that is not always practical. If I am in a hurry, travelling, or working long hours, I enjoy the convenience of commercially prepared soups. There are several brands of gluten-free soups now available in most grocery stores, or on Amazon. My favorite brands are listed below:
Progresso
Progresso was one of my favorite brands of canned soup before I was diagnosed with Celiac. Fortunately, Progresso introduced a line of gluten-free soups years ago, and have 26 different flavors now. These include many favorites like Lentil, Southwest Style Black Bean & Vegetable, Creamy Mushroom, Savory Chicken & Wild Rice, Beef Pot Roast with Country Vegetables, and Slow Cooked Vegetable Beef. I usually keep a few cans with me at work, especially during the fall and winter months, in case I need a quick lunch. I round out the meal with some rice crackers and string cheese.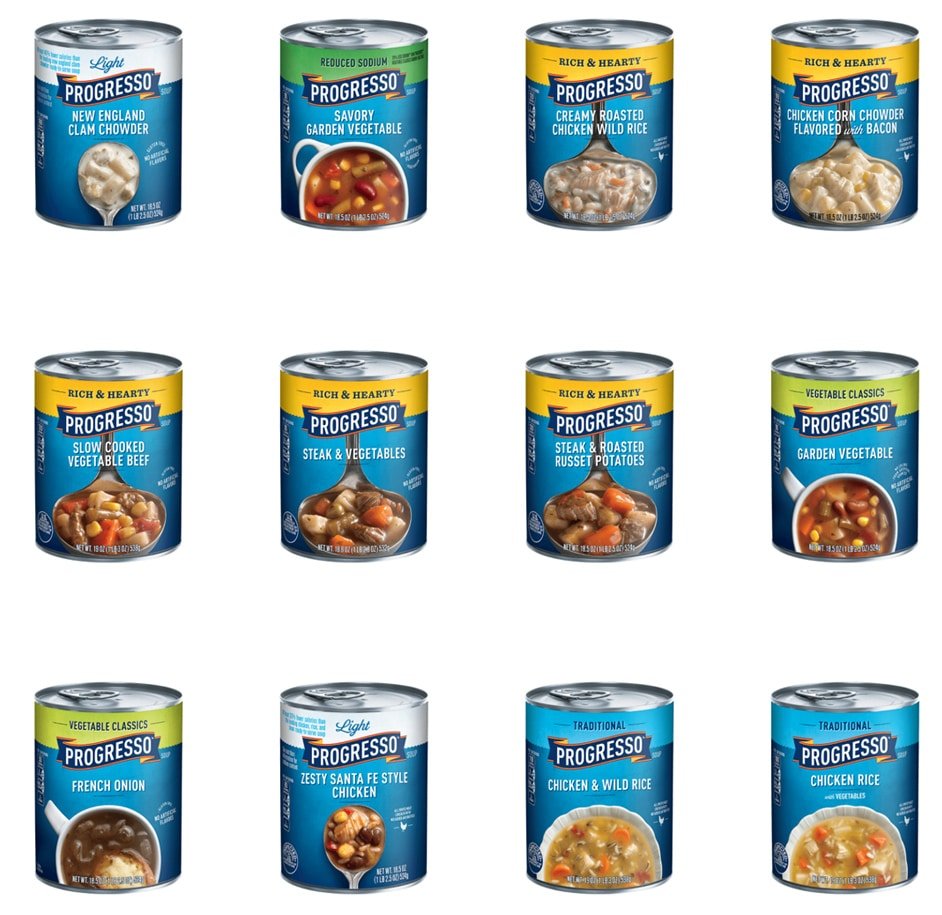 Amy's
Amy's also makes some delicious gluten-free soups. Some flavors are available in traditional cans, and include organic flavors like Split Pea, Chunky Tomato Bisque, Fire Roasted Southwestern Vegetable, Quinoa Kale & Red Lentil, and Hearty French Country Vegetable. Amy's also offers several varieties of frozen soup that really do taste fresher than their canned soup. Just pull it out of the freezer and microwave for a great lunch or light dinner. I really like both the Broccoli Cheddar and Corn & Potato Chowder frozen soups, and always keep a box or two in the freezer. These are hearty enough to serve for dinner with a green salad and toasted gluten-free bread.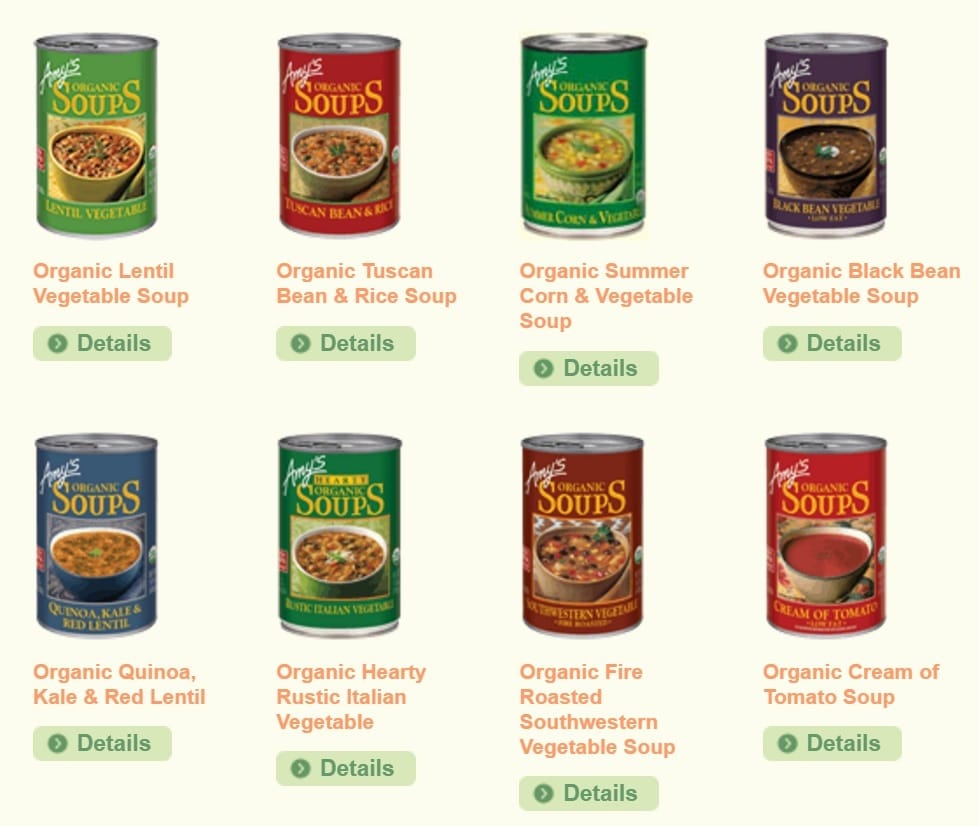 Gluten Free Café
Gluten Free Café is a company that prides itself on maintaining the highest standards for gluten free products. All of Gluten Free Café products are certified by the Gluten-Free Certification Organization (GFCO). In addition, all Gluten Free Café products are fortified according to the FDA's science-based recommendations, with essential B Vitamins (Thiamin, Riboflavin, Niacin, and Folic Acid), Vitamin D, minerals (Calcium and Iron), and Inulin, which provides the benefits of fiber.
Currently, Gluten Free Café offers four varieties of soups, including Chicken Noodle, Veggie Noodle, Black Bean and Cream of Mushroom.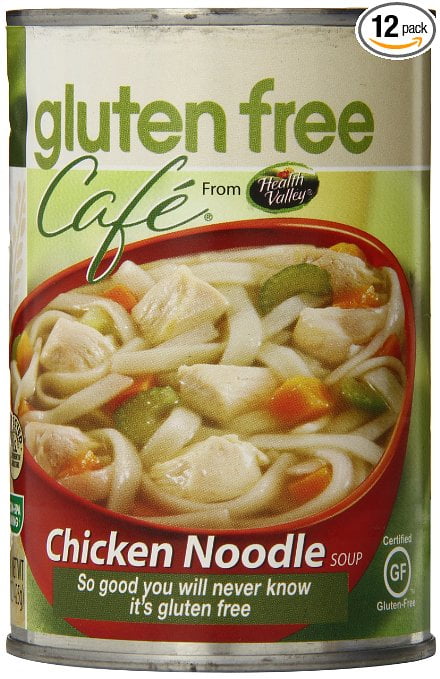 Gluten-Free Soup Recipes
1. Sweet and Spicy Carrot Soup
Homemade soups are definitely the most nutritious, because you can use fresh ingredients, control the sodium and ensure that the soup is gluten free. So if you have the time, try one of these delicious recipes. I usually make a big pot every weekend after stopping by the local farmers market.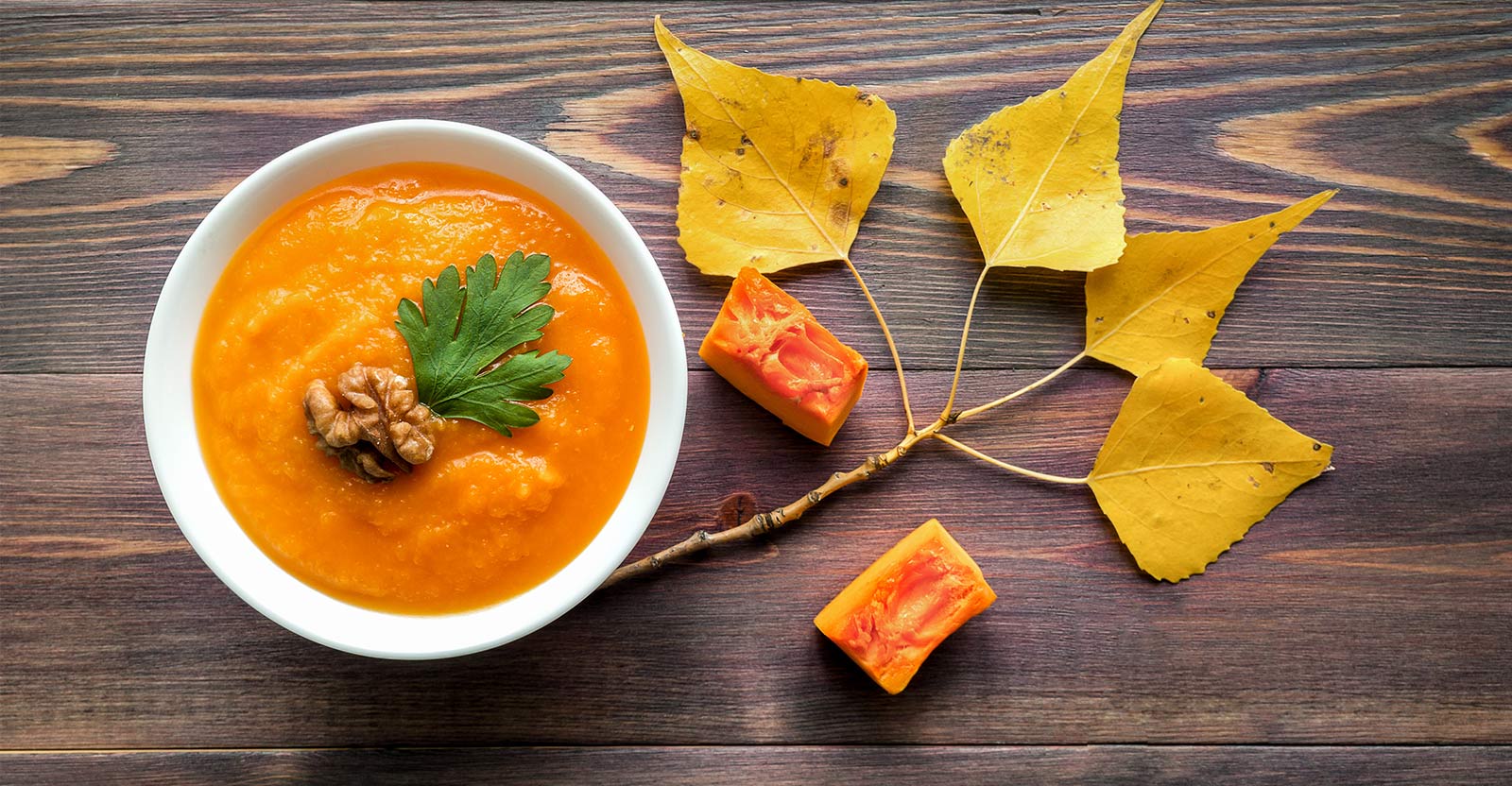 Ingredients
1 tablespoon olive oil
1/3 cup sliced green onions
3/4 pound (1/2-inch-thick) slices carrot
2 teaspoons minced peeled fresh ginger
2 teaspoons chopped Fresno chile
1 1/2 cups unsalted chicken stock
1 1/2 cups water
stems from 1 bunch cilantro, tied with kitchen twine
1/2 cup light coconut milk
1 tablespoon brown sugar
1 1/2 teaspoons fresh lime juice
1/4 teaspoon kosher salt
Sliced Fresno chile
Sliced green onions
Preparation
Heat olive oil in a saucepan over medium heat. Add 1/3 cup sliced green onions; cook 3 minutes. Stir in carrot, ginger, and 2 teaspoons chopped Fresno chile; cook 2 minutes. Add chicken stock, water, and cilantro stems to pan; simmer 30 minutes or until carrots are soft. Cool 10 minutes; discard cilantro stems. Combine carrot mixture, coconut milk, brown sugar, lime juice, and salt in a blender; process until smooth. Return to pan; heat over medium-low until warm. Serve with sliced Fresno chile and sliced green onions.
(Katie Barreira, Cooking Light, September 2015)
http://www.myrecipes.com/recipe/sweet-spicy-carrot-soup
2. Creamy Chicken Tortilla Soup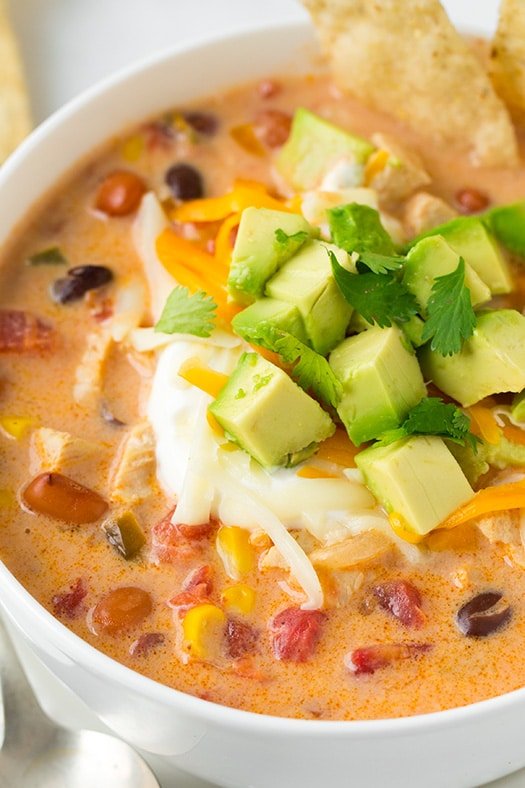 Ingredients
1 Tbsp canola oil
1 1/2 cup chopped yellow onion (1 medium)
1 Tbsp finely minced garlic (3 cloves)
1 jalapeño, seeded and chopped (1/4 cup)
1 (32 oz) carton low-sodium chicken broth
1 tsp of each chili powder, cumin, and paprika
Salt and freshly ground black pepper, to taste
1 1/4 lbs boneless skinless chicken breasts*
1 (15 oz) can diced tomatoes with green chilies
1 1/3 cups milk
1/3 cup masa harina**
1 (15 oz) can black beans, drained and rinsed
1 (15 oz) can pinto beans, drained and rinsed
1 cup frozen corn
2/3 cup heavy cream
1/4 cup sour cream
For serving
Shredded cheese, sour cream, diced avocados, cilantro, lime wedges, corn tortilla chips
Directions
Heat canola oil in a large pot over medium heat. Once hot, add onion and jalapeño and saute 3 minutes, adding garlic during last 30 seconds.  Add chicken broth, chili powder, cumin, paprika and season with salt and pepper to taste. Add chicken breasts and bring mixture to a boil, then reduce heat to medium, cover pot with lid and gently boil until chicken has cooked through, about 15 minutes.
Remove chicken and allow to rest 5 minutes. Meanwhile, add diced tomatoes with green chilies to pot. Then, in the 2-cup liquid measuring cup used to measure milk (or a bowl), whisk together milk and masa harina until well blended. Pour mixture into pot and cook, stirring frequently, until mixture boils and thickens slightly (it won't thicken much). Dice chicken and add to pot, then add black beans, pinto beans and corn. Then stir in cream and sour cream and cook until heated through.
Serve warm topped with cheese, sour cream, avocados, cilantro, limes and tortilla chips.
*If chicken breasts are fairly thick, slices them horizontally through the thickness to create two portions. They will cook faster this way and be more tender as they'll cook more evenly.
**Be sure the masa harina you're using is labeled as gluten-free, same with the tortilla chips. Masa harina can be found in the Latin section of the grocery store.
Recipe Source: Cooking Classy
3. Beefy Bean Soup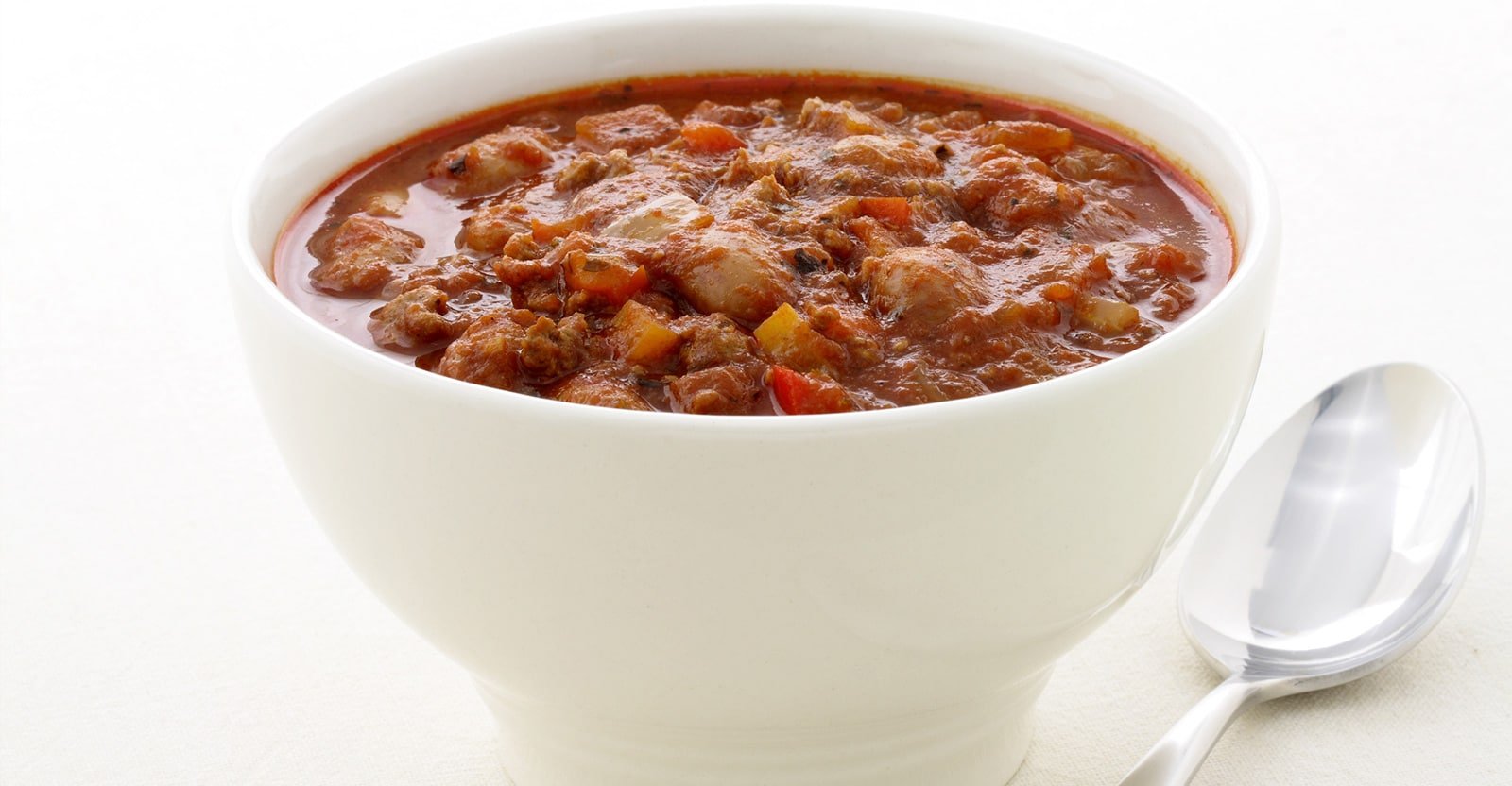 Ingredients
1 tablespoon vegetable oil
3/4 pound beef stew meat, cut into 1-inch pieces
1 medium onion, chopped (1/2 cup)
3 cups gluten free beef broth (from 32-ounce carton)
1 cup dry white wine or water
2 tablespoons chopped fresh thyme leaves or 2 teaspoons dried thyme leaves
1/4 teaspoon pepper
1 bay leaf
2 cans (15 to 16 ounces) navy, lima or great northern beans, rinsed and drained
4 medium carrots, cut into 1-inch pieces
2 medium celery stalks, cut into 1-inch pieces
Chopped fresh parsley, if desired
Crumbled cooked bacon, if desired
Directions
1 Heat oil in Dutch oven over medium-high heat. Cook beef and onion in oil about 15 minutes, stirring frequently, until beef is brown.
2 Stir in broth, wine, thyme, pepper and bay leaf. Heat to boiling; reduce heat. Cover and simmer about 45 minutes, stirring occasionally, until beef is almost tender.
3 Stir in beans, carrots and celery. Cover and simmer about 30 minutes, stirring occasionally, until vegetables are tender. Remove bay leaf. Sprinkle with parsley and bacon.
4. Warm Sausage & Kale Soup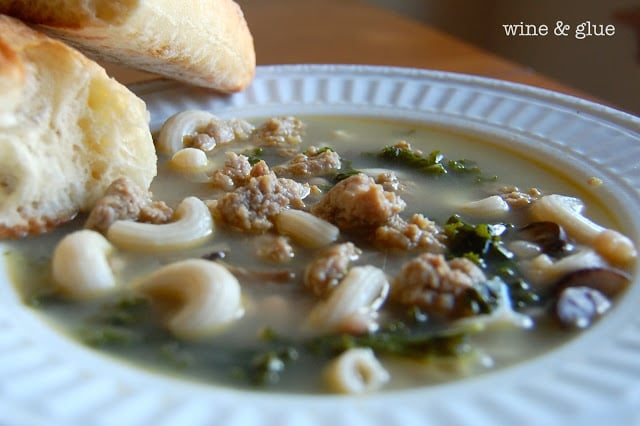 Ingredients
1.22 lb. package of Jennie-o Lean Sweet Italian Turkey Sausage, casings removed
1/4 tsp crushed red pepper flakes (more if you like things spicy)
4 garlic cloves, minced
8 oz package of sliced baby bella mushrooms
1 bunch of kale, washed, stems removed, and ripped up
1/4 tsp of grated nutmeg
32 oz gluten free chicken broth
1 cup gluten free noodles
15 oz can Northern Beans, drained and rinsed
Directions
Heat a dutch oven over medium heat, spray with olive oil, and cook sausage until no longer pink, between five and seven minutes, stirring occasionally.
Add the crushed red pepper flakes, garlic, and mushrooms, breaking up the mushrooms as you add them. Cook, stirring occasionally, until the mushrooms are soft, about five minutes.
Toss in the kale, season with salt, pepper, and nutmeg. Cook until the kale is wilted, about five minutes.
Add the chicken broth, and bring it to a boil. Then add the noodles and cook about a minute shy of the package directions.
Toss in the beans, and stir in until they heat through.
Serve with crusty bread and let it heat you up until you forget that its a wasteland of white out there.
(adapted from Rachael Ray)
http://www.wineandglue.com/2012/11/warm-sausage-kale-soup.html
Hopefully you enjoy these tasty gluten-free soups. And remember to stay warm!
Other sources
*Note: This was written by a friend of mine who has Celiac Disease.