Thanksgiving doesn't have to be a stressful time, you just have to be a little smarter and more prepared. Gluten-free Thanksgiving recipes can be a healthy alternative for those who are allergic to gluten or suffer from digestive diseases such as Celiac Disease, Ulcerative Colitis, Crohn's Disease, or IBS. Below are some tasty recipe ideas that you can try out at home.
5 Gluten-Free Thanksgiving Recipes
1. Mushroom Squash Risotto
This easy-to-prepare treat can be taken as either the main course meal or a side dish. For even more flavor consider adding wine for topping.
Ingredients
1/8 teaspoon powder saffron threads (optional)
1/2 teaspoon salt, dried thyme
1/2 cup white wine, grated Parmigiano-Reggiano cheese
1/4 teaspoon grounded pepper
1 cup Arborio rice
2 tablespoons extra virgin olive-oil
2 cups thinly sliced shiitake mushrooms
3 cups sliced red kuri, kabocha or hubbard squash
3 thinly sliced medium shallots
5 cups limited-sodium chicken or vegetable broth
Preparation tips
Add your broth into a steamer basket inside a medium-sized saucepan, put some water and let it cook over moderate heat for about 10-15 minutes. Reduce the amount of heat so that the soup can continue steaming, but not simmer.
Melt cheese into a saucepan over moderate heat. Add shallots and continue stirring till a nice aroma comes up, this will take about 1 minute. Stir in mushrooms and squash; cook for 5 minutes until the mushrooms produce a light liquid. Put in the ingredients including thyme, saffron, salt and pepper then cook for 30 seconds. Add your rice then stir until translucent for 1 minute. Pour in the wine and stir until partially absorbed by the rice.
Continue stirring the mixture in moderate heat till all the liquid has fully been absorbed. Ultimately the rice should be creamy and tender with a nice light taste of mushroom. This meal serves 4 plates.
2. Cranberry, Cherry, Orange-Zest Marmalade
This fresh cranberry recipe is very delicious and straightforward to make. It's the perfect Thanksgiving dessert for those who prefer taking fruit blends. Similarly, it can either be taken in frozen form or warm depending on a person's preferences. Cranberry marmalade may as well be used to make turkey sandwiches for leftover.
Ingredients
1/4 teaspoonful ground cinnamon
1/ 2 cup dried tart cherries, red wine
1/2 teaspoon grated orange zest
3/4 cup sugar
1 cup water
12-ounce fresh or frozen cranberries
Preparation tips
Mix sugar, water, red wine and cinnamon in a stainless steel saucepan. Bring it to boil then add cherries and cook for about 1 minute. Stir in the cranberries and return to a perfect boil. Gently reduce heat and simmer until half of the cranberries begin to pop. This usually takes 10 to 15 minutes.
Remove the mixture from heat and pour in your orange zest while stirring. Let it cool down and thicken in the process. Serve chilled or at room temperature.
This dessert can remain fresh when refrigerated for up to 3 days.
3. Chicken Hobo
If planning to spend your Thanksgiving outdoors then Chicken Hobo is definitely the best gluten-free meal for you. It cooks easy and without any mess. The food consists of tender chicken breasts topped with pepper-seasoned bacon and sealed with carrots, potatoes and chopped onions rolled inside individual foil pouches. The meal is great for the grill, or even campfire coals.
Ingredients
Half cup butter
1 medium chopped onion
1 pound peppered bacon
3 medium chopped potatoes and carrots
4 skinless, boneless chicken breasts
A pinch of garlic and salt to taste
Preparation tips
Add the bacon onto a skillet pan and cook till evenly brown over medium-level heat. Drain it then chop delicately and set aside.
Place 4 large aluminum foil squares on the grill, distribute the chopped pieces of potato, onion, and carrots. Arrange the boneless chicken breasts on top and then sprinkle your chopped bacon. Let it cook for at least 20 minutes until the chicken isn't pink anymore and juices are running clear. Add 2 tablespoons of butter for the topping.
At this stage now you can add garlic salt or any other favorite spice. Gently fold the foil over the ingredients and seal tightly. For the best outcome remember to bake your ingredients near the oven's center where temperature levels are at their highest. The average cooking time should be around 65 to 80 minutes.
4. Grilled Asparagus
It's a simple side dish that takes less than 20 minutes to prepare. The meal consists of fresh asparagus chops added with oil, salt, and some pepper which is then cooked fast over a high heat grill. This cooking method will bring out the true natural flavor of your vegetables.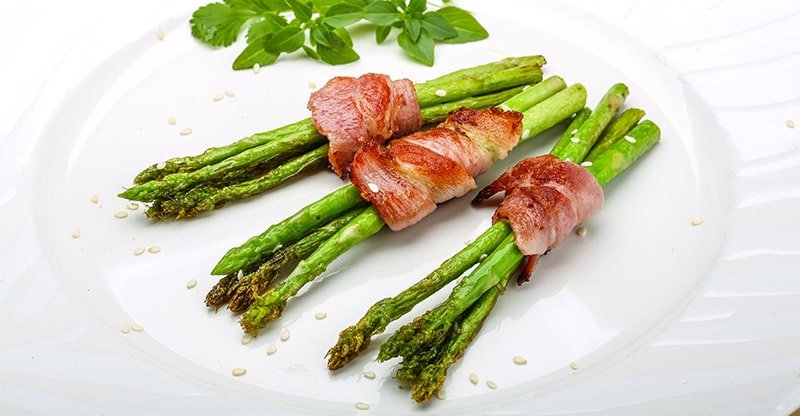 Ingredients
1 pound fresh asparagus chops
1 tablespoon pure olive oil
Pepper and salt to taste
Preparation tips
Preheat your grill for high heat before placing anything. Proceed by lightly coating the asparagus chops with olive oil then season with salt or pepper to taste. Add salt and pepper for seasoning then grill over high heat for about 2-3 minutes. Pour in any other ingredients you feel are necessary. After preparation, some aluminum foil can be placed on top of the dish to keep it moist. Remember to cook evenly so that each part of the asparagus is equally ripe.
5. Green Bean Casserole
Green bean casserole is a natural gluten-free dish that can be made from home. Preparing it yourself is a much healthier option than buying the canned version from a food store.
Ingredients
1/4 cup rice flour, butter
1 teaspoon dry mustard, garlic powder and paprika
2 teaspoons freshly ground black pepper
2 cups monterey jack cheese
2 1/2 cups milk
2 seeded and sliced jalapenos
1 medium sized chopped onion
3/4 cup chopped green onion, button mushrooms
1 pound fresh green beans
Frying oil
Preparation tips
Put some oil in a medium saucepan then add a quarter cup rice flour and appropriate seasonings, cook till the rice becomes slightly light brown or until sparsely dry. Add milk and mix until thick. Maintain a low heat level and continue stirring regularly so that a clump doesn't form.
In another pan fry your mushrooms for 5 minutes until they're golden brown then remove and drain. Add it to your sauce together with 3/4 cup cheese while stirring over low heat so that they can be fully incorporated. Place onions on the hot oil and fry for about 4-5 minutes a batch. Remove to a sieving apparatus and allow it to drain. Repeat the process using jalapenos till well cooked.
Arrange your fresh green beans in a small casserole. Pour 1 cup of cheese sauce on top and mix gently. Proceed by scattering the now drained green onions and jalapenos. Place inside an oven and bake for 40 minutes. Once ready pull out and allow it to rest for 10-15 minutes before serving.
In case there's more cheese sauce remaining after everyone has been served, it can be stored at the fridge for later use.
Hopefully you have enjoyed these gluten-free thanksgiving recipes and tips!
Sources