Nima is the first portable gluten sensor ever to be invented by man. It's sleek, compact, attractive and capable of testing foods containing this compound in less than 2 minutes. The product was designed in San Francisco, USA by a team of researchers from Stanford, Google, MIT and Nike. Bringing together the best brains in chemistry, design and engineering to create a cutting-edge equipment. Check out our Nima sensor review below.
Nima has an accuracy level of 99.5% when detecting 20 ppm of gluten, making it very reliable for everyday use. The item has a proven track record in field tests and has accurately sampled more than 3000 food particles so far. This product tests for gluten in all its forms whether wheat, rye or barley. Nevertheless, Hydrolization and Fermentation processes can sometimes alter the molecular composition of gluten. Making it difficult for Nima to detect fermented or hydrolyzed gluten foods.
Founders
Shireen Yates (CEO and Co-Founder)
Shireen says that she founded 6SensorLabs out of a desire to help people lead healthier lifestyles. Yates has been taking gluten-free diet for the last 8 yrs since she's allergic to the compound, alongside soy, egg and dairy products.
Scott Sundvor (CTO and Co-Founder)
He founded 6SensorLabs since it represents two thing which are very dear to his heart, healthy living and beautifully designed items. Scott admits that he follows a gluten-free meal plan in order to control an underlying medical condition known as Ulcerative Colitis. Sundvor also likes healthy eating habits in general.
Nima Sensor Review – Features
Nima measures 3.5 inches Width, 1.0 inches Height and also has a disposable capsule of 2.5 Inches Height. In terms of compatibility, it uses a Bluetooth low energy (BLE) connection that can be connected to most modern smartphones. Depicting results live on your screen. Nevertheless, synchronization requires an Android or iPhone device with Bluetooth connection.
The screen has OLED display feature which gives great picture quality for an easy read. A 'Smile' emoji is indicated for gluten levels below 20 ppm, while anything above it shows 'Frown.' Each battery unit contains a powerful 320-mAh LiPo cell. And has charge capacity that can support up to 20+ tests.
There are a total of 12-packs with one-time use capsules that are available for subscription delivery. You can either choose the bi-weekly, monthly or bi-monthly packages and shipment will be made directly to your doorstep.
How it Works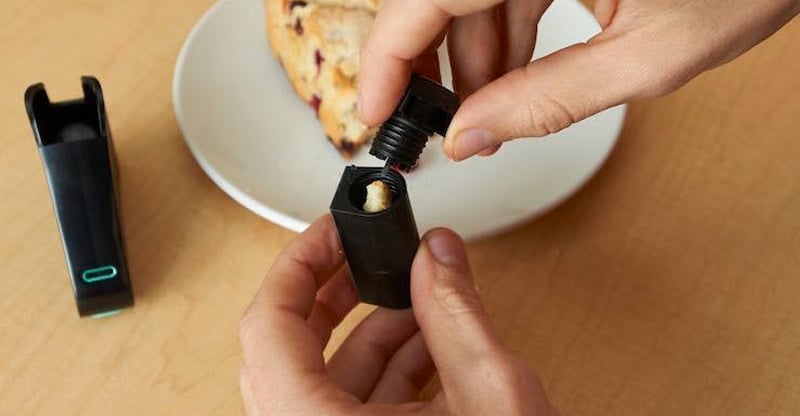 Nima only makes use of proven chemistry, sensors and technology. It consists of two separate parts which serve distinct functions. A sensor and disposable test capsules. To use this product, you first place a small piece of food inside one of the tiny containers which is then inserted into the sensor. In just a few minutes' time, Nima will show whether there are any traces of gluten in your meal or not. Technically, the product employs antigen-based chemistry as a proprietary detection method for food samples. All results shown are accurate and presented in such a way that it's easy to understand by everyone.
How it Benefits Gluten-Free People
The product is very simple to use, all you have to do is just place a tiny sample of test object into the capsule and Nima will automatically work for you. Results are also given fast in just 2 minutes plus the sensor can detect liquids, solids or any other form of matter.
Since capsules are only used once per time, one doesn't have to worry about unnecessary cleaning, refilling or re-setting processes which can be both tedious and time wasting. Nima is also portable and fits well into purses or pockets where it can be carried around anywhere you go, be it a date, vacation or business party.
Moreover, since the product can be connected to Smartphone devices and tablets. Users can freely share what they have tested with friends or family in an entertaining way, getting instant feedback/recommendations from them as well.
Safety Precautions
Capsules should never be stored in high-temperature conditions of above 95 degrees Fahrenheit. In addition, they are not edible and should not be consumed in any way. They must particularly be kept away from young kids who may be tempted to consume them. Also note that both pods and sensor device are not waterproof.
Availability
Currently, Nima is available via the manufacturer's website and can be delivered anywhere across US. However, they have indicated that international distribution networks will soon be opened in the future. Making it accessible to those living outside America as well. United States residents can buy the item at a discount, or alternatively pre-order via nimasensor.com.
All pre-ordered items will be delivered by mid-2016, which is just before the official US launch. Retail price of a starter kit including the sensor, 3 disposable capsules, a charger and carrying case will be at $249. However, for regular updates you can join the manufacturer's mailing list free of charge.
Once you buy Nima, it's mandatory that you refill the disposable capsules regularly. Remembering that each test conducted will require a new pod. These mini-cases go at a cost of $5 per unit or even less, depending on how clients choose to order them. Refills will be sold in packs consisting of 12 capsules, they can be requested either impromptu without alerting manufacturers beforehand at $59.95 (including shipping costs). Or on auto-shipment subscription basis at a much lower fee of $47.95(plus delivery).
For those who choose to subscribe, it can be done based on how often the sensor is being used. Which can be 24 units a month for heavy users, or 12 monthly for both moderate and light food testing procedures. Customers also have an option of cancelling their auto-delivery package at any time they want, if it doesn't work for them.
Emerging Trends
Though currently Nima can only detect gluten compound in foods, scientists are working on developing tests for other consumables such as soy, dairy and peanuts. Updates for this research will be given some time in 2017. Food transparency is the best way that one can make informed decisions about what they are eating. Get yourself the Nima kit and don't let food sensitivities be a hindrance to enjoying healthy quality life.
If this Nima sensor review was helpful let us know below in the comments!
Sources