Three Bakers is a bakery company that specializes in creating gluten-free products including bread, hamburger buns, pizzas, Snackers, hot dog buns and stuffing mixes. Their items are available nationwide at most grocery stores and other shops that sell natural foods within the United States. Nowadays, Snackers are also sold at select online stores.
As a pledge to consumers, they promise not just to make foods that taste great but that also provide maximum health benefits for everyone by using gluten-free whole grains, fiber and other essential ingredients. Moreover, all their products are natural, containing no artificial substances or derivatives. They are also free of soy and milk, apart from the pizzas which contain a portion of these components. Additionally, the company always tries to keep simple sugars and salts low without sacrificing on the great taste.
Key Founders
This brand was established in 2008 by Jane Trygar and her husband Dan, its inspiration comes from a personal story where Jane was clinically diagnosed with Celiac Disease and had to change her diet in order to survive. She incorporated her family heritage of baking with gluten-free recipes to come up with the best products within this category. While the business started as a simple craft bakery, it has since grown to become one of the most successful family companies in the country.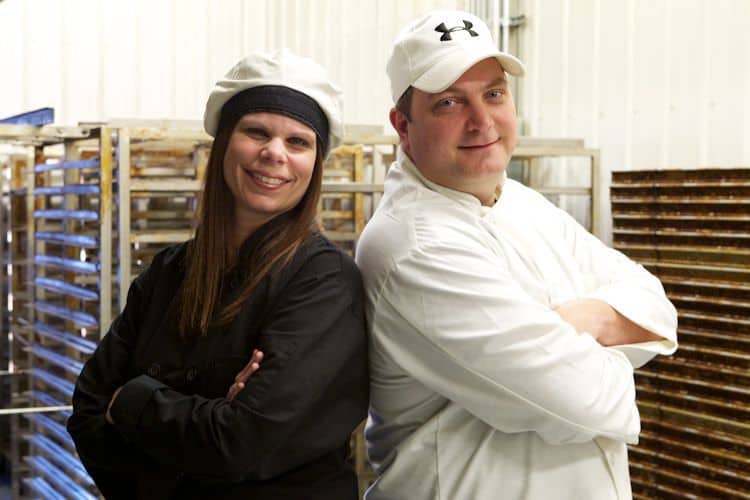 As a kid, Jane grew up helping her father bake tasty bread and pastry dishes in the family's private bakery in Scranton, Pennsylvania. Later when she went to college, Jane met Dan after sharing a few classes together and the two tied the knot together and became a family. They both shared a passion for gluten-free foods, and Dan became head baker of the family company.
When Jane discovered she had Celiac Disease back in 2002, she became distressed knowing that it would be impossible to continue eating products made from wheat, rye or barley. To make matters worse, the same gluten that was destroying her body comprised a good majority of the ingredients used in her family's baking business. Dan and Jane set out to create healthy products that would not contain gluten but still taste great. During that period, most gluten-free foods were dry, crumbly, non-nutritious and sour to the taste.
To come up with "more than edible" recipes, they embraced this challenge wholeheartedly by researching all the information available about gluten-free flours, including how they worked in general. Dan also experimented with various alternative binders to curb the drying and crumbling of dough. After trying for a while, Dan finally discovered a magic recipe for creating tasty and gluten-free pizza crusts.
Three Bakers Grand Opening
After his preliminary success with pizza dough, Dan decided to try other treats such as bread, cakes, and cookies. He soon succeeded in this venture and Jane began helping him with baking and selling items from their family bakery. But it wasn't long before demand soared and the founders were struggling to keep up with the influx of orders. To meet the demand and expenses, they took a huge leap of faith by borrowing from their life savings and buying a few commercial baking ovens. They also broke ranks with the family-owned business and started their own venture known as Three Bakers bakery.
Word-of-mouth soon spread quickly about the products and they began delivering their gluten-free products to consumers all over the nation. Finally, when the time came to name the brand, Dan and Jane decided to honor the individual who helped them get started in the first place, and that was Jane's father. He's the one who passed his passion for fine baking to them and hence the name Three Bakers.
Up to this day, Jane's family still continues to lead a gluten-free lifestyle and Dan himself also keeps coming up with new, better tasting and healthy whole grain products. Their hope is that every customer can experience the company's passion for excellently baked foods. They are also in the process of putting up more Three Bakers products in grocery stores across the country. In fact, chances are high that there's already a store near you that carries the brand's bread, buns, pizzas and stuffing mixes.
To find out more about the stores within your area, simply visit their website and enter your personal address or zip code into the available form. This will give you a quick preview of all nearby locations where Three Bakers products can be purchased. However, even if you can't find some approved locations in your neighborhood, these items can still be found on Amazon, or alternatively consider printing a retailer's request form and present this to your local grocer. When navigating the website, simply click on "find a retailer" to determine if there are stores nearby or not. Otherwise, there are still many other online gluten-free food shops that sell the company's bread and rolls.
Resources for Gluten-Free Living
Apart from providing the tastiest gluten-free products on the market today, Three Bakers also connects customers to useful resources such as bloggers, message boards and organizations that promote healthy living habits for those with Celiac Disease. There's a large community of people who are ready to help at any given moment, and most of them can be found online.
In giving out these resources, the company hopes that those with gluten sensitivity can find comfort quickly, just as their originator Jane Trygar did many years back when she was first diagnosed with celiac. The community of researchers and other professionals who've done all the necessary research can be of great help. Whether it has to do with asking for a diagnosis, using blood sample tests to check for anti-tissue transglutaminase antibody (tTGA) or anti-endomysium antibody (EMA) quotients, Three Bakers says that you're just a simple search away from getting the answers you need. Some of the organizations listed among these useful resources include American Celiac Disease Alliance, Celiac Disease Foundation and Camp Gluten-Free just to name a few.
Additionally, the company's recipes have appeared in many magazines and publications such as Beyond Celiac's Gluten-Free Hot Products segment where Snackers was recognized as one of the best casual treats for 2016. These come in four different varieties including Real Cheddar Cheese, Chocolate Chocolate Chip, Honey Graham and Chocolate Chip.
Sources