I usually don't like writing these kinds of posts, but I'm sorry Aetna, my experience with your customer service has just been so bad that I have to let other people know. Aetna sucks! You can read my Aetna review below.

My Personal Aetna Review
Living with Ulcerative Colitis, I have been through the medical ringer as you could say. I have been through more physical pain than a lot of people will experience in their entire lives. I have seen countless doctors and I know the importance of having health insurance when you need it.
Update 2017: I am now using Medi-share for my health insurance and love it!
Earlier in 2015 I switched employers and actually started working for a company overseas. This meant I had to go out and get my own health insurance, dental insurance, vision, etc. I shopped around a few companies. I previously worked at a "Pain Management" company so I knew a lot of the names already and was familiar with them. I decided to go with Aetna because of pricing and my doctor being "in-network."
I signed up directly on their website and faxed in all the paperwork, etc. The signup process was fairly easy. However I ended up getting dental through them too and this is completely separate billing, system, etc. Very confusing. Anyways, everything was going very well until December 2015 and then the problems started.
I received a letter back in October from them in the mail stating that they were moving to a new system in 2016. Here is a portion of what it said, word for word.
"We're excited to tell you about a plan for 2016 that's simple and easy to understand. It's about time right? In July we told you we won't offer the same coverage you currently have for 2015 again in your area for 2016. The good news? We think you'll like the Aetna Leap Basic Plus – Banner plan. You don't have to re-enroll, we'll take care of that for you!…"
Here is a full copy of the letter.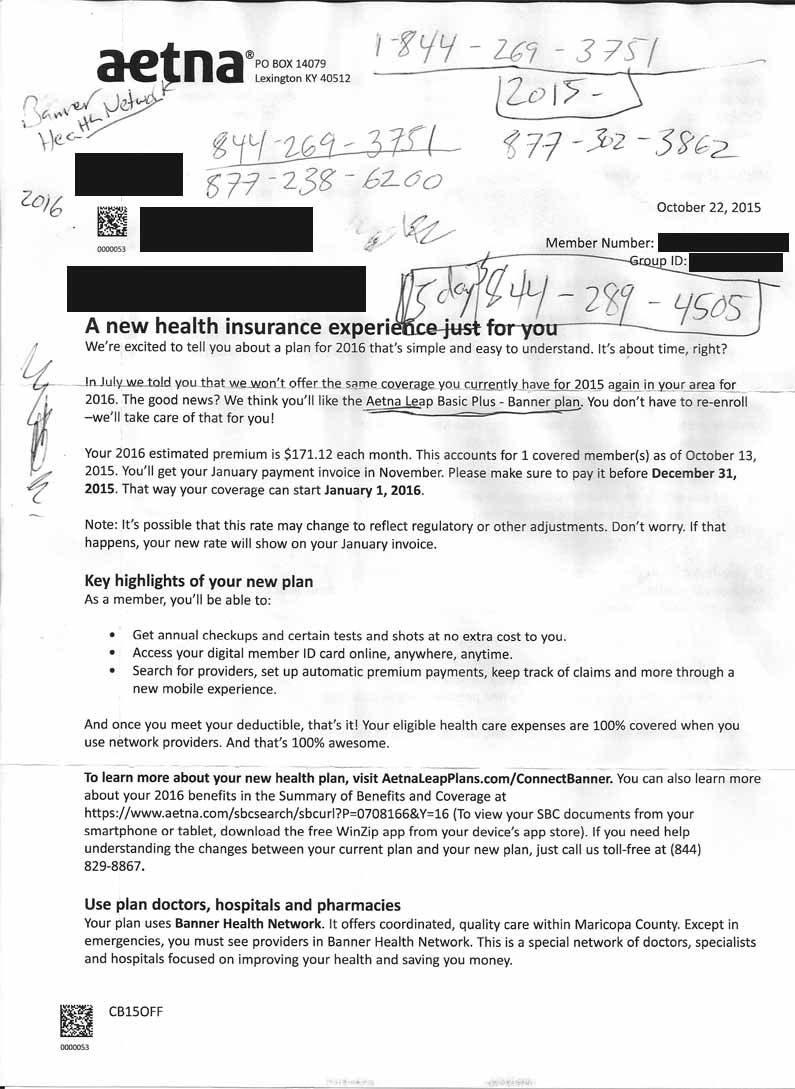 So awesome, they are going to take care of that for me. Great! So I filed the letter. In December I ended up needing to change my billing credit card so I called in to change it. I asked about the new 2016 plan and wanted to confirm that my billing was going to roll over. They told me that the 2016 billing was completely different and so I needed to talk to them. So they gave me the phone # and transferred me over to a different billing department.
After remaining on hold for some time the new billing department answered and after answering some questions they said that couldn't find me in their system. What? I have a letter right in front of me saying you were going to roll me over. The person in billing told me that maybe my data didn't get transferred and I needed to chat with the customer service department. So they gave me another phone # and transferred me to customer service. After remaining on hold for quite some time and answering the same questions again, the customer service agent said they had no record of me having health insurance with Aetna for 2016. Wait what?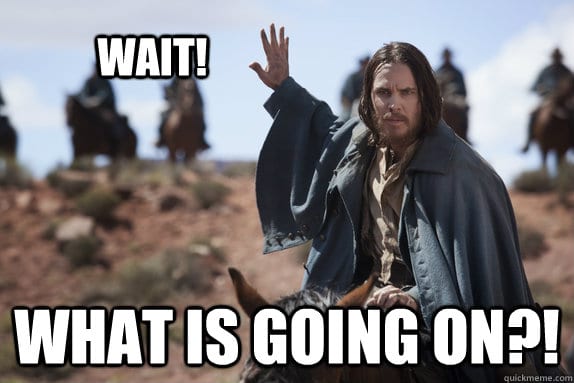 Aetna Accidentally Deletes Me
I told the agent I am staring at the letter from Aetna right now saying you were going to roll me into 2016 plan. The customer service agent responded with a, "Well your not my system. You will need to enroll again for 2016."
I asked them what happened and after going back and forth for a few minutes the agent reluctantly admitted that somebody probably screwed up. At this point, I have already wasted about 3 hours on this problem. So the agent said they would transfer me to an enrollment (licensing) agent so I could re-enroll. At this point, I didn't have any more time that day to deal with this problem. So they gave me the phone # for the enrollment department.
I called the enrollment department the next day and after again waiting on hold and answering the same stupid questions I tried to explain to the enrollment agent what had happened. They seemed very confused and surprised that a mistake like this could happen.
Eventually, I convinced them that I simply need to re-enroll. I have a letter with the exact plan name, just enroll me, and let's get on with it. The enrollment agent said they needed to go over all the benefits again. Are you kidding me? So I sat there for about 10-15 minutes while they explained all the benefits. Yes, that is fine, good, got it, can I re-enroll now? The enrollment agent said everything looked good and that they would transfer me to billing to make my first payment to start my policy. So they gave me a phone # and transferred me to billing.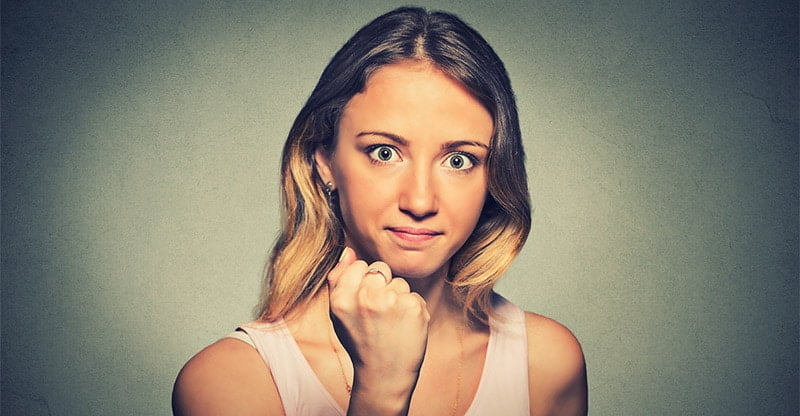 Aetna Billing Can't Find Me
So here I am again waiting for the billing department on hold (the 2016 billing, not the 2015 mind you). I answer the same questions again, and the billing agent responds telling me they can't find me in their system. OMG, you have to be kidding me. This is ridiculous. I asked to talk to a supervisor immediately as nobody at Aetna seems to have a clue what is going on.
They put me on hold for a while and the supervisor finally comes on. She asks me verification questions (that I have already answered many times) and then asks to put me on hold. Sigh :/ She then returns telling me I need to call back in 5 days because the billing department hasn't gotten the information from the enrollment department yet. It's 2015 and it takes 5 days for digital records to get transferred?
Aetna Billing Still Can't Find Me
5 days later I call the billing department on the phone # the supervisor gave me. And guess what? The billing department, to no surprise, has no record of me. At this point I am beyond frustrated and just a little in shock of how Aetna could screw up so many times. It's almost unbelievable. The billing rep said she is putting me on a list tracker in which a supervisor will reach out to me after Christmas to update me on my case.
Here is a list of all the different phone numbers Aetna gave me throughout this process.
1-844-269-3751
1-877-238-6200
1-877-302-3862
1-844-289-4505
Aetna Summary
I will most likely be canceling my Aetna plans because of this. I can't work with such a, sorry for being rude, but such a stupid company. I've wasted many many hours on this problem, which shouldn't have happened in the first place.
First, they drop me by accident because someone screwed up and now they can't even get me re-enrolled. Come January I will most likely be without health insurance because of Aetna.
Thankfully, because of healthy eating tricks I have learned I am not currently on any medication because of my Ulcerative Colitis. I really just need the insurance at this point for a backup plan. For those of you still on medications, I highly recommend checking out goodrx.com. You can get medications for cheap!
Take my advice and don't signup with Aetna. I'm sure every carrier has their problems, but Aetna in my opinion is unusable. So long Aetna!
Update 2017: I am now using Medi-share for my health insurance and love it!
Aetna Review
Summary
Unfortunately I have had to give Aetna a 1 star review due to the fact that they accidentally deleted me from their system and have made it impossible to re-enroll in their health insurance plans.