Here is the complete A&W Gluten-Free menu. A&W is not the place to go to find a gluten-free meal, but there are some desserts to be had. For starters, their allergen information hasn't been updated on their website in years. Assuming that it is still correct, there isn't any gluten-free food to order anyway.
They do have a pretty large selection of sweet drinks and ice cream, and many of those items are technically gluten-free. They note that they do not operate a gluten-free kitchen, so cross-contamination can occur with any of their menu items. If you have Celiac Disease or a gluten allergy, we would suggest finding somewhere else to eat.
A&W Gluten-Free Menu 2023
Sides
Dipping Sauces
Ranch Sauce
Honey Mustard
Spicy Papa Sauce
BBQ Sauce
Sweets & Treats
Orange Float
Orange Freeze
Shake, Strawberry
Shake, Chocolate
Shake, Vanilla
Sundae, Hot Fudge
Sundae, Hot Caramel
Sundae, Chocolate
Sundae, Strawberry
Polar Swirl M&M
Polar Swirl Reese's Cup
Smoothee, Pineapple Banana
Smoothee, Strawberry Banana
Smoothee, Strawberry
Blendrrr, Reese's Peanut Butter Fudge
Blendrrr, Chocolate Fudge
Limeade
Limeade, Strawberry
Limeade, Cherry
Slushee, Cherry
Slushee, Watermelon
Slushee, Lemon
Slushee, Blue Raspberry
A&W History
A&W is a fast food chain that was founded in 1919 by Roy Allen. Two years later they noticed that their business would do better and attract more customers if they franchised it. In 1921, A&W became the first ever franchised restaurant company in America, and by the 1970s they had more locations than even McDonalds.
While the A&W brand is popularly known for its root beer beverage which is one of the most successful soft drinks in America, A&W Restaurants is a totally independent brand in the business of franchise licensing, not only in the U.S. but all around the globe. It's managed by a team of businessmen who are focused on building a restaurant empire that stretches across various countries around the world.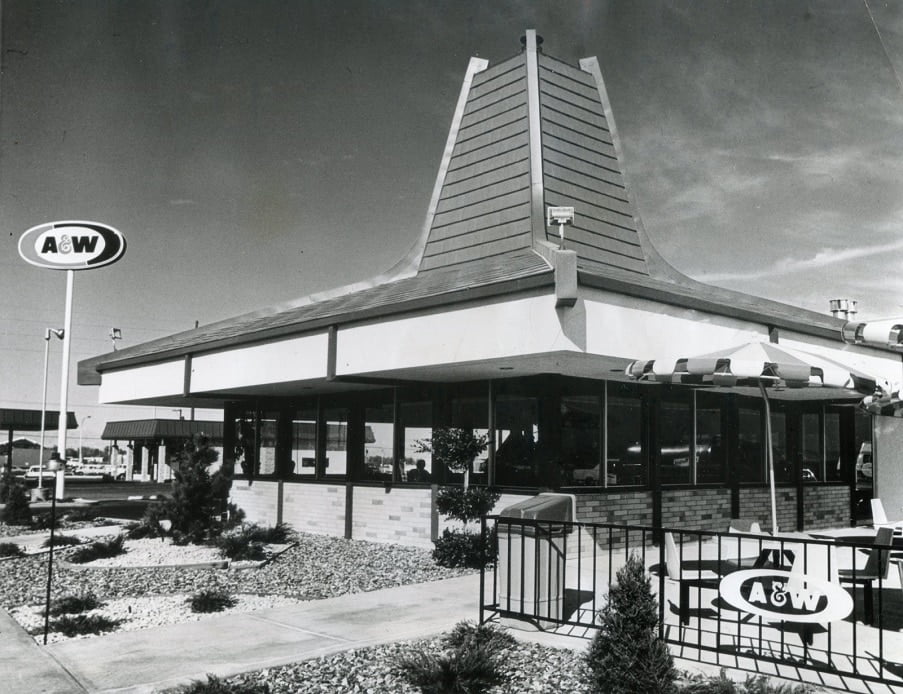 A&W is known for opening the first drive-in restaurant in California. The company lays claim to being the first ever Californian drive-in restaurant launched in Sacramento in 1923. By the 1990s, they were already making profits and future growth prospects looked promising as well. In 1993, management received a purchase offer from Cadbury Schweppes PLC and they later sold the company including all its assets and operations for $334 million.
A year later, A&W Restaurants Inc. was bought by Sagittarius Acquisitions in 1994. Sagittarius's president, Sidney Feltenstein, had previously worked as the marketing vice-president for Burger King Worldwide. He acquired A&W Restaurants as part of a strategy to revitalize the company's operations in the United States.
Currently, it's estimated that there are around 35,000 menu variations across all their franchise restaurants. They serve everything from cheese curds to Midwestern-style pork tenderloin sandwiches and even items such as burritos and spaghetti at a few select franchises. Since A&W is one of the oldest restaurant chains in America, some of their franchise locations are run by second and even third-generation owners. These locations can be found in states such as Wisconsin, Ohio, and Iowa. Additionally, most of these restaurants make their own special root beer drinks right on-site.
Sources
If this A&W gluten-free menu was helpful or if you find something inaccurate please let us know below.
Not happy with the A&W menu? Let them know we want healthier gluten-free options.
A&W Gluten-Free Options
Summary
A&W simply doesn't offer any gluten-free food. They do have some floats, ice cream, and other drinks that are technically gluten-free, but cross-contamination is probably going to be an issue in their kitchen. Their allergen information on their website is also very outdated. We can't recommend going here for anything gluten-free, especially if you Celiac Disease or a gluten allergy.