Here is the complete Burger King gluten-free menu. Burger King doesn't have a lot of gluten-free options. Some of their ingredients, even a few of the patties used on their burgers are gluten-free but they use shredded lettuce. This essentially means if you want to order a gluten-free burger, you'll be getting all the ingredients minus the bun in a salad bowl.
We wish they had a lettuce wrap or even better a gluten-free bun option. However, there are still a few sides and desserts to choose from.
Burger King gluten-free menu 2023
Sandwiches
We've listed the main burgers that are gluten-free if ordered without the bun. There may be a few other variations using most of the same ingredients, so just pay attention to what type of patty is being used and make sure to get it without the bun.
WHOPPER®
WHOPPER JR.®
Hamburger
Cheeseburger
TENDERGRILL® Chicken
Tacos
Dressings, Sauces & Condiments
Chocolate Fudge Sauce
Tartar Sauce
Apple Cider Vinaigrette
Lite Honey Balsamic
Avocado Ranch Dressing
Grape Jam
Honey
Ketchup
Strawberry Jam
Beverages
Barq's® Root Beer
Coca-Cola® Classic ICEE®
Coca-Cola® Classic
Coca-Cola®
Diet Coke®
Dr. Pepper®
Sprite®
Minute Maid® 100% Apple and Orange Juice
NESTLE PURE LIFE® Purified Drinking Water
Seattle's Best Coffee® (including iced coffees)
Mocha Frappe
Caramel Frappe
Tropical Mango Smoothie
Strawberry Banana Smoothie
Fat Free Milk
1% Low- Fat Chocolate Milk
Sides
BK® Fresh Apple Slices
Garden Fresh Salad with Apple and Cranberry with TENDERGRILL® Chicken
French Fries (May be fried with foods containing gluten)
Desserts
Chocolate, Vanilla and Strawberry Shakes
Soft Serve in a Cup
Caramel Sundae
Chocolate Fudge Sundae
Strawberry Sundae
Burger King history
Keith Kramer and Mathew Burns, his wife's uncle who lived in Jacksonville, Florida were looking for a restaurant idea. In 1953 they built a stove that they named Insta-Broiler and dubbed their store Insta-Burger King. Their idea was picked by David Edgerton and James McLamore, Cornell University classmates who had visited the hamburger stand that was operated by McDonald brothers. In 1954, James and David bought an insta-Burger king franchise in Miami.
The growth of Miami area made the area an excellent location to start a food chain but the Insta Broiler required adjustments. Edgerton and McLamore came up with gas grill which they called Falme-broiler. It was more effective than the Insta-broiler. In 1959, Edgerton and McLamore bought Burns and Kramer out. By this time, the operation had grown with their signature burger, the Whooper spread to most parts in the United States.
In 1967, Burger king was bought by Pillsbury Company for $18,000,000 and by 1970, it had grown to become the second largest burger chain after McDonald's.
In 1978, Burger King poached Donald N Smith, an executive from McDonalds who restructured the company's agreement to prevent owners from owning franchise. This prevented them from operating stores more than an hour drive from their homes hence encouraging loyalty.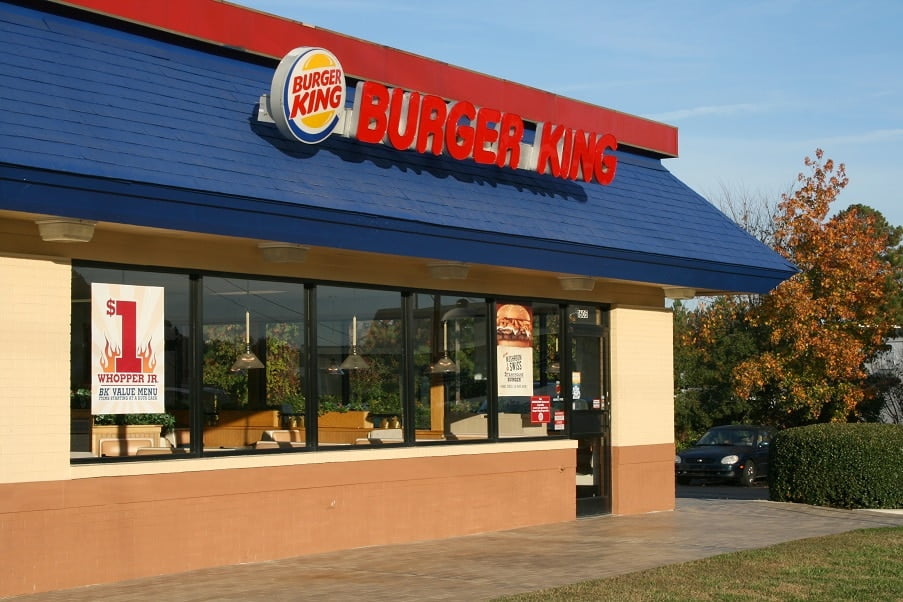 Together with Long John Silver, his former employer, they introduced Burger King's fish sandwiches, Wendy's chicken sandwiches and Kentucky Fried Chicken. In 1980, the Company's sales went up by 15% at which point Smith was poached by PepsiCo. This led to a significant decline in sales.
Norman Brinker who Pillsbury bought with his chain Steak and Ale was charged with starting burger wars, running commercials that Burger King Burgers were bigger than McDonald's and turning the company around.
Brinker later left to start his own Chili's restaurant chain leading to another significant decline in sales. This is what made it easy for British company Grand Metropolitan PLC to take over the fast burger chain. They changed the distribution methods and soft drink contract from Pepsi to Coca-Cola, partnered with Walt Disney to feature in Disney films and expanded burger King around the globe.
In 1992, Burger King headquarters in Miami were destroyed by Hurricane Andrew. In 1997, Grand merged with Guinness forming Diageo plc which paid more attention to its alcoholic properties-Johnnie Walker, Guinness and Moet& Chandon and ignored Burger King leading to a decline in sales.
With help from Goldman Sachs and Bain Capital Burger King was bought for $1,500,000 and an IPO launched in 2006 that generated $425,000,000 in revenue. Whopper Bar concept was introduced which allowed customers to see their burger being made. The company grew and in 2010, it was sold to 3G Capital at a price of $3.2 billion.
Sources
If this Burger King gluten-free menu was helpful or if you find something inaccurate please let us know below.
Not happy with the Burger King menu? Let them know we want healthier gluten-free options.
Burger King Gluten-Free Menu
Summary
Burger King does not have a lot of options if you're eating gluten-free. Some of their ingredients are technically safe, but we wish they had a lettuce wrap or gluten-free bun alternative for their sandwiches.