Here is the complete Burgerville Gluten-Free menu. Burgerville does offer a gluten-free bun to use for their burgers and they do have some salads and a few other things if you're looking for something to eat. They also make some great ice cream sundaes and milkshakes, and almost all of them are gluten-free!
Burgerville Gluten-Free Menu 2023
Burgers
Burgerville does not have their burgers listed as gluten-free on the allergen section of their website, however, they do offer a gluten-free bun to use in place of their regular buns on their burgers. Just make sure to ask about switching to the gluten-free bun if you're ordering a burger.
Salads (Not including dressing)
Blue Cheese & Apple Salad
Garden Salad
Grilled Chicken Club Salad
Wild Smoked Salmon & Hazelnut Salad
Salad Dressing
Balsamic Vinaigrette
Blue Cheese Dressing
Honey Mustard Dressing
Ranch Dressing
Sides
Apple Slices
French Fries
Golden Yukon Waffle Fries
Hash Browns
Drinks
All Fountain Drinks
Fresh Brewed Iced Tea
Fresh Made Lemonade
Hot Chocolate
Hot Tea
Orange Juice
Portland Roasting Coffee
Shakes (Real Ice Cream & Frozen Yogurt)
All the shake flavors are gluten-free except for the Mint & Oreo Cookies flavor.
Cherry Chocolate
Chocolate
Chocolate Hazelnut
Mocha Perk
Strawberry
Triple Berry
Vanilla
Sundaes (Real Ice Cream & Frozen Yogurt)
Just avoid the caramel sauce if you're ordering a sundae.
Hot Fudge Sundae
Triple Berry Sundae
Dipping Sauces
All the dipping sauces are gluten-free.
BBQ Sauce
Burgerville Spread
Chipotle Mayonnaise
Garlic Aioli
Sweet & Sour Sauce
Tartar Sauce
Burgerville History
Burgerville was formed in 1961 from a single restaurant located on Mill Plain Street in Vancouver, Washington. Nowadays, the food chain consists of 42 restaurants spread across the Pacific Northwest region. This company is built upon a heritage of serving fresh delicacies made from local ingredients. They continuously partner with neighboring farms for supply and share their commitment to regional vitality and quality food. It's estimated that 72% of their food comes from a radius of 400 miles within the Vancouver area.
This focus on locally sourced ingredients started in 1996, about 35 years after the restaurant first began operations. Through such initiatives, Burgerville has positioned itself as the leading business in the Quick Serve Restaurant (QSR) industry, combining both environmental and social sustainability. Burgerville is also a distinguished member of the Food Alliance, having entered a contract with Country Natural Beef to provide all of their meat, a major contribution for a hamburger chain.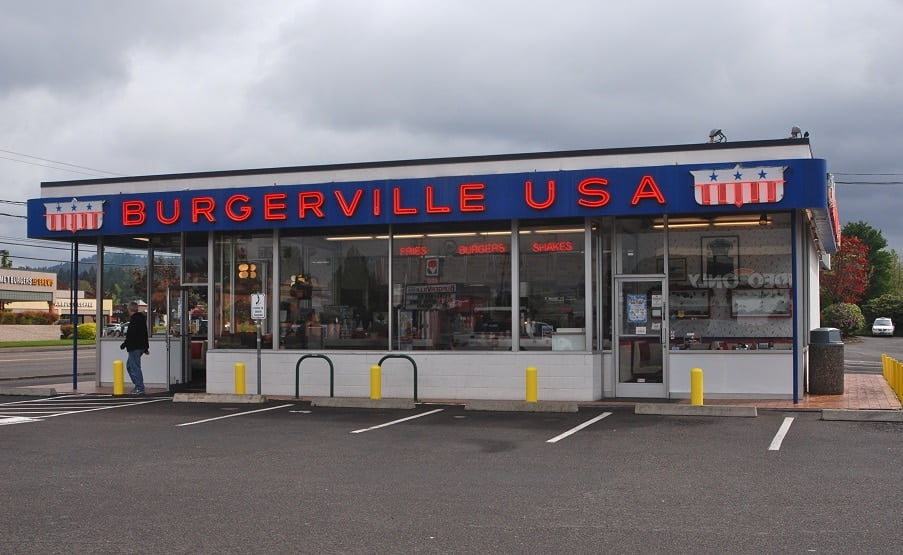 The use of renewable energy also plays a big role in the company's operations. In 2005, they were approached by local energy producer Portland General Electric, with a proposal to re-enforce their sustainability ethos by making 20% of their consumed energy wind generated. Henceforth, Burgerville committed to 100% adoption of wind power in all its chain restaurants and office headquarters, implementing this policy fully within a years time from the contract.
Additionally, the company's renewable 'clean' wind energy is distributed by local firms that are also environmentally conscious. By doing this, the firm is encouraging other area businesses to follow in their footsteps and commit to eco-friendly practices. Burgerville continues to build its reputation through a strong commitment to clients, the community, workers, and suppliers which has been maintained for years. Belief in corporate social responsibility and environmental sustainability has also been an integral part of the company since the beginning. Moreover, without a huge marketing budget, Burgerville mostly relies on word-of-mouth promotion and repeat customers to expand its business portfolio.
Sources
If this Burgerville gluten-free menu was helpful or if you find something inaccurate please let us know below.
Not happy with the Burgerville menu? Let them know we want healthier gluten-free options.
Burgerville Gluten-Free Menu
Summary
Burgerville offers a gluten-free bun to enjoy on their burgers. They are also known for their great real ice cream and most of their flavors are safe to enjoy.