Here is the complete Carl's Jr. gluten-free menu. Carl's Jr. may not have a huge list of gluten-free items, but they do provide a few different options for the thing that made them famous, their burgers. They don't have a gluten-free bun alternative, but they offer a lettuce wrap to enjoy with a few of their burgers.
Carl's Jr. Gluten-Free Menu 2023
Burgers
Just make sure to ask for the lettuce wrap in place of the bun on any of these burgers if you're avoiding gluten.
Famous Star®
Famous Star® with Cheese
The 1/3 lb. Low Carb Thickburger®
The 1/2 lb. Low Carb Thickburger®
The 1/3 lb. Guacamole Thickburger®
The 1/2 lb. Guacamole Thickburger®
Sides
Natural Cut Fries (May have some cross-contamination from the fryer. Make sure to ask first if you are allergic to gluten.)
Dressings & Dipping Sauces
House Dressing
Blue Cheese Dressing
Low Fat Balsamic Vinaigrette Dressing
Sweet & Bold BBQ Dipping Sauce
Buttermilk Ranch Dipping Sauce
Honey Mustard Dipping Sauce
Spicy Buffalo Dipping Sauce
Hand-Scooped Ice Cream Shakes
Vanilla Shake
Chocolate Shake
Strawberry Shake
Carl's Jr. History
The Carl's Jr. restaurant story started in 1941 when Los Angeles based Carl N. Karcher, together with his wife Margaret, took a $311 loan against their Plymouth vehicle and added it to their life savings of $15 to procure a hot dog cart. Soon afterward, this single cart grew to four and within five years' time, they already had hamburgers on their menu.
The first Carl's Jr. outlets were smaller than typical drive-ins and started operations in the 1950s. Today, they have locations all over the West and Southwestern parts of America and are also known for unique menu items like their Six Dollar Burgers. The company attributes its growth to its emphasis on quality, service, and hygiene. They also helped pioneer concepts like self-attendance beverage bars and partial table service.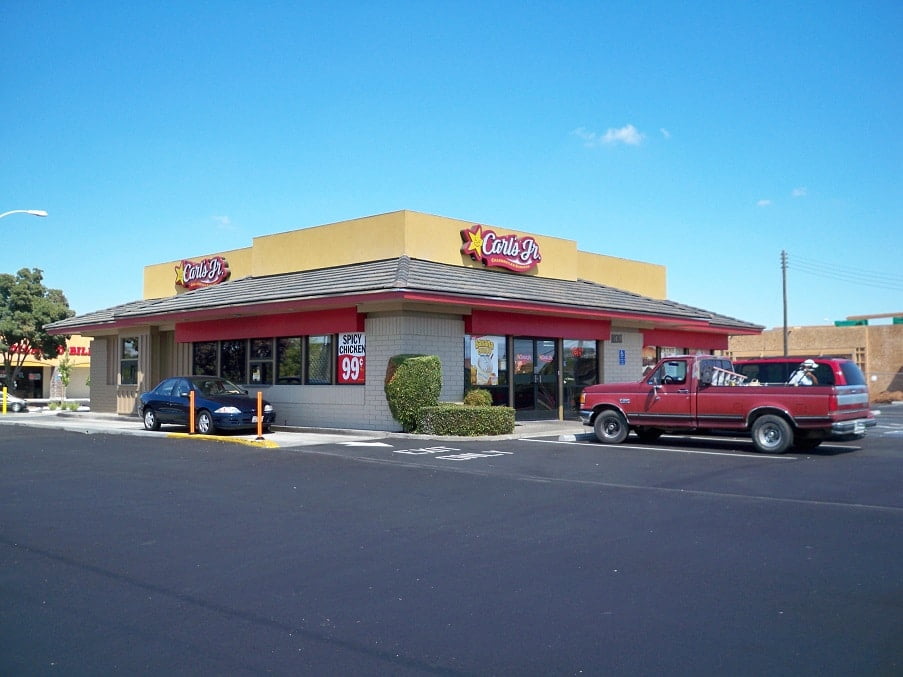 The Six Dollar Burger concept was first conceived in 2001, marking Carl's latest advancement in the quick-service food business, as well as confirming the restaurant's dedication to product innovation and showcasing a desire to fulfill the needs of young, hungry consumers. History records that on the first day of his fast-food business, Carl N. Karcher made $14.75 in profits. But 70 years later and with a total of 1,200 restaurants under his name, Carl's Jr has become one of the most renowned eateries in the West for juicy, tasty, charbroiled burgers.
Currently, Carl's Jr. is making expansions in Australia with plans to launch 300 restaurants within the next 10 years. They also recently introduced chicken salad among their food options. The company is known for running spicy ads. About a year ago, Charlotte McKinney caused a stir after her Carl's Jr. advertisement went viral. Other world-class models have also appeared in the restaurant's commercials, such as Angel Sara Sampaio of Victoria's Secret.
For those who want to open a franchise with the company, note that they allow third-party sources to provide financing to cover various franchising expenses.
Sources
If this Carl's Jr. gluten-free menu was helpful or if you find something inaccurate please let us know below.
Not happy with the Carl's Jr. menu? Let them know we want healthier gluten-free options.
Carl's Jr. Gluten-Free Menu
Summary
Carl's Jr. doesn't have a lot of options, but we will give them some credit for offering lettuce wraps to enjoy a few of their burgers gluten-free. You can even grab a shake for dessert!