Here is the complete Checkers gluten-free menu. Checkers may not have gluten-free buns to have with their burgers, but you can enjoy some chicken wings and a milkshake. They also have chili and a grilled chicken salad that are gluten-free. We do wish they provided a bread alternative as burgers and sandwiches make up the majority of their menu, but for now, it's just a few smaller items and some shake flavors.
Checkers Gluten-Free Menu 2023
Food
Bowl of Chili
Bowl of Chili with Cheese
Chili

Grilled Chicken Salad
Chicken Wings
Plain
Angry Buffalo
Garlic Parmesan
Honey BBQ
Medium Buffalo
Sauces & Dressings
Angry Buffalo
Parmesan Garlic
Honey BBQ Sauce
Medium Buffalo Sauce
Blue Cheese Dipping Sauce
Ranch Dipping Sauce
Shakes
Classic Banana
Classic Chocolate
Classic Strawberry
Classic Vanilla
Loaded Milkshake – Banana Split
Checkers History
Checkers restaurant was born out of a desire to provide Americans with a better tasting burger, rather than the bland and flawless dishes they were often used to before. Their products are known to be bold, easy to order and well-priced compared to other competing brands. The eatery was founded by a renegade food junkie and Alabama native, James E. Mattei. Together with his friend Mark B. Reed, they researched the hamburger market and mulled over ideas such as opening local and national chains.
The first Checkers restaurant officially opened in April 1986. It was nothing more than a make-shift hamburger hut housed within a prefabricated modular building that had no dining area or parking lot, but just two drive-thru slots. In just a few month's time, Mattei and Reed launched three more Checkers restaurants, though their rapid expansion meant that they needed to add a new partner to the business. In 1987, Herbert G. Brown, a former Florida businessman, joined Checkers as a co-partner to the original founders.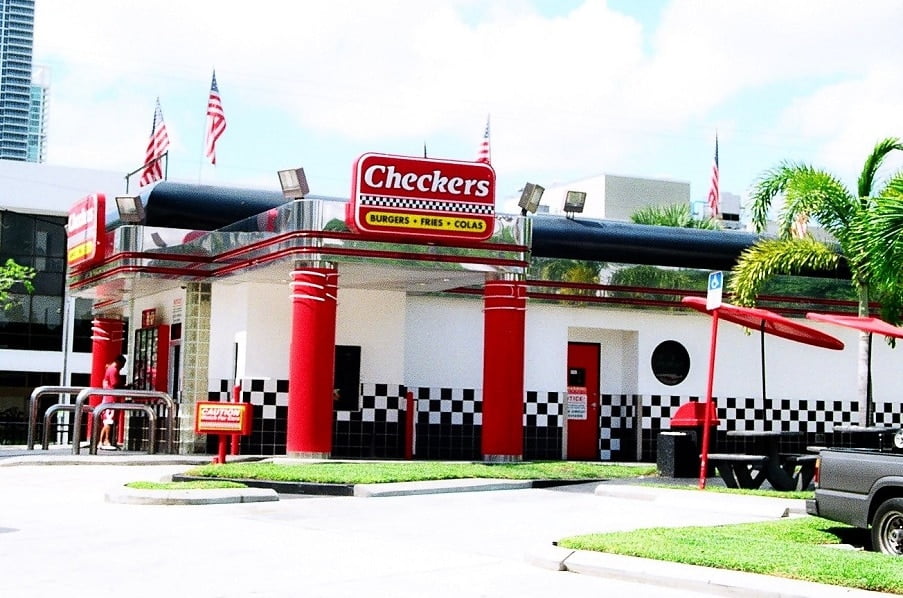 Apart from its unique double drive-thru concept, other factors that make this restaurant stand out include a classic checkerboard squares design, chrome styling, red neon banners and of course the menu. Their burgers are always served hot, fresh and with a smile from an attendant.
After successfully starting more than 200 restaurants in both Midwestern and Southeastern states, Checkers merged with Rally's in 1999 to bring their passions for fine food together. This union made the restaurant become the largest drive-thru food chain in America as it stands today. There are more than 800 restaurants currently operating in the United States, serving thousands of customers each day. Checkers employees and franchisees are also known to be hard working, dedicated and always kind to their customers. The current president and CEO of Checkers is Enrique 'Rick' Silva. He has led a very comprehensive restructuring and growth program that has expanded the business.
Sources
If this Checkers gluten-free menu was helpful or if you find something inaccurate please let us know below.
Not happy with the Checkers menu? Let them know we want healthier gluten-free options.
Checkers Gluten-Free Menu
Summary
Burgers and Sandwiches make up almost the whole menu at Checkers so it's disappointing that they don't provide a gluten-free bun to enjoy any of them. However, they do have some gluten-free chicken wings, a few side items like chili and salad, and a variety of flavored milkshakes.