Here is the complete Chick-fil-A Gluten-Free menu. Chick-fil-A now has gluten-free buns made from quinoa which allows you to finally enjoy chicken sandwiches. But remember that almost everything is still prepared in a shared environment, so be careful with cross-contamination.
Chick-fil-A Gluten-Free Menu 2023
Entrees
Grilled Chicken Sandwich
Grilled Chicken Deluxe Sandwich
Chick-fil-A® Grilled Market Salad (not including toppings)
Grilled Chick-fil-A® Nuggets (8 or 12 count)
As of June 2017, Chick-fil-a now has certified gluten-free buns made from a mix with ancient grains—like sorghum, amaranth, millet, quinoa, and teff. I first tried it with the Grilled Chicken Deluxe Sandwich and was pleasantly surprised by the taste of the bun. You can see it pictured below. They give you the toppings separate so you have to assemble yourself.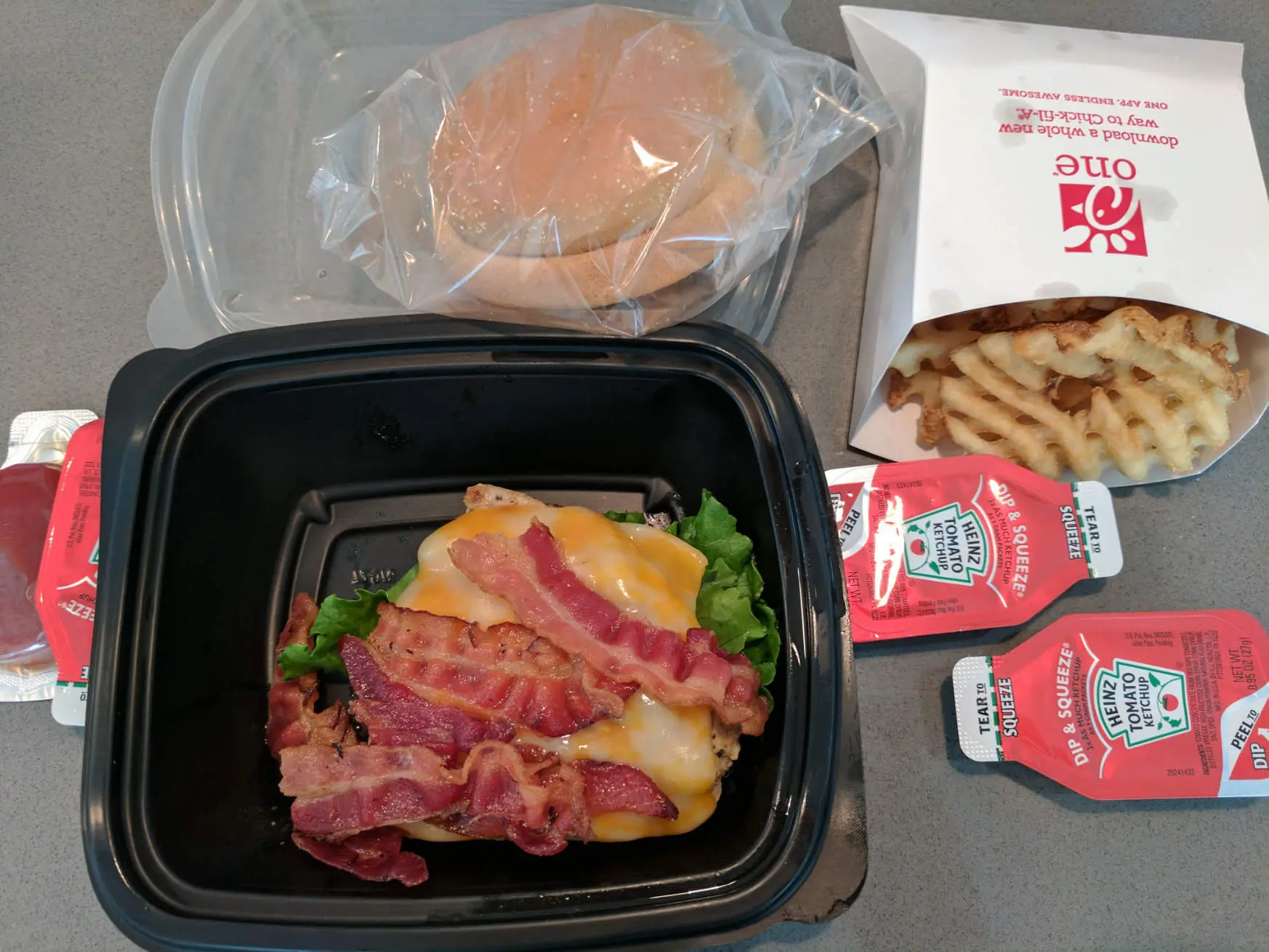 Sides
Fruit Cup
Side Salad*
Superfood Side
Chick-fil-A Waffle Potato Fries®
Yogurt Parfait*
Breakfast
Bacon slice
Sausage patty
Hash Browns
Eggs (no biscuit)
Kid's Meals
Grilled Chick-fil-A® Nuggets (4 or 6 count)
Buddy Fruits® Pure Blended Fruit To Go applesauce
Honest Kids® Apple Juice
Beverages
Dipping Sauces and Dressings
Barbecue Sauce
Honey Mustard Sauce
Honey Roasted BBQ Sauce
Polynesian Sauce
Buttermilk Ranch Sauce
Chick-fil-A® Buffalo Sauce
Spicy Dressing
Avocado Lime Ranch Dressing
Zesty Apple Cider Dressing
Light Italian Dressing
Fat-Free Dijon Honey Mustard Dressing
Reduced-Fat Berry Balsamic Vinaigrette Dressing
Chick-fil-A® Sauce
Desserts
Ice Dream® Cup
Chocolate Syrup
Blueberry Topping
Condiments
Ketchup
Mustard
Mayonnaise
Light Mayonnaise
Apple Jelly
Grape Jelly
Mixed Fruit Jelly
Chick-fil-A History
Chick-fil-A is a fast food restaurant that was first opened in the mid-1960s. It's the brainchild of Truett Cathy who launched the diner at a local suburban Atlanta mall in 1967. Since then, they have grown to become one of the largest quick-service chains in America with a particular emphasis on chicken.
Chick-fil-A has more than 2,000 locations spread across 43 states and even Washington, D.C. In fact, their latest sales report shows that the restaurant had an annual profit record of $6 billion in 2015.
The food chain is privately owned and has been run by a single family for more than 48 years since its inception. The positive sales growth attests to their good management skills and quality food that customers enjoy. Chick-fil-A sets itself apart from other restaurants by pioneering new innovations and tasty products, such as their popular Chicken Sandwich.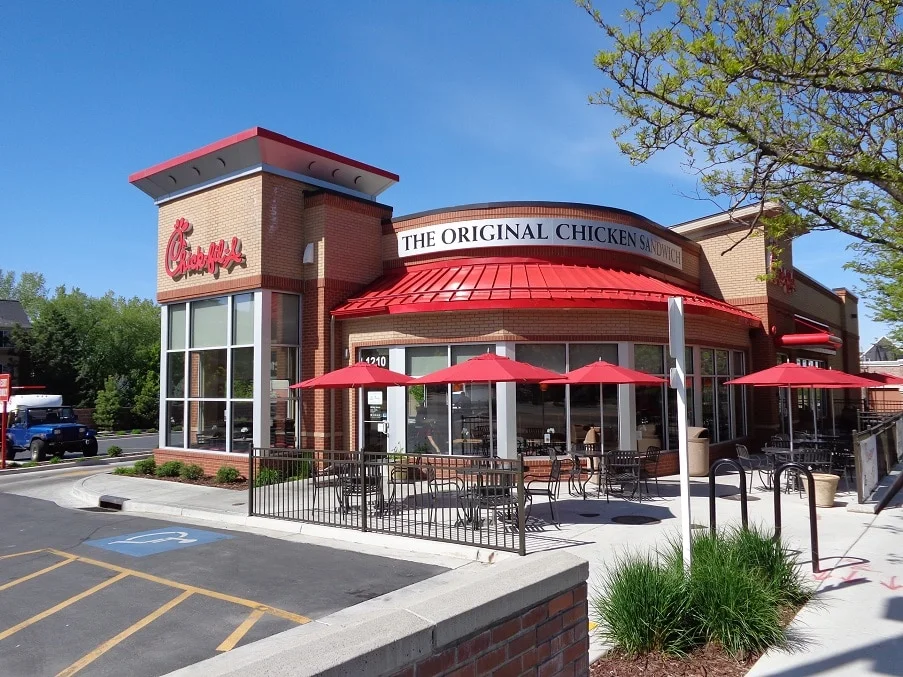 Though most of their restaurants are found in malls, they also have other unique outlets such as stand-alone bistros, drive-thrus, Dwarf House and Truett's Grill as well as other innovative concepts. Additionally, as part of their mission to have a positive influence in the community, most of the company's franchisees offer programs that aid in enriching local communities.
For instance, some have partnered with local schools to distribute certain core essentials for education and also foster value development. Others have even launched fundraising efforts whereby Chick-fil-A products and goods are used as student incentives.
Furthermore, many franchise operators offer weekly Kid's/Family themed nights where everyone is encouraged to come together and have fun while also enjoying quality food. Over the last 4 years, the company and its affiliates have provided more than $68 million in donations to more than 700 education and charity organizations, including food donations worth millions of dollars all across America. Throughout their existence, Chick-fil-A has built a foundation on a commitment to quality service for their customers and the community at large. Their motto is one client at a time.
Sources
If this Chick-fil-A gluten-free menu was helpful or if you find something inaccurate please let us know below.
Not happy with the Chick-fil-A menu? Let them know we want healthier gluten-free options.
Chick-fil-A Gluten-Free Menu
Summary
Chick-fil-A now has gluten-free buns made from quinoa which allows you to finally enjoy chicken sandwiches.