Here is the complete Cold Stone Creamery gluten-free menu. Cold Stone is a great place to go if you're looking for a lot of gluten-free dessert options. They don't have gluten-free ice cream cones, so you'll need to get it in a regular bowl, but there are so many flavors to try!
There are only a few ice cream flavors that contain gluten, so we've taken those out and you can see below that the list is still huge. Be aware that Cold Stone does state that there could be traces of gluten in any of there products due to manufacturing and preparation. If you have any concerns, make sure to inform your server of any food allergies.
Cold Stone Creamery Gluten-Free Menu 2023
Ice Cream
Amaretto Ice Cream
Banana Ice Cream
Black Cherry Ice Cream
Blueberry Ice Cream
Butter Pecan Ice Cream
Candy Cane Ice Cream
Cheesecake Ice Cream
Cherry Vanilla Ice Cream
Chocolate Ice Cream
Chocolate Dipped Strawberry Ice Cream
Chocolate Hazelnut Ice Cream
Chocolate Peanut Butter Ice Cream
Cinnamon Ice Cream
Coconut Ice Cream
Coffee Ice Cream
Cotton Candy Ice Cream
Dark Chocolate Ice Cream
Dark Chocolate Peppermint Ice Cream
Dulce De Leche Ice Cream
Egg Nog Ice Cream
French Vanilla Ice Cream
Fudge Truffle Ice Cream
Ghirardelli® Chocolate Ice Cream
Gingerbread Ice Cream
Irish Cream Ice Cream
Key Lime Ice Cream
Macadamia Nut Ice Cream
Mango Ice Cream
Marshmallow Ice Cream
Mint Ice Cream
Mocha Ice Cream
Orange Dreamsicle Ice Cream
Peanut Butter Ice Cream
Pecan Praline Ice Cream
Piña Colada Ice Cream
Pistachio Ice Cream
Pumpkin Ice Cream
Raspberry Ice Cream
Red Hot Ice Cream
Red Hot Strawberry Ice Cream
Rum Raisin Ice Cream
Salted Caramel Ice Cream
Salted Chocolate Caramel Ice Cream
Sea Salt Vanilla Bean Ice Cream
Skinny Vanilla Ice Cream
Strawberry Ice Cream
Strawberry Cheesecake Ice Cream
Sweet Cream Ice Cream
Tart Cherry Ice Cream
Vanilla Bean Ice Cream
White Chocolate Ice Cream
Sorbet
Countrytime® Lemonade Sorbet
Hibiscus Sorbet
Lemon Sorbet
Orange Sorbet
Pineapple Orange Banana Sorbet
Pink Champagne Sorbet
Raspberry Sorbet
Strawberry Sorbet
Strawberry Mango Banana Sorbet
Tart Cherry Sorbet
Watermelon Sorbet
Yogurt
Black Cherry Yogurt
Chocolate Yogurt
Raspberry Yogurt
Tart Cherry Yogurt
Triple Berry Yogurt
Vanilla Yogurt
Yogurt Base Mix – Other flavors are same as ice cream
Nuts
Almonds
Cashews
Macadamia
Pecan Pralines
Pecans
Peanuts
Pistachios
Walnuts
Fruit
Apple Pie Filling
Bananas
Black Cherries
Blueberries
Cherry Pie Filling
Maraschino Cherries
Peach Pie Filling
Pineapple Tidbits
Raspberries
Strawberries
Mix-Ins
Almond Joy®
Butterfinger®
Chocolate Chips
Chocolate Shavings
Chocolate Sprinkles
Coconut
Gumballs
Gummy Bears
Heath® Bar
M&M's®
Marshmallows
Peanut Butter
Peanut M&M's®
Rainbow Sprinkles
Reese's® Peanut Butter Cup®
Reese's® Pieces
Snickers®
White Chocolate Chips
YORK® Peppermint Patties
Toppings
Caramel
Cinnamon
Fudge
Honey
Marshmallow Crème
Rich's® On Top® Whipped Topping
Beverage Products
Frappé Mix
Lifestyle Smoothie Mix
Mango Juice
Things to Avoid
While most of the ice cream, sorbet, and yogurt is gluten-free, there are some other products offered that should be avoided.
Waffle Products (Cones, Bowls)
Signature Cakes and Pies
Signature Cupcakes and Cookie Sandwiches
Hot Stone™ Desserts
Cold Stone Creamery History
Cold Stone Creamery's road to success started when co-founders, Donald and Susan Sutherland, went on a mission around the globe in search of the best ice cream recipe. During their search, they discovered that ice creams are made in different ways that affect quality standards. Some of the varieties they came across include traditional hard-packed ice cream and soft serve assortments.
Nevertheless, the two didn't find anything unique since most blends seemed to be standard in all occasions. They pursued their own 'Ice Cream Dream' by opening the inaugural Cold Stone Creamery in Tempe, Arizona in 1988. Through their business, the Sutherlands essentially redefined how ice-cream is made throughout the world.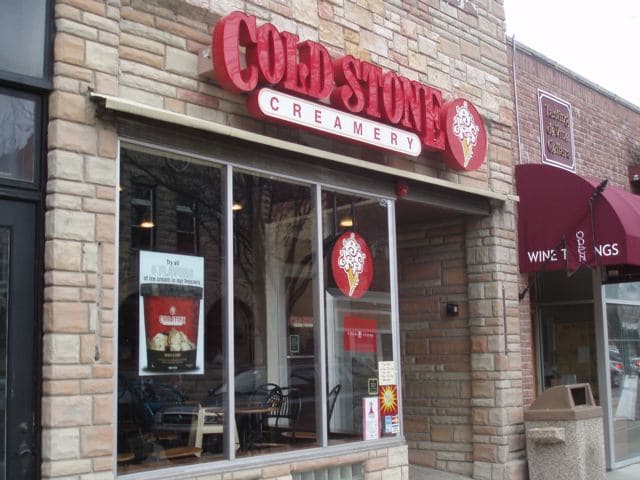 Currently, Cold Stone Creamery is headquartered in Scottsdale, Arizona with the company being a subsidiary of Kahala Brands. The parlor's main product is premium ice cream prepared with just about 12-14% butterfat content. The dessert is made right on site upon purchase and customized as per the buyer's requirements. Of late they have also expanded their menu to include pies, smoothies, shakes, cookie sandwiches and blended or iced coffee drinks.
Moreover, since 2008 the firm has been co-branding its stores with other partner chains in a bid to increase visibility throughout the United States, as well as transform the operations from seasonal to year-round.
The company says that they are proud of their legacy as Ice Cream Innovators. This pride is based on a heritage of continuously redefining plain ice cream into something that's more extraordinary. Each ice cream blend they serve is considered a 'Creation', mainly because it's a work of art. They are smooth, creamy, and blended with various toppings such as fruits, nuts, brownies, cookies, and candy.
Cold Stone has also introduced a variety of pudding flavors to their ice cream line, these being chocolate, banana, vanilla and butterscotch. This has been done in conjunction with their partners, who have also taught them how to make ingredients that do not melt.
Sources
If this Cold Stone Creamery gluten-free menu was helpful or if you find something inaccurate please let us know below.
Not happy with the Cold Stone Creamery menu? Let them know we want healthier gluten-free options.
Cold Stone Creamery Gluten-Free Menu
Summary
Cold Stone Creamery has so many different flavors of ice cream, and most of them are gluten-free! They also have sorbet, yogurt, and a lot of toppings that are safe to eat as well. We do wish there was a gluten-free ice cream cone alternative, and they do state that traces of gluten can sometimes happen due to preparation. But or those looking to avoid gluten and enjoy some ice cream, this is a great place to try.