Here is the complete Dairy Queen gluten-free menu. Dairy Queen doesn't have a ton of options when it comes to eating a fully gluten-free meal. We do wish they had some bread alternatives for their burgers and hot dogs.
However, Dairy Queen is famous and named for their delicious ice cream and other desserts, and there is a good amount of options here if you're looking to satisfy your gluten-free sweet tooth.
Dairy Queen Gluten-Free Menu 2023
Food
French Fries (may be fried with foods containing gluten)
Grilled Chicken patty (without bun)
Hamburger patty (without bun)
GrillBurger™ patty (without bun)
Hot Dog frank (without bun)
Treats
Chocolate or Vanilla Soft Serve
DQ® Fudge Bar
DQ Vanilla Orange Bar
Dilly® Bars (all flavors)
Buster Bar® Treat
Peanut Buster Parfait
Starkiss® Bars (all flavors)
Sundaes – Chocolate, Caramel, Hot Fudge, Marshmallow, and Strawberry
Blizzard® Treats
Reese's® Peanut Butter Cup
Butterfinger®
Heath®
Banana Split
Hawaiian
Tropical
Drinks
Arctic Rush® slush (all flavors)
MooLatté® frozen blended coffee drinks (vanilla, caramel, mocha)
Shakes – Chocolate, Caramel, Hot Fudge, Marshmallow, and Strawberry
All flavors of fountain soda
Dressing, Sauces, and Dips
BBQ Dipping Sauce Cup
House Made Hidden Valley Ranch Dipping Sauce Cup
Marzetti Balsamic Vinaigrette Dressing
Marzetti Blue Cheese Dressing
Marzetti Creamy Caesar Dressing
Marzetti Dijon Honey Mustard
Marzetti Fat-Free California French Style Dressing
Marzetti Honey French Dressing
Marzetti Light Italian Dressing
Marzetti Light Ranch Dressing
Marzetti Thousand Island Dressing
Wild Buffalo Dipping Sauce Cup
Zesty Queso Dipping Sauce
Tips
Dairy Queen does note that there is always the risk of some cross-contamination with any of their food due to the environment they are prepared in.
It doesn't hurt to ask to speak to the location manager about your dietary restrictions if you think there could be an issue.
Dairy Queen History
Dairy Queen is the world's biggest seller of soft frozen dessert products. Dairy Queen's remarkable story started with a 10 cent sale of the then unnamed product in 1938 in Moline, Illinois. A man named McCullough and his son, Alex McCullough, had been experimenting with a soft frozen dairy product. One day, they arranged to experiment their new dessert in an Illinois-based ice cream store, owned by Sherb Noble. The sale was a big success! More than 1,600 dessert lovers lined up to try the treat, and McCullough knew they had found a business opportunity. With such a success, the McCulloughs started looking for a type of freezer that would make producing soft ice-cream a reality.
They contacted two dairy equipment companies and asked if they would design a machine that produced semi-frozen dairy products. The two manufacturers turned down their proposal. Dejected and with no place to go, the McCulloughs seemed to have hit a dead end. But one day while McCullough was going through the want adverts in the Chicago Tribune, he stumbled upon an advert that could make large quantities of soft ice cream. The ad was placed by Harry M. Oltz. In 1939, McCulloughs and Oltz met and reached an agreement.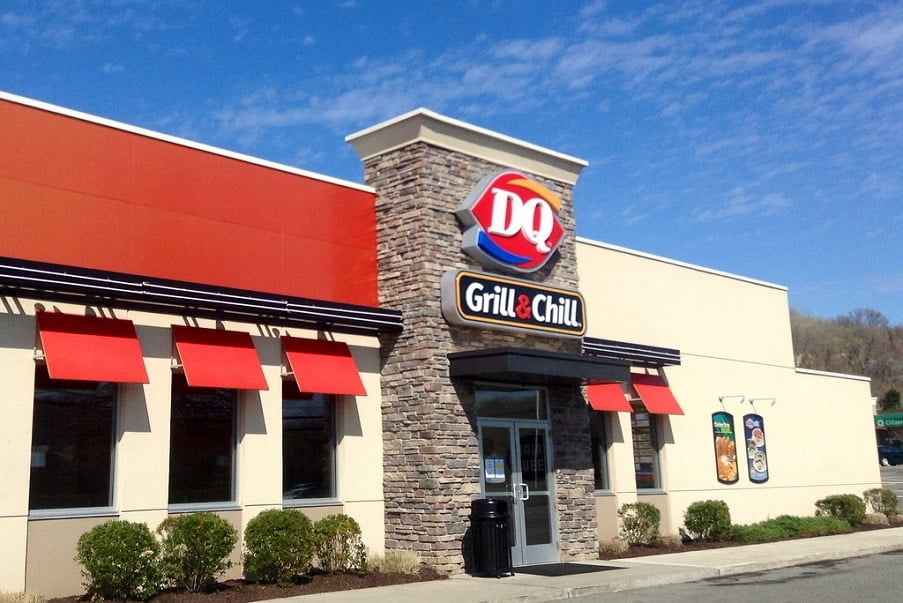 According to McCulloughs and Oltz agreement, Oltz received royalties equal to 2% per gallon of ice-cream run through all the dispensing freezers. The agreement also gave the McCulloughs licensing rights in the Western United States, while Oltz reserved them for the Eastern United States. On June 22, 1940, McCulloughs and Sherb Noble opened the first store in Joliet, Illinois. More stores were opened in Moline, Aurora, Illinois, and Davenport, Iowa, and by 1942 there were 8 Dairy Queen stores in operation.
Today, there are thousands of Queen stores spread across the United States, Mexico, Canada, Europe, Central America, and the Middle East. While a lot has changed in the world since Dairy Queen was founded, one thing has remained: Dairy Queen outlets are still a place to find businessmen and women on their lunch break and families enjoying delicious foods and soft-serve treats.
Sources
If this Dairy Queen gluten-free menu was helpful or if you find something inaccurate please let us know below.
Not happy with the Dairy Queen menu? Let them know we want healthier gluten-free options.
Dairy Queen Gluten-Free Menu
Summary
Dairy Queen doesn't have a lot of options if you're looking to eat a gluten-free lunch here. However, we know a lot of people come here just for the ice cream and desserts, and they do have a good variety of treats to enjoy.