Here is the complete Domino's gluten-free menu. Domino's may not be the first place you think of when trying to find a good gluten-free place to eat, but they do offer some options! They have a gluten-free crust that you can ask for when building your pizza. For now, it only comes in a small size, but it's a start.
Be aware that Domino's notes that even though they provide a gluten-free crust and have a lot of other gluten-free ingredients and sides, there will always be the possibility of some cross-contamination due to the environment in which all the food is prepared.
Domino's Gluten-Free Menu 2023
Crust
Gluten-Free Crust (Small Size Only)
Pizza Sauces
BBQ Sauce
Garlic Parmesan White Sauce
Hearty Marinara Sauce
Robust Inspired Tomato Sauce
Toppings
American Cheese
Anchovies
Bacon
Banana Peppers
Beef
Black Olives
Cheddar Cheese
Chorizo
Feta Cheese
Garlic
Green Chile Peppers
Green Peppers
Green Olives
Grilled Chicken
Ham
Hot Sauce
Italian Sausage
Jalapeno Peppers
Mushrooms
Onions
Parmesan-Asiago Cheese
Pepperoni
Pepperoncini
Philly Steak
Pineapple
Provolone Cheese
Salami
Spinach
Sweet Mango Habanero
Tomatoes
Sides
Barbecue Chicken Wings
Chicken Apple Pecan Salad
Classic Garden Salad
Hot Chicken Wings
Plain Chicken Wings
Roasted Red Peppers
Sweet Mango Habanero Chicken Wings
Extras
Balsamic Dressing
BBQ Sauce (Brown)
BBQ Sauce (Red)
BBQ Sauce Dipping Cup
Blue Cheese Sauce
Blue Cheese Dipping Cup
Caesar Dressing
Corn Meal
Fat-Free Raspberry Dressing
Garlic Dipping Sauce
Garlic and Herb Shake-On
Garlic Oil Blend
Italian Dressing
Kicker Hot Dipping Cup
Marinara Dipping Sauce
Oregano Blend Shake-On
Phase Oil
Ranch Dressing
Ranch Dipping Cups
Sweet Icing Dipping Cups
Sweet Mango Habanero Sauce Dipping Cups
Wing Sauce (Mild, Hot, & Fire)
Domino's History
Domino's is an international pizza chain restaurant that was founded in 1960 by two brothers, James and Tom Monaghan from Michigan. However, about 8 months after the launch, James sold all of his shares to his brother, making Tom the sole proprietor of the business.
After being named DomiNick's since the very beginning, they changed their name to Domino's Pizza Inc. in 1965, and 2 years later opened their first franchise location. By 1978, the restaurant had grown rapidly to include 200 franchises spread across the entire United States. The first United Kingdom Domino's restaurant was launched in 1985, though the first public location only opened its doors 6 years later in 1991. Since then, the pizza giant has expanded its portfolio in Britain in the last two decades and now runs 620 locations across the country, with plans to introduce even more in the future.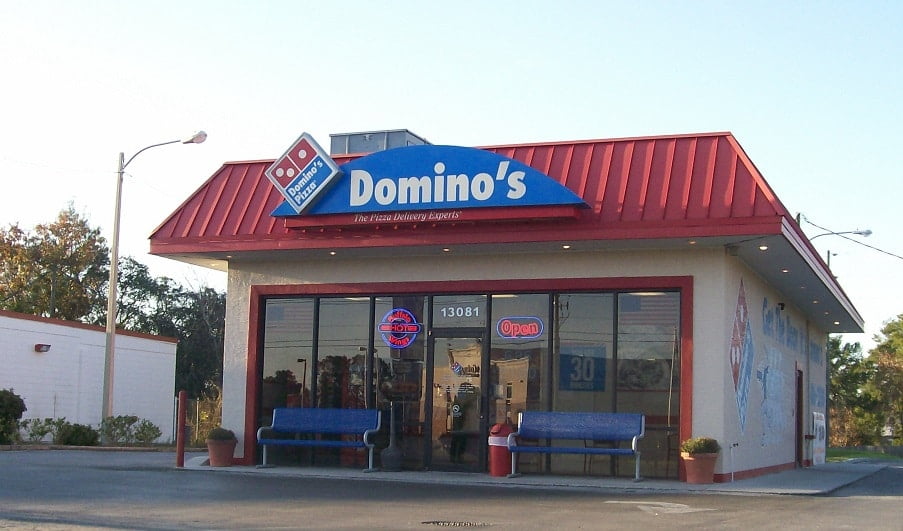 Having led Domino's as its head and co-founder for close to 38 years, Tom Monaghan finally handed over the reins of ownership to another firm, Bain Capital, selling 93% of his shares to the company in 1998 at a price of $1 billion. Currently, the management is led by Patrick J. Doyle who was named CEO of the company in March 2010.
It's the 2nd largest pizza delivery company in the United States and also has a reputable global presence, boasting more than 9,000 corporate and individual franchise locations spread across 80 countries and employing an estimated 145,000 workers. Approximately 50% of all sales in the United States come from their digital ordering channels. In fact, Domino's is currently ranked as one of the top 5 companies that make use of online transactions. Some other companies in this category are Apple and Amazon.
In a single day, Domino's delivers around 1 million pizzas globally. Pepperoni is their most popular topping in the United States, closely followed by mushrooms, ham, sausage and green peppers. The fastest pizza maker in the company is known as Pali Grewal, who can produce 3 large pizzas in only 32.28 seconds.
Sources
If this Domino's gluten-free menu was helpful or if you find something inaccurate please let us know below.
Not happy with the Domino's menu? Let them know we want healthier gluten-free options.
Domino's Gluten-Free Menu
Summary
Domino's has made an effort to offer a gluten-free crust and a lot of different ingredients to choose from when making a pizza choice. They also have some sides and sauces to choose from as well. We only wish they offered their gluten-free crust in a size other than small.