I had the awesome pleasure of recently visiting Budapest, Hungary. It was my first time outside of the United States and definitely a big culture shock! With my gluten-free diet I was also a little nervous. But to my surprise, eating over in Europe is surprisingly almost easier than it is here in the states. There are pretty much cafes on every corner, all with more natural food; salmon, chicken, steak, etc. Greasy fast food just isn't as predominate over there. My favorite dining experience was at a little placed called Drop, an awesome gluten-free Budapest restaurant.
Drop Review – Gluten-Free Budapest
About midway through my stay in Budapest I was finally comfortable walking around the city and not always having to hold out my phone GPS like a tourist. One night I decided to walk over to a little place a 4 or 5 blocks from my Airbnb. The place was called Drop and had some decent reviews online. The entire restaurant is gluten-free and the atmosphere of the place is great! The menu itself is in both Hungarian and English for easy ordering.
I decided to try the beefburger with french fries, cheddar cheese and coleslaw. This came out to ft 2750, or about $9.80. The awesome thing is that in the US you would have paid $20+ for this same meal. And all I can say is that it was amazing! Probably one of the best gluten-free burgers I have ever had. Not sure what they are using for their bread, but it was delicious. Not the crappy Udi bun option you typically get in the US.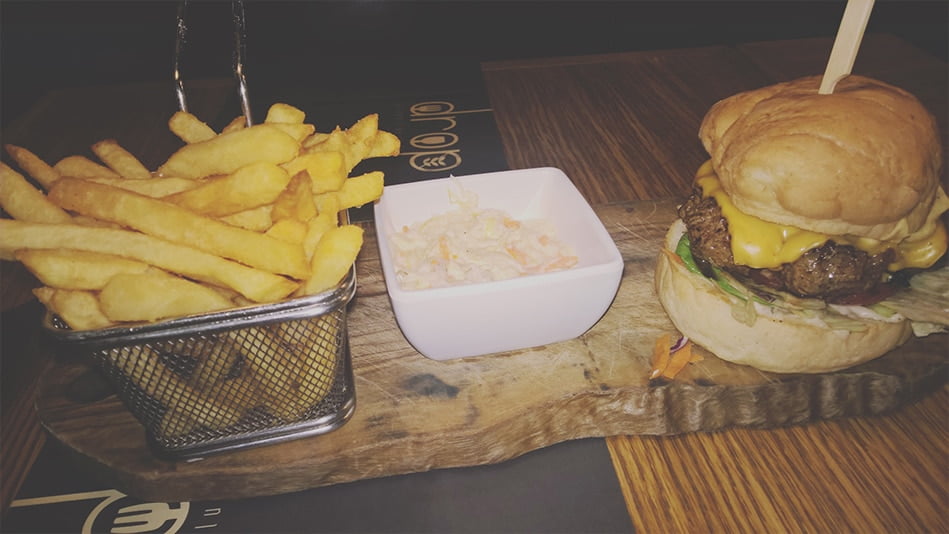 I had such a good experience the first night that I decided to go back the next night! I got my same table and decided to try the next thing on the menu. I got the penne with salmon, cream and parmesan. This cost ft 2450 or about $8.70. And again, it was just mind blowing!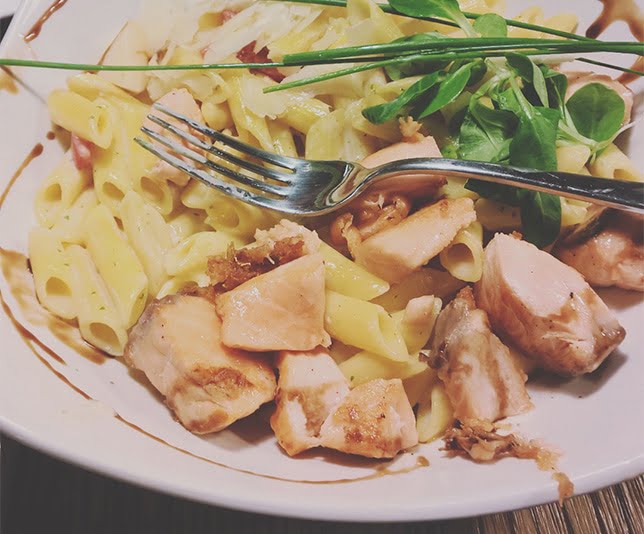 The staff was very kind and constantly checked on me to fill up my lemonade and see how I was doing. I could tell the waiter didn't speak very good English, but it didn't matter much as most people in Budapest understand English just fine.
Drop Restaurant Details
Website: droprestaurant.com
Address
Drop Restaurant (linked to Google maps, for those of you using your GPS to navigate the city)
1065 Budapest
hajós utca 27
It is pretty easy to find and on the Pest side.
Hours
Monday – Thursday 08:00 am – 00:00 pm
Friday 08:00 am – 01:00 pm
Saturday 09:00 am – 01:00 pm
Sunday 09:00 am – 00:00 pm
Drop Gluten-Free Menu
Here is the complete Drop gluten-free menu. Again, everything there is 100% gluten-free.
Starters
Grilled "Alföldi" smoked ewe-cheese with ratatouille
Mozzarella di Bufala with dried tomatoes and balsamic vinegar salad
Tomato bruschetta with fresh herbs
Beef steak tartare
Cheese composition for 2
Cheese composition for 4
Main Courses
Penne with salmon, cream and parmesan
Penne pomodoro with grilled chicken
Breaded chicken breast with french fries
Confit duck leg with rosemary steak potatoes and braised purple cabbage
Salmon steak with white wine lemon sauce and grilled vegetables
Baked trout with garlic herbed blanched vegetables
Honey roasted French rack with grilled vegetables and rosemary potatoes
Grilled goat cheese with hazelnut spinach salad and sage oil
Sesame fried crispy chicken steak with fresh mixed salad and honey-chili sauce
Filet mignon Drop style with rosemary potatoes and roasted tomato
Aged Brasilian filet mignon with fresh ratatouille and steak potatoes
Soups
Fridatto style broth
"Hortobágyi" Grey cattle goulash soup
Strawberry soup with mascarpone cream and whipped cream clouds
Toscan tomato basil soup with mozzarella
Salads
Grilled chicken salad with pineapple and spicy sauce
Goat cheese salad with dry cured ham
Classic Caesar salad with garlic toasts
Caesar salad with grilled chicken breast
Caesar salad with tuna
Burgers
Chickenburger with french fries, cheddar cheese and coleslaw
Beefburger with french fries, cheddar cheese and coleslaw
Salmon burger with french fries, cheddar cheese and coleslaw
"Gipsyburger" with french fries, cheddar cheese and coleslaw
Desserts
Sponge cake "Somlói" style
Heavenly carrot-cake with mascarpone glaze
Belgian chocolate tower
Light strawberry cream cups
Summary
I was in Budapest for a week and ate at a lot of different places. But the two meals I had at the Drop were the best of the trip! The staff was courteous and kind, the food was out of the world, and drinks were great. I only wish they had one here in Scottsdale! If you are ever in Budapest and looking for gluten-free Budapest restaurants, I strongly urge you hit up the Drop.
Drop Gluten-Free Budapest Restaurant
Summary
If you are looking for a great gluten-free Budapest option, then the Drop is a must! Their entire menu is gluten-free and trust me, you won't be disappointed.