Here is the complete Dunkin' Donuts Gluten-Free menu. Dunkin' Donuts might not be the place you're looking for if you were hoping for a lot of gluten-free snacks. If you're just going for a drink, all of their beverages are gluten-free. However, they do warn that any of their products may come in contact with gluten due to the environment in which they are prepared. They were talking awhile back about testing out some individually wrapped, gluten-free baked products like donuts and muffins, but it remains to be seen if they will start rolling anything like this out to all of their locations. Unless you're just going to grab a coffee or other drink, we'd recommend going somewhere else. Note: They do have almond milk.
Dunkin' Donuts Gluten-Free Menu 2023
Drinks
All Coffee
All Other Beverages
Dunkin' Donuts History
Dunkin' Donuts is a popular fast food restaurant chain that specializes in coffee and doughnuts. It was first opened in Dedham, Massachusetts in 1955 selling 52 different types of donuts, just enough for customers to have a unique variety each week for an entire year. By 1963, Dunkin' had already opened its 100th location and later grew to cover more than 1,000 locations by the 1970s.
Founder William Rosenberg began his career in the food industry as a typical caterer serving industrial workers. He soon discovered that 40% of his profits came from only two products, doughnuts, and coffee. When Rosenberg launched the inaugural brick and mortar store in Massachusetts, he named it Open Kettle. He soon came to the conclusion that it needed a better name so he assembled his top executives in a room and told them to come up with a new identity for the company. His company architect coined the name Dunkin' Donuts and by 1950 they had already made it official.
William's son Robert took over management in 1963 at the age of 25. He was a Harvard Business School graduate. Under his guidance, Dunkin' Donuts improved operations by streamlining menu offerings, introducing paper and Styrofoam cups as well as other new products such as muffins, donut holes, croissants, bagels, Coolattas, breakfast sandwiches and other beverages apart from coffee.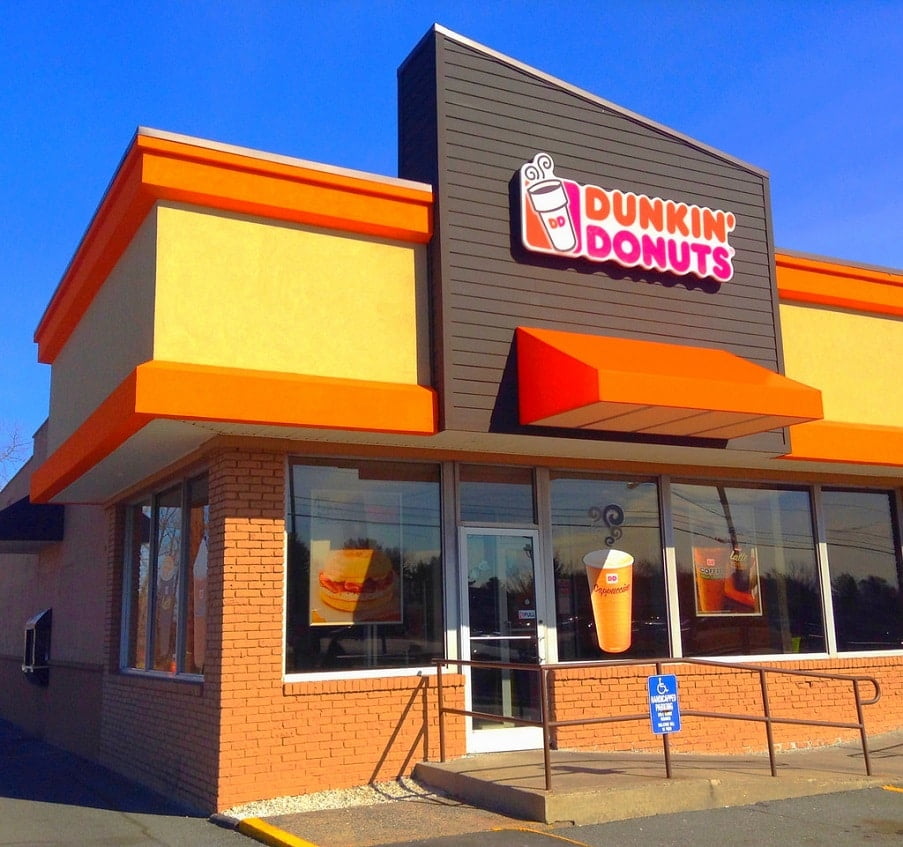 He also began a national advertising program and changed the restaurant's format by moving away from traditional stool counters to tables and made the franchise available at remote locations. Robert started selling franchises to multi-unit store operators and introduced satellite sales points and a commissary system of operation. All these things helped reduce the cost of building thus increasing profits.
Today, there are more than 11,300 locations operating internationally with 3,200 global restaurants in 37 countries. On average, they receive around 3 million customers on a daily basis, with most of them coming for special treats such as iced, glazed and dotted fried donuts. The restaurant is sometimes co-branded as Baskin Robbins, which is a sister-brand franchise owned by the parent company, Dunkin' Brand, Inc.
Sources
If this Dunkin' Donuts gluten-free menu was helpful or if you find something inaccurate please let us know below.
Not happy with the Dunkin' Donuts menu? Let them know we want healthier gluten-free options.
Dunkin' Donuts Gluten-Free Menu
Summary
Dunkin' Donuts doesn't provide any gluten-free food items whatsoever. However, all of their coffee and other beverages are probably safe to drink if your just looking to avoid gluten and grab a quick drink. They don't make any guarantees that cross contamination might not take place, and while they did talk at one point about rolling out some gluten-free food items, it has yet to happen in all markets.