Here is the complete El Pollo Loco Gluten-Free menu. El Pollo Loco has a good amount of items that don't contain gluten, but they don't claim to be a gluten-free restaurant. They prepare all of their food on the same surfaces with the same utensils so there is likely going to be some cross contamination, especially because they do also have a lot of gluten containing foods on their menu. If you have celiac disease or a high gluten intolerance, it might be better to eat somewhere else. However, for those of you who are just looking to avoid gluten as much as possible in your diet, their gluten-free menu actually isn't too shabby.
El Pollo Loco Gluten-Free Menu 2023
Fire-Grilled Chicken
Fire Grilled Chicken (bone in)
Fire Grilled Chicken Breast
Fire Grilled Chicken Wing
Fire Grilled Chicken Thigh
Fire Grilled Chicken Leg
Skinless Chicken Breast
Bowls and Salads
Pollo Bowl®
Ultimate Double Bowl – Chicken or Shrimp
Grande Avocado Bowl
Classic Salad (with dressing) – Chicken or Shrimp
Mexican Cobb Salad (w/ dressing) – Chicken or Shrimp
Ultimate Double Chicken Salad
Under 500 Calories
Avocado Salad
Grilled Chicken Salad (No Dressing)
Fire Grilled Skinless Breast Meat
Mini Pollo Bowl
Sides
Corn and Red Pepper Blend
Broccoli
Pinto Beans
Black Beans
Loco Side Salad with Creamy Cilantro Dressing
Mashed Potatoes without Gravy
Coleslaw
Kids' Combos
Chicken Leg
Mini Pollo Bowl
Snack Menu
Extras/Other
Chips and Guacamole
Tortilla Chips
6" Corn Tortilla
Creamy Cilantro Dressing
Light Creamy Cilantro Dressing (Packet)
Low Fat Citrus Vinaigrette
Ranch Dressing (Packet)
House Salsa
Pico De Gallo
Avocado Salsa
Creamy Cilantro Dip Cup
Ranch Dip Cup
Guacamole
Sour Cream
Jalapeno Hot Sauce (Packet)
Ketchup (Packet)
Fresh Buttery Spread
Sliced Jalapeno Peppers
Drinks
Coca Cola
Diet Coke
Coke "Zero"
Cherry Coke
Barq's Root Beer
Sprite
Hi-C Flashin' Fruit Punch
Fanta Orange
Minute Maid Lemonade
Minute Maid Light Lemonade
Dr. Pepper
Iced Tea, FUZE Raspberry
Gold Peak Fresh Brewed Mango Passion Tea
Gold Peak Fresh Brewed Unsweetened Tea
Fresh Brewed Sweetened Tea (Texas Only)
Horchata
Coffee
Water, Bottled
El Pollo Loco History
El Pollo Loco restaurant, also known as EPL, is America's leading quick service food chain specializing in flame-grilled chicken. The company operates roughly 140 locations whereas their franchisees control around 180 restaurants. These eateries are spread across multiple states in the U.S. including California, Nevada, Texas, and Arizona. Nevertheless, most of the locations, around 80%, are based in California.
These eateries offer a variety of Mexican delicacies and side dishes such as chicken quesadillas, burritos, tacos al carbon and their own signature dish, the Pollo Bowl. EPL's majority shareholder is a New York-based equity investment company known as American Securities Capital Partners, L.P.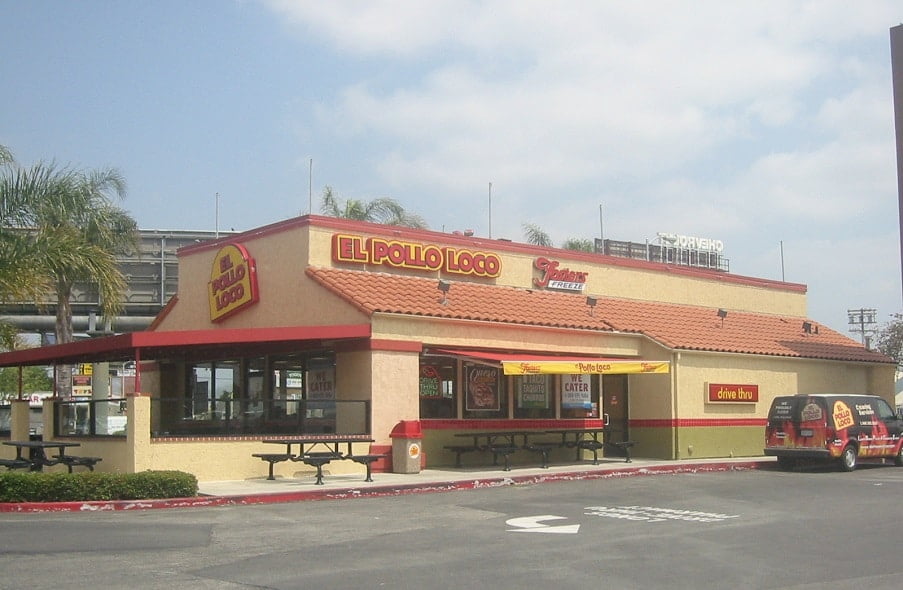 The story of El Pollo Loco began in 1975 when Juan Francisco 'Pancho' Ochoa launched his inaugural roadside chicken stall in Guasave, Mexico. In this small township on the Mexican Pacific Coast, residents experienced the proprietor's first dining concept. To local natives, Ochoa's cooking style was original and soon became a massive hit.
Using a special recipe he learned from his mom, Ochoa soaked his chicken in a variety of spices, herbs and citrus juices before grilling it on moderate heat. The result was a tasty delicacy that fueled the rapid growth of the EPL brand. A few years later, Francisco, together with his partners, opened 85 restaurants in 20 cities across northern Mexico and later took a bold step, venturing into the U.S.
The company's current CEO is Steve Sather who was appointed to the position in 2006 to manage both the parent company and its franchise operations. Sather has more than 30 years of experience in the fast food business, bringing a wealth of knowledge and business networks to the company. El Pollo Loco is a privately held company that operates as a subsidiary of Trimaran Pollo Partners. Currently, they have plans to open 20-30 new locations in Northern Texas by the end of 2019. Apart from fresh Mexican entrees, they also offer other unique blends of individual and family dishes such as warm tortillas and salsas.
Sources
If this El Pollo Loco gluten-free menu was helpful or if you find something inaccurate please let us know below.
Not happy with the El Pollo Loco menu? Let them know we want healthier gluten-free options.
El Pollo Loco Gluten-Free Menu
Summary
El Pollo Loco may or may not be the place you're looking for. It really depends on if you have an allergy or sensitivity to gluten or are just trying to avoid it in your diet. They are pretty open about not claiming to be a gluten-free restaurant and that cross contamination is likely due to a shared kitchen and a lot of gluten foods floating around. However, if we're looking at how much food they offer that is technically gluten-free, there is actually a good variety to choose from. If you aren't allergic and just looking to avoid gluten in your food, this menu may be worth checking out.