Here is the complete Erbert and Gerbert's Gluten-Free menu. Erbert and Gerbert's does a great job at providing gluten-free options, offering gluten-free certified sandwiches and soups! They have made the effort to make three of their most popular sandwiches certified gluten-free. They also have done this with many of their soups. In addition, you can also get any of their sandwiches made on their gluten-free roll. They also use dedicated equipment to avoid cross-contamination as much as possible for their gluten-free customers. This is a great place to go if you're looking for a nice selection of gluten-free soups and subs.
Erbert and Gerbert's Gluten-Free Menu 2020
Sandwiches
They offer Udi's gluten-free rolls on any of their sandwiches, and they have made the effort to make their three most popular subs certified gluten-free!
Boney Billy (Certified Gluten-Free)
Comet Morehouse (Certified Gluten-Free)
Jacob Bluefinger (Certified Gluten-Free)
Pompeii
Titan
Erupter
Spartan
Quatro
Apollo
Comet Candy
Flash
Narmer
Girf
Tullius
Shortcake
Halleys Comet
Tappy
Bornk
Pudder
Soups
Cheddar Cheese & Broccoli
Tomato Basil Parmesan
Smoked Chicken & Sweet Potato
Chicken Tortilla
Cream of Jalapeno
Vegetarian Black Bean
Chilis
Chunky Beef & Bean Chili
Turkey Chili With Beans
Erbert and Gerbert's History
Erbert and Gerbert's is a restaurant chain that specializes in making sub sandwiches. The restaurant was created in Eau Claire, Wisconsin in 1987, though the first location actually opened a year later. This company has more than fifty locations spread across 12 states in America. Their headquarters is in the company's hometown of Eau Claire, and most of their restaurants are located near colleges. Though Erbert and Gerbert's was founded more than 20 years ago, they have since grown to cover more than 80 destinations spread across the globe and the United States.
Unlike other fast food chains, Erbert and Gerbert's has a wide variety of sandwich offerings with names such as Bornk, Girf and Narmer which express a deep passion for the notion of Flavornation. According to them, flavor is about the sandwiches and life in general. On the company's website, they say "bring us you're tired, hungry and bored and we shall give them flavor". These sandwiches are not just meant to fill their customers' bellies, but also put a bright smile on their faces.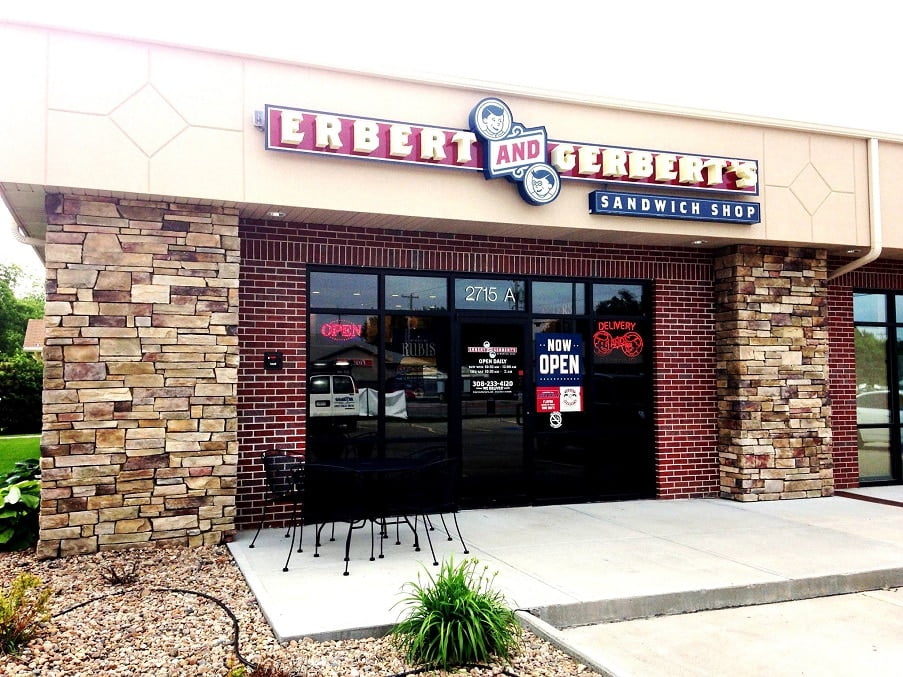 Erbert and Gerbert's is the brainchild of Kevin and Beth Schippers. The restaurant's name was borrowed from imaginary characters in stories that Kevin's dad used to tell him when he was still a child. In 2003, Kevin was awarded the Wisconsin's Emerging Small Business Person award by the Small Business Administration (SBA) center. Nevertheless, Kevin sold the franchising company to majority shareholders in the same year, primarily to investors led by Eric Wolfe. But Schippers still owns the original restaurant in Eau Claire, Wisconsin. In 2009, the company was given a Gold Effie Award for their innovative ad campaign designed by Colle & McVoy.
Additionally, with some of their partners, the company has ventured into the grab n' go business where they distribute ready-to-eat offerings that are served out of a self-service, heated or chilled, merchandiser unit. Erbert and Gerbert's sandwiches are special since they are prepared by first cutting out the bread and removing the soft white dough laying inside, then spreading the 'guts' on top of the main sandwich.
Sources
If this Erbert and Gerbert's gluten-free menu was helpful or if you find something inaccurate please let us know below.
Not happy with the Erbert and Gerbert's menu? Let them know we want healthier gluten-free options.
Erbert and Gerbert's Gluten-Free Menu
Summary
We love that Erbert and Gerbert's offers some certified gluten-free options for both their subs and soups. They also go the extra mile to use dedicated equipment to avoid cross contamination and provide Udi's gluten-free buns to have with any of their sandwiches. We think this is a great place to go for a wide variety of gluten-free sandwiches and soups.
All restaurant and fast food trademarks, service marks, trade names, product names and logos appearing on the site are the property of their respective owners.