Here is the complete Five Guys gluten-free menu. Five Guys is known for their burgers and hot dogs but unfortunately, they don't offer a gluten-free bun. Your only option is to either bring your own bun or they do have lettuce wraps available.
Their fries are gluten-free and cooked in 100% peanut oil and they have a milkshake as well with a lot of flavors to mix in. So all in all, this is an OK place to visit for a gluten-free meal.
Five Guys Gluten-Free Menu 2023
Burgers (No Bun)
You can ask for a lettuce wrap.
Hamburger
Cheeseburger
Bacon Burger
Bacon Cheeseburger
Little Hamburger
Little Cheeseburger
Little Bacon Burger
Little Bacon Cheeseburger
Dogs (No Bun)
Kosher Style Hot Dog
Cheese Dog
Bacon Dog
Bacon Cheese Dog
Meats
Bacon
Hamburger Patty
Hot Dog
Fries
From our experience, they do cook their fries in a separate fryer.
Cajun Style
Five Guys Style
Toppings
A.1.® Original Steak Sauce
BBQ Sauce
Cheese
Green Peppers
Grilled Mushrooms
Hot Sauce
Jalapeño Peppers
Ketchup
Lettuce
Mayonnaise
Mustard
Onions / Grilled Onions
Pickles
Relish
Tomatoes
Milkshakes
Five Guys Shake Base
Whipped Cream
Mix-Ins
Bacon
Banana
Chocolate
Coffee
Dark Vanilla Syrup
Oreo® Crème (Not Oreo® Cookies)
Peanut Butter
Salted Caramel
Strawberry
Other Items
Drinks
They serve Coca-Cola® products and all of their soft drinks are gluten-free.
Five Guys History
Five Guys was established in 1986 by Jerry and Janie Murrell. At the time, they were thinking about either starting a business or going to college. They settled on a proprietorship together with their four younger brothers who were also drawn into the business. The Murrell family launched their first carry out burger restaurant in Arlington, Virginia.
Their philosophy was simple, "to perfect and serve" their customers with dedication. Their cooking formula was also uncomplicated yet effective, burgers and fries prepared to perfection. It turned out to be a success within the local community, and later on in other parts of America. Under the Murrell family's guidance, they were soon preparing quality fresh-cut fries made in pure peanut oil and grilled burgers. Soon enough, the small burger joint had grown to command a cult-like following, with customers even voting it the "Number 1 burger joint in the metro area".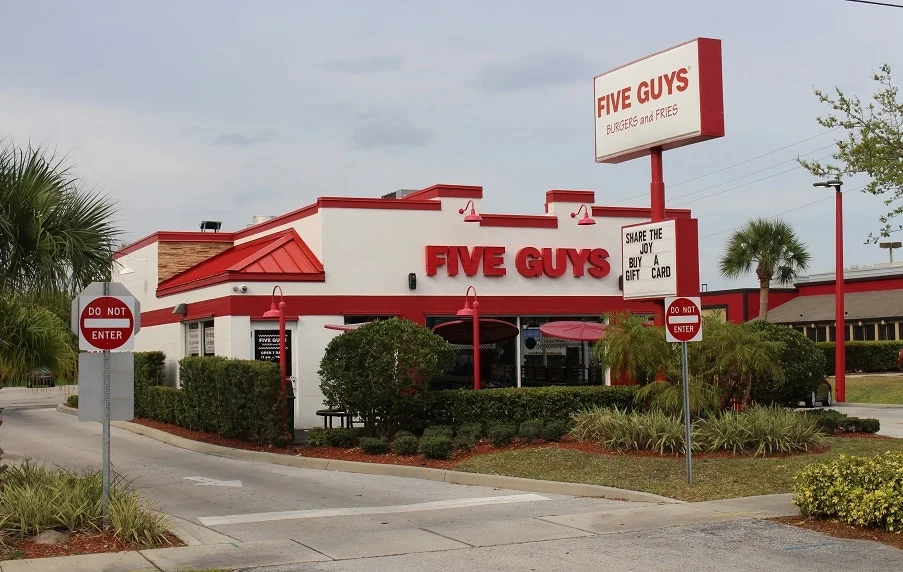 During the 1990s, Five Guys had become the place to go for fresh, juicy burgers with tasty toppings that could be stuffed in between freshly baked buns. Their youngest brother was born during this time, and as the family grew in size, so did their company. Four more locations with traditional sit-down chairs were introduced to accommodate the growing number of customers.
Early in 2003, Janie and Jerry started offering franchise opportunities to the public. After only 18 months, they had already provided licenses to more than 300 investors. Their overwhelming success led to publications in magazines such as Restaurant Business and Nation's Restaurant News.
Even today, Five Guys are still keeping their promise of delivering quality food to customers with the experience to match. They only use fresh-ground beef to prepare their burgers, which helps in maintaining freshness. Additionally, they don't have any freezers on site since all their products are fresh and cooked right from scratch. Currently, the restaurant has over 1,000 locations found in 47 U.S. states and 6 Canadian provinces.
Sources
If this Five Guys gluten-free menu was helpful or if you find something inaccurate please let us know below.
Not happy with the Five Guys menu? Let them know we want healthier gluten-free options.
Five Guys Gluten-Free Menu
Summary
We wish Five Guys offered a gluten-free bun to enjoy their burgers and hot dogs. They would definitely get a much better score if they provided a bread alternative. However, if your just looking for a snack or happen to be here with some friends, you can always enjoy some fries and a shake which are both gluten-free. They also have lettuce wraps.