Here is the complete Flower Child Gluten-Free Menu. Flower Child has a great selection of healthy food and most of their menu is gluten-free. While they do not operate a gluten-free kitchen and do make some other food items that do contain gluten as well, they are passionate about healthy food! Most of the items on their menu are naturally gluten-free with not modifications, and they also offer gluten-free pita bread to substitute on their wraps. Because they do make food containing gluten in their kitchen, make sure to let them know if you have a gluten allergy or sensitivity so they can take the proper precautions.
Flower Child Gluten-Free Menu 2023
Salads
Organic Kale
Vegan Ingredient
Strawberry Fields
Grains & Greens
Mediterranean Diet
Skinny Cobb
Lemon Avocado Dressing
Vegetables & Grains
Avocado
Clementine & Organic Apple
Spicy Japanese Eggplant
Red Chili Glazed Sweet Potato
Organic Brown Rice
Indian Spiced Cauliflower
Sauteed Spinach
Gluten-Free Mac & Cheese
Sweet Corn & Quinoa
Smashed Organic Potato
Simple Hummus
Simple Sauteed Broccoli
Bowls
Thai Cashew Quinoa
"Forbidden" Rice
Late Riser
Madras Curry
Wraps
They offer a gluten-free pita for an extra charge so you can enjoy a gluten-free wrap!
Healthy Kids Menu
Broccoli With Parmesan
Sweet Corn & Quinoa
Organic Brown Rice
Organic Smashed Potatoes
Gluten-free Mac & Cheese
Clementine & Organic Apple
Flower Child History
Flower Child is a new fast-casual restaurant chain that was founded in 2014. It's the brainchild of award-winning entrepreneur Sam Fox in partnership with Fox Restaurant Concepts. Their first location was San Diego, where they opened a 4,500 square foot restaurant at the former Sea & Smoke center. This eatery features a bohemian-style interior space with an open kitchen, plant-filled dining area, a special place for fast-food snacks and plenty of patio space.
The restaurant's menu is based on a healthy concept of organic foods such as grain bowls, salads, seasonal vegetables, sustainable salmon and grass-fed steak among others. There are also various vegan, vegetarian and gluten-free options for customers with specific dietary needs. Not to mention the iced tea and fresh lemonade stand that updates flavors from one season to another.
Currently, Flower Child is found in three locations across the state of Arizona, including ones in Austin, and Santa Monica. The Californian based chain is open daily from 11am-9pm, with breakfast during the weekend served from 8am-11am. This eatery is under the management of Mark Yost, working together with senior chef Steven Molina who runs the kitchen.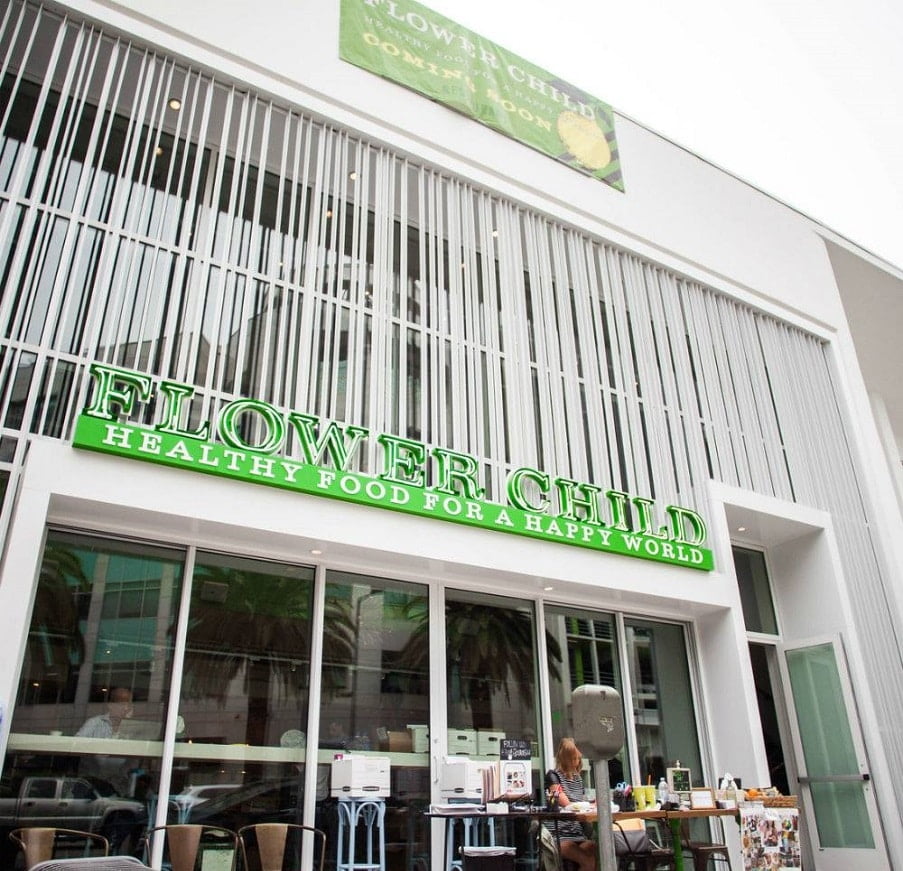 As a company policy, Flower Child only gets its meat products from ranchers who show respect and genuine concern for their animals' welfare. Their protein sources are all grown naturally, with no preservatives or additives whatsoever.
Moreover, sourcing raw products locally is a top priority for the restaurant. Food is always prepared fresh and served quickly. In fact, Flower Child maintains a close relationship with its farmers and their families. Though the food is served fast, they never cut corners or leave anything to chance. The items offered by this eatery are also very affordable compared to others.
Everyone who dines at the restaurant is considered part of the company's family. The restaurant thanks all of their customers for being key contributors to their revolution.
Sources
If this Flower Child gluten-free menu was helpful or if you find something inaccurate please let us know below.
Not happy with the Flower Child menu? Let them know we want healthier gluten-free options.
Flower Child Gluten-Free Menu
Summary
Flower Child offers a good size menu of healthy food items and we love that most of them are already gluten-free. It's also nice that they offer gluten-free pita bread to enjoy some of their wraps, and they do a great job noting all the gluten-free, vegetarian, and vegan items on their menu. While they may not be a gluten-free kitchen, we appreciate the wide selection and the devotion to serving healthy food.