So we all know Oreos aren't that healthy for you, but sometimes you just have a sweet tooth. I have Ulcerative Colitis and I can't eat gluten, so I went on the hunt for the best gluten-free Oreos! After trying a few brands here and there, I finally found the brand that both tastes amazing and settles fine with my stomach.
The Best Gluten-Free Oreos
The Oreos I finally landed upon are KinniToos Chocolate Sandwich Cremes! They are made in Canada by Kinnikinnick foods. These taste just like the real thing. Ok, to be honest I no longer remember what the real ones taste like, but they taste awesome, and go great with my soy-free gluten-free peanut butter. This is my guilty pleasure. Or you could also dip them in some yummy almond milk if you are a dunker.
They are very soft for a gluten-free cookie. I was very surprised when I opened my first pack. As many of you know there are a lot of horrible gluten-free packaged foods out there.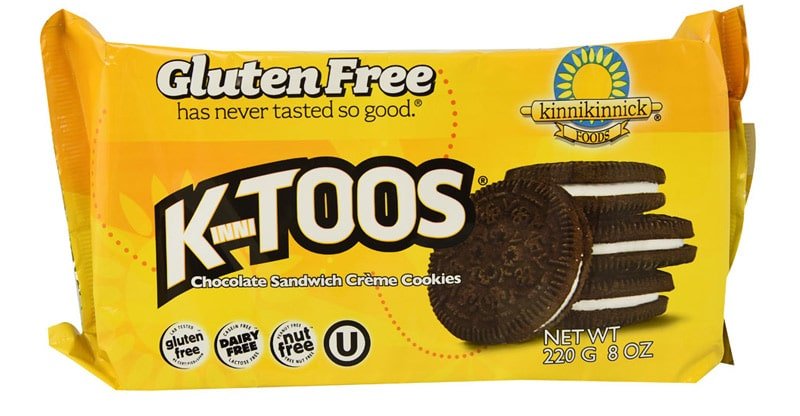 Ingredients
They great thing about these is that they are gluten-free, dairy-free, egg free, and nut free!
Icing sugar
Cornstarch
Non-hydrogenated shortening
Vanilla extract
Soy
Pea starch
Potato starch
White rice flour
Cocoa powder
Water
Tapioca starch
Glucose
Pea protein
Salt
Modified cellulose
Pea fiber
Vanilla extract
Caramel color
Inulin
Sodium bicarbonate
Since these are made in Canada the cheapest place to buy these is on Amazon. 70% of the ratings on these are 5 stars, people love them! You can get a pack of 6 for under $25.00. This comes out to around $4.16 a pack. If you use Subscribe & Save (which I highly recommend anyone eating gluten-free use) you can save an additional 5%, coming in at around $3.86 a pack. Not a bad price in my opinion, many organic cookie brands locally will usually run around $5. Also there is a chocolate and vanilla flavor.
I hate to admit this but I am already on my 9th box of these as we speak. They are so good! If this review on the best gluten-free Oreos was helpful, please let me know below in the comments. Also, I would love to hear what you think of them.
Gluten-free Oreos
Taste

Price

Ease of Purchase
Summary
If you are looking for the best gluten-free Oreos then look no further! KinniToos taste just like the real thing. They are gluten-free, dairy-free, egg free, and nut free! Pair them with almond milk and you'll be back dunking in no time.