Here is the complete Hardee's gluten-free menu. Hardee's does not have a lot of gluten-free food on their menu, but they do offer lettuce wraps and a few other things. They advertise a gluten-sensitive menu which only consists of three items. Luckily, there are a few more things that they serve that don't contain gluten.
However, they note that they operate a shared cooking environment and cross-contamination can occur with any of their food. If you have Celiac Disease or severe gluten intolerance, this might not be the best place to go.
Hardee's Gluten-Free Menu 2023
Breakfast
Low Carb Breakfast Bowl®
Grits
Thickburgers
Low Carb Thickburger® (Lettuce Wrap)
It's worth noting that while they only have one burger advertised as being gluten-sensitive, you should be able to ask for any of their other burgers to come in a lettuce wrap instead of a bun.
Sides
Side Salad (Does Not Include Dressing)
Green Beans
Cole Slaw
Mashed Potatoes (Does Not Include Gravy)
Desserts
Single Scoop Ice Cream Bowl
Hand Scooped Ice-Cream Shake™
Condiments & Dressings
Barbecue Sauce Dipping Cup
Barbecue Sauce Packet
Buffalo Sauce Dipping Cup
Butter Blend, Packet
Buttermilk Ranch Dipping Cup
Fat-Free Italian Salad Dressing
Honey Mustard Dipping Cup
Honey Packet
Horseradish Packet
Hot Sauce Packet
Jam, Strawberry
Jelly, Grape
Ketchup
Lemon Juice
Mayonnaise
Mayonnaise Packet
Mustard
Mustard Packet
Picante Sauce Packet
Ranch Dressing
Tartar Sauce
Texas Pete® Hot Sauce
Hardee's History
Hardee's is an American fast-food restaurant chain that primarily specializes in hamburgers. As it stands today, it's the 6th largest restaurant chain in the United States with thousands of locations across the country. This company is the brainchild of Wilbur Hardee and first began operations in Greenville, North Carolina on September 3, 1960.
Hardee's signature item, the Huskee hamburger, gained massive popularity within a year after the restaurant was founded. About 5 months later, they had their first franchise and have since expanded throughout the years to become a favorite brand among many people, especially in the Southeastern and Midwestern regions of the United States.
Following its opening, the restaurant enjoyed a period of steady growth over the next 20 years, primarily due to the expansion of its initial line of hamburgers. By 1980, Hardee's had reached its growth pinnacle with more than 4,000 locations.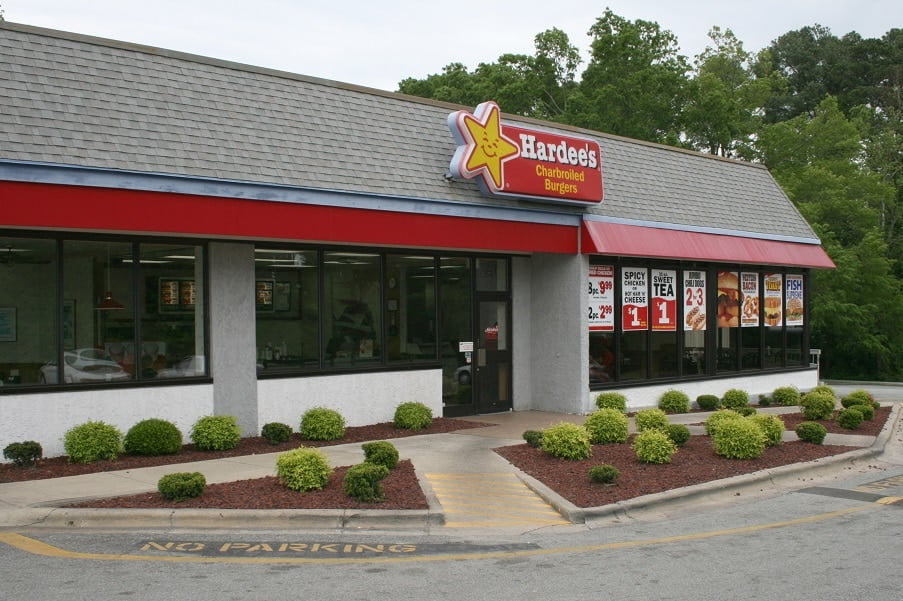 In April 1997, CKE Restaurant Holdings Inc. paid an estimated $327 million to acquire Hardee's. The merger created a massive chain consisting of 3,828 restaurants, 3,152 of which originally belonged to Hardee's and were spread across 40 states in U.S. and 10 foreign nations, as well as 676 of CKE Holding's Carl's Jr. restaurants found primarily in California.
The new owners went ahead to upgrade its menu and also discontinued Hardee's signature charbroiling cooking practice. Though most folks knew the restaurant for its biscuits, that all changed in 2003 when Hardee's cut down its menu to focus only on the Thickburger line. This burger is made from 100% Angus beef, and this has contributed to making Hardee's a leader in the quick-service industry for both quality and taste.
In recent years, the restaurant has been expanding its portfolio by opening new locations in the Northeast after decades of focusing only on Midwest and Southeast territories. In 2007, they also moved their headquarters from North Carolina to St Louis, Missouri. Today, Hardee's continues to forge ahead with its fresh menu items, enticing advertisements, and upgraded fast-food experience.
Sources
If this Hardee's gluten-free menu was helpful or if you find something inaccurate please let us know below.
Not happy with the Hardee's menu? Let them know we want healthier gluten-free options.
Hardee's Gluten-Free Menu
Summary
We wish that Hardee's did more to cater to the gluten-free crowd. For those who aren't allergic or intolerant and just looking to follow a gluten-free diet, it's probably safe but their gluten-free selection is still limited. It's nice that they offer a lettuce wrap, but a gluten-free bun would be even better. And other then a lettuce wrapped burger and a few sides, there isn't much to choose from here. Cross contamination is also a definite possibility.