Here is the complete In-N-Out Gluten-Free menu. This is a great place to go if you're looking for a quick gluten-free meal. They may not have gluten-free buns, but they have been doing Protein® Style (wrapped in lettuce) burgers for a long time now and they are delicious! Literally, everything on their menu minus the buns is gluten-free.
In-N-Out Gluten-Free Menu 2023
Hamburger Protein® Style (Bun replaced with Lettuce)
Cheeseburger Protein® Style (Bun replaced with Lettuce)
Double-Double® Protein® Style (Bun replaced with Lettuce)
French Fries
Chocolate Shake
Vanilla Shake
Strawberry Shake
Coca-Cola®
Diet Coke®
7UP®
Dr Pepper®
Root Beer
Lemonade
Minute Maid® Light Lemonade
Iced Tea
Coffee
Milk
In-N-Out History
In-N-Out burger restaurant was founded in California in 1948 by Harry and Esther Snyder. Harry was a World War II veteran. The two met in Seattle where he was working as a caterer before meeting Esther who was working as a waitress at a local food store where Harry used to eat. They soon became a pair and moved south to California where they started a small burger stand of their own on the same street where Harry grew up as a child.
Later on, they opened their first fully fledged restaurant where customers were treated to the freshest burgers, hottest fries and coolest shakes in a friendly and clean atmosphere. To this day, the menu has not changed a bit and guests are still treated to the same quality service.
During the restaurant's launch, Harry would often make quick stops at the local market every morning to buy fresh ingredients to use. Esther took it upon herself to maintain the books and keep them within reach. In-N-Out became the first drive-thru hamburger location in California and also pioneered the use of a 2-way speaker system for communicating with customers, something that's very common today in fast food restaurants.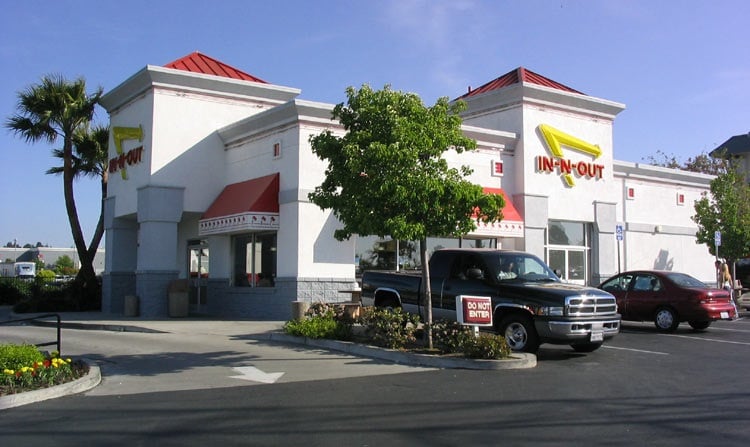 As their mode of operation, the restaurant has strict requirements for opening a restaurant. This helps maintain quality for the franchise chain. The company is family owned and has never gone public or offered franchising opportunities throughout its existence.
Currently, In-N-Out is managed by Lynsi Snyder, who is the granddaughter of Harry. She's famous for being America's youngest female billionaire. As a company policy, each restaurant is required to be within a one-day driving distance from their official distribution centers. This ensures that the ingredients are always fresh during preparation in their kitchens.
According to a report by Privco, the company brings in $625 million annually in revenue and has an estimated value of $1.1 billion based on another report by Bloomberg. Unlike some other restaurant chains, In-N-Out always treats its staff members courteously and they pay higher wages than the federal minimum amount.
Sources
If this In-N-Out gluten-free menu was helpful or if you find something inaccurate please let us know below.
Not happy with the In-N-Out menu?
In-N-Out Gluten-Free Menu
Summary
In-N-Out is a great place to go if your looking for gluten-free fast food. Their entire menu is gluten-free minus the burger buns, but they offer lettuce wraps as an alternative.