Here is the complete Jack in the Box gluten-free menu. They don't have a lot of gluten-free options available, but they do have some delicious salads! I also really love their chocolate shakes.
Jack in the Box Gluten-Free Menu 2023
Salads
Chicken Club Salad with Grilled Chicken*
Grilled Chicken Salad*
Side Salad*
Southwest Chicken Salad with Grilled Chicken*
Creamy Southwest Dressing
Low Fat Balsamic Vinaigrette Dressing
Ranch Dressing
Spicy Corn Sticks
*Not including dressing or croutons (both come on the side in separate bags)
Snacks & Sides
Chiquita® Apple Bites with Caramel
French Fries
Note: They don't have a dedicated fryer, so beware of cross-contamination when it comes to things like fries.
Drinks
All drinks and smoothies are gluten-free.
Shakes
Chocolate Shake with Whipped Topping
Strawberry Shake with Whipped Topping
Vanilla Shake with Whipped Topping
Jack In the Box History
Jack in the Box is a successful U.S. based fast food restaurant chain that was founded in 1951 by Robert Peterson. It was established in San Diego, California where it's also currently headquartered.
The company has around 2,200 locations operating in the western region of the United States, and a few other select large cities on the eastern side. Some of the food items they have on offer include hamburgers, cheeseburger sandwiches, egg rolls and tacos among others. The company also owns a small sister company known as Qdoba Mexica Grill.
Peterson opened the first location in San Diego along the main boulevard leading into the city. He only had a typical intercom system, drive-thru window space and tiny restaurant where he served hamburgers to passing drivers for just 18 cents.
In 1968, the restaurant was acquired by Ralston Purina Co. which expanded operations into other parts of America such as Phoenix, Arizona. Three years later, the company had expanded into Texas, where they opened locations in the Houston and Dallas areas. By 1979, they were operating more than 1,000 restaurants.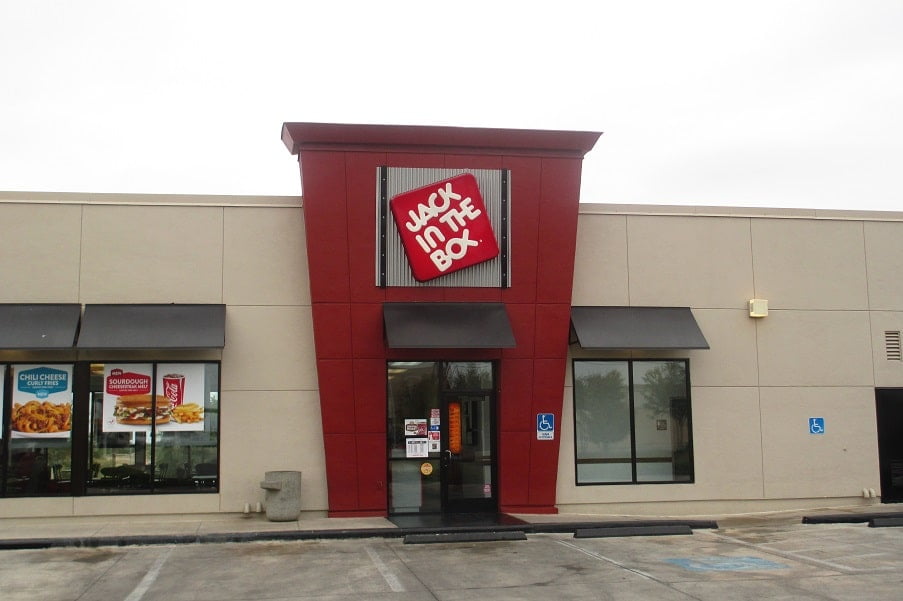 Over the years, the company has been on a mission to expand their reach and can now be found in 47 states across America, as well as Canada and the District of Columbia. Many consider them the industry's leader in fast-casual dining. Each of their restaurants showcase food that celebrates a passion for fine ingredients, innovative menus, handcrafted cooking and welcoming service. They also have a habit of introducing new items in rotation every 3 to 4 months, including items such as the Philly cheesesteak, deli trio, and zesty turkey.
The company also lists seasonal food items like Oreo mint, eggnog and pumpkin pie shakes which are available during Christmas and Thanksgiving holidays. Moreover, in certain locations, there are local delicacies that form part of the main menu, such as the Paniolo Breakfast of Hawaii.
Sources
If this Jack in the Box gluten-free menu was helpful or if you find something inaccurate please let us know below.
Not happy with the Jack in the Box menu? Let them know we want healthier gluten-free options.
Jack in the Box Gluten-Free Menu
Summary
While Jack in the Box does have a few options for eating gluten-free, it isn't much.