Here is the complete Jersey Mike's gluten-free menu. Jersey Mike's is one of the more gluten-free friendly fast-food restaurants. They provide alternatives for their subs, wraps, and bread. For gluten-free bread, they use the Udi's brand.
Jersey Mike's employees will also remove their gloves and wipe down the counters and machines before they make a gluten-free sub. However, due to the nature of the food they prepare, be aware there is always a chance of cross-contamination.
Jersey Mike's Gluten-Free Menu 2023
Cold Subs
All subs can be made on the gluten-free Udi's bread. It's available in both regular and giant sizes. It's refreshing to actually get a big sandwich. Most places with a gluten-free option limit you to the small size, which is frustrating. If you're really hungry, Jersey Mike's is a great place to eat!
Jersey Shore's Favorite
Ham Provolone
The Veggie
The Super Sub
Turkey and Provolone
Tuna Fish
Roast Beef and Provolone
The Original Italian
Club Sub
Club Supreme
BLT
The Number Four
Stickball Special
Cancro Special
California Dreamin'
Natural Turkey Sub
Chipotle Turkey Sub
Salami and Cheese
California Club Sub
Turkey Club Sub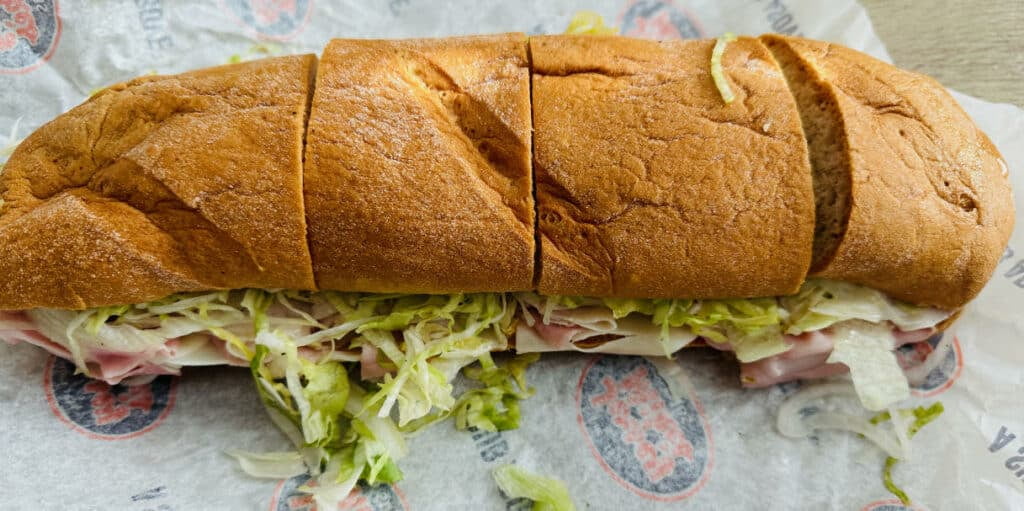 Hot Subs
You can do all the same substitutes on the hot subs.
Mike's Famous Philly
Chipotle Cheese Steak
Big Kahuna Cheese Steak
Mike's Chicken Philly
Chipotle Chicken Cheese Steak
Big Kahuna Chicken Cheese Steak
California Chicken Cheese Steak
Buffalo Chicken Cheese Steak
Meatball and Cheese
Grilled Pastrami Reuben
BBQ Beef
Grilled Italian
Breakfast
All breakfast options can substitute the bread for gluten-free bread.
Bacon, Egg, and Cheese
Sausage, Egg and Cheese
Ham, Egg, and Cheese
Steak, Egg and Cheese
Egg and Cheese Sandwich
Salad
Grilled Chicken Salad
Tossed Salad
Sources
If this Jersey Mike's gluten-free menu was helpful or if you find something inaccurate, please let us know below.
Not happy with the Jersey Mike's menu? Let them know we want healthier gluten-free options.
Jersey Mike's gluten-free menu
Summary
Jersey Mike's goes above and beyond in preventing cross-contamination during the preparation of gluten-free meals. They also make sure to provide plenty of gluten-free alternatives of subs, wraps, and bread.