So as many of you know I have Ulcerative Colitis. And thanks to tricks I have learned over the past couple years I have been off my medication for a long time. It took a long time to learn the hard way what worked and what didn't.
Going gluten-free was one thing that saved my life. And one of the driving factors for starting this website in the first place! Even off my medication though my stools have, well, let's just say they have never been back to perfect. They have always been rather loose. So I recently decided to up my fiber intake and something amazing happened.
Check out my Metamucil review below.
All I can say is that Metamucil literally just changed my life forever.
Metamucil Review
I have only been taking it for two weeks but the changes have been night and day! My loose stools have pretty much disappeared and I am back to normal. For anyone suffering with Ulcerative Colitis or Crohn's Disease they will relate with just how much of a miracle this really is. I noticed a difference after only taking it for one day! The funny thing is I had tried upping my fiber years ago after reading advice from other people. However, my one mistake was that I didn't take enough! 
Dosage
There are different dosages when it comes to taking Metamucil. For promoting and maintaining digestive health the recommended dosage is 2 to 5 capsules up to 4 times daily. That seems like a lot! When I tried a couple years ago I took 2 max per day because I was worried about getting too much. However, this time around I decided to take 6 per day, still under the suggested amount. I took 2 every time I ate. So 2 in the morning, 2 at lunch, and 2 in the evening.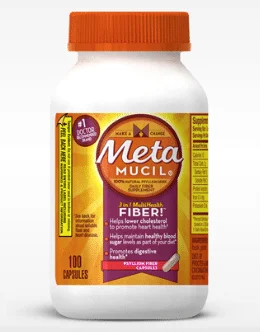 Why? Because the way fiber works is that it sucks up all the excess water. This seemed to be a miracle formula for me. Suddenly everything I ate and drank no longer required bathroom trips after a couple hours. In fact, over the past couple weeks there have been some days where I have only gone once per day! I also don't have gas anymore.
Trial and Error
My suggestion is to start on a low dosage and keep upping it until you notice some changes. Some people might experience bloating, I didn't. If you have tried taking fiber before and didn't notice any results like me, maybe you didn't take enough. 6 per day seems to be the sweet spot for me. Again, everyone is different and I can't promise this will work for you. But it is definitely worth a try! It has been a game changer for me. I have almost teared up some nights thinking about it. Only those suffering with these diseases will be able to relate with how just feeling normal is something we never think we will achieve. And when we do, it is almost unbelievable.
Ingredients
There are only two ingredients in Metamucil, and that is Psyllium husk and gelatin. I take the capsule versions because they are easy to grab on the go. I get mine on Amazon.
Hopefully this Metamucil review was helpful. I still eat gluten-free of course, and follow my other tricks. But now combined with taking Metamucil, I almost forget that I have Ulcerative Colitis! Would love to hear about your experiences with it. Feel free to comment below.
Metamucil Review
Effectiveness

Ingredients

Price

Ease of Purchase
Summary
Everyone is different, but for me Metamucil literally changed my life. I went from loose stools and gas to almost completely back to normal! I almost don't remember I have Ulcerative Colitis anymore.