Have you ever considered consulting a nutritionist? Or perhaps you are wondering what is a nutritionist? Here are some reasons that you may want to schedule an appointment with one:
You've recently been diagnosed with Celiac Disease and don't even know where to begin to change your diet.
You've been trying to eat gluten-free, but are still plagued with some gastrointestinal issues.
You have been eating gluten free for several years, but feel that your menu is boring and lacking variety.
You are trying to manage another condition, along with a gluten-free diet, such as diabetes, irritable bowel syndrome, lactose intolerance, or anemia.
You are pregnant, and want to ensure you are eating well-balanced, nutritious meals.
You are traveling a lot, and are having trouble managing you're your gluten-free diet on the road.
What is a Nutritionist?
So what is a nutritionist? A nutritionist is a trained professional who has completed coursework in human nutrition, food science, and may have specialized training in specific types of healing diets. While not a dietician, who will typically have a Master's Degree in Nutrition and Dietetics, a nutritionist can be a valuable ally in your goal to remain gluten-free. A nutritionist is not qualified to help diagnose of diseases, but they can be very knowledgeable about ingredients, and can help you plan out tasty and nutritious menus that will keep you motivated to stay on a gluten-free diet.
In most major cities or metropolitan areas, a nutritionist is fairly easy to find. According to the United States Bureau of Labor Statistics this profession is growing. In 2012, the U.S. government reported that there were over 67,400 dietitians and nutritionists employed across the country. By 2022, this number is expected to climb to 81,600. More than ever, people are realizing that health and nutrition go hand in hand, and that a trip to a nutritionist may be more helpful than a trip to your doctor.
Celiac Disease
Celiac disease is an autoimmune condition that causes a person to have a permanent intolerance to the gluten protein. Gluten is found in wheat, barley, rye, and other grains. So when people who have celiac disease eat gluten, even in tiny amounts, their immune system turns on itself and begins to damage the finger-like villi that line the small intestine. The villi then become flattened and are unable to absorb vital nutrients and vitamins that are needed for good health. Over 3 million people in the US have Celiac disease, and some researchers think that this number is rising, in response to the prevalence of processed foods that introduce gluten from a very young age.
Celiac disease that is untreated, can lead to significant GI and non-GI symptoms, including as diarrhea, gas, bloating, fatigue, constipation, and other complications such as headache and joint pain and swelling, and may even lead to intestinal cancer. Fortunately, Celiac disease can be treated through diet alone, by following a strictly gluten-free diet. Even the smallest trace amount of gluten can cause a negative reaction in someone with the disease. Many foods have hidden amounts of gluten, and most people with Celiac's can benefit from a nutritionist to determine what foods are safe to eat.
Gluten Sensitivity
Gluten sensitivity describes people who are not diagnosed with Celiac disease, but who still can't eat gluten products without significant GI symptoms. The major difference with gluten sensitivity is that researchers do not believe that the condition causes intestinal damage, like Celiac's. Gluten is made up of many complex proteins that are not easily digested by humans, and certain people are very susceptible to intestinal distress from undigested gluten proteins.
Meeting with a Nutritionist
Here's what you can expect when you first meet with a nutritionist. Most nutritionists will take the time to get to know your medical history in a relaxed fashion, and will gather information including your current medical status, your weight history, sleeping patterns, exercise routine, and eating habits. The goal is to get to know you as a whole person, and help you meet your goals for healthy and happy living, without gluten. Before your first meeting, it can be a good idea to write down all of your questions and concerns and bring that list with you.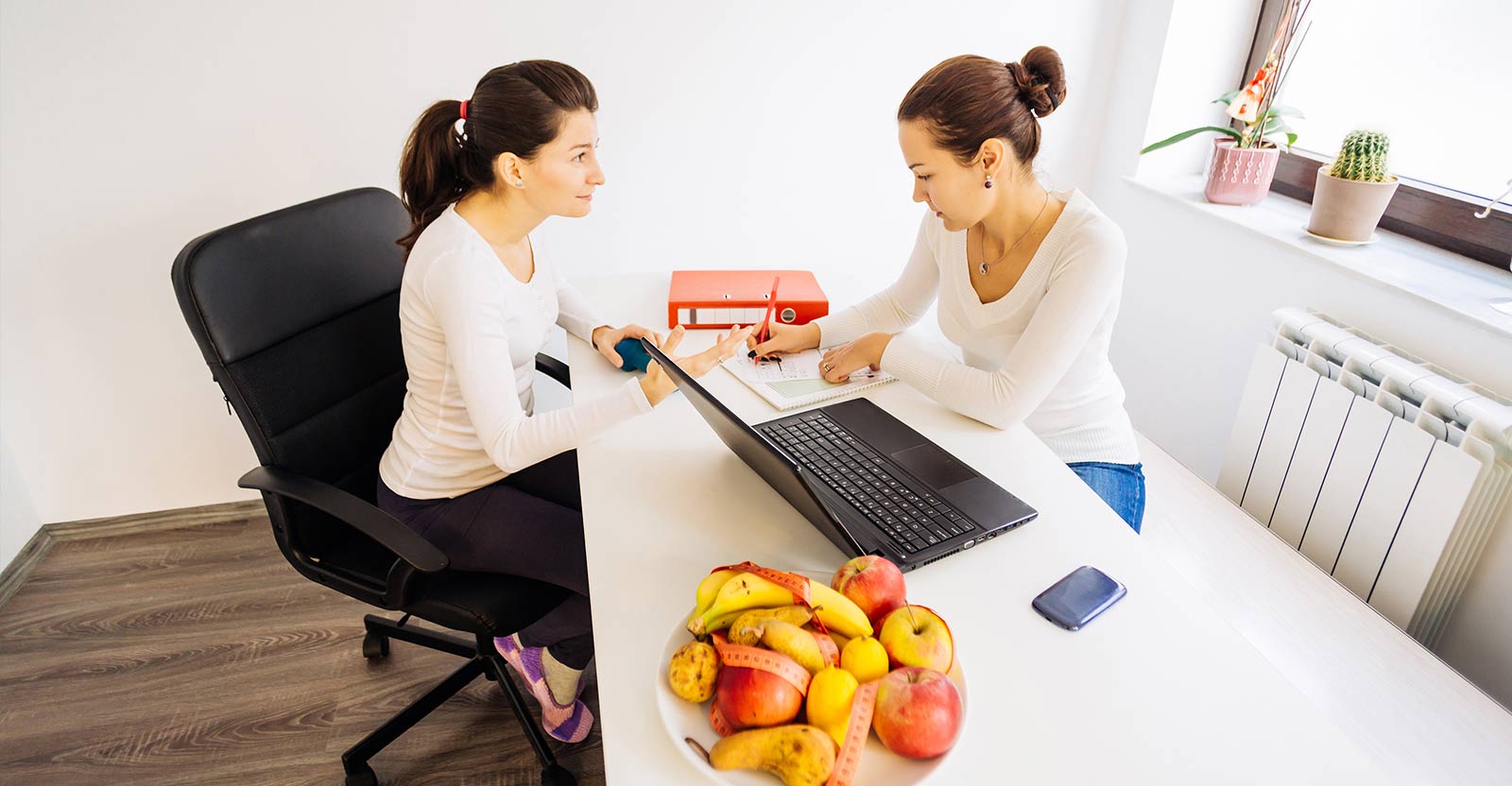 Based on the information gathered from your doctor, various lab tests and during your first appointment, the nutritionist will then devise a personalized gluten-free eating plan for you that takes into account your preferences. For instance, you may prefer to limit the amount of meat that you eat, or you may dislike certain vegetables, or you may want a light dessert every day. All of these requests can be accommodated by a good nutritionist.
If you have special needs, such as another medical condition, or stress, the nutritionist may recommend a very specific meal plan to increase your baseline health, and then introduce other foods gradually.
A follow-up appointment may be scheduled in the office or in your home, to review all ingredients that contain hidden sources of gluten. Education is an important component of working with a nutritionist. He or she may share a recommended reading list for you, or suggest you purchase a certain recipe book that they feel will be helpful. A good nutritionist will not scold you for your eating habits, they will work as your partner to help you establish new, gluten-free meals and snacks so you don't feel deprived. Some nutritionists will even come to your house and help you throw away the food you can no longer eat.
Once you have a new plan, many nutritionists will want to work with you on a daily basis, via email or phone calls, to answer questions as they arise, and to support you as you transition to gluten-free meals. This can be very reassuring, because your health is at stake if you eat even small amounts of gluten. Many people work with a nutritionist for a month or so, and then are able to follow-up once or twice per year, as they get more accustomed to their gluten-free life.
Sample Gluten-Free Meal Ideas
Here are some meal tips from a nutritionist in Boulder, Colorado, who regularly sees both adults and children with Celiac disease or gluten sensitivity. She believes that the main goal is to start with fresh, naturally gluten-free foods that are minimally processed. If you have Celiac, it's very important to make nutrition your top priority by eating fresh, healthy, life-affirming foods that overcome the imbalance in the body caused by the disease. Processed foods should be kept to a minimum, and foods like fresh raw carrots, sweet potatoes, spinach, kale, broccoli, beans and legumes, fruits, nuts and seeds should be incorporated in your gluten-free diet on a regular basis.
Breakfast
Gluten-free pancakes with ground flaxseeds and chopped pecans and jam.
Cottage cheese with strawberries, blueberries and sliced toasted almonds
Corn or Rice Chex served with skim milk and raspberries
Vanilla flavored Greek yogurt with a sliced banana and agave syrup
Gluten-free instant oatmeal with a sprinkle of brown sugar and walnuts
Lunch
Baby spinach salad with chickpeas, grated carrots, feta cheese and walnuts. Dress with olive oil and lemon juice
Diced chicken with grapes, celery, green onion and gluten-free ranch dressing, served with gluten-free rice crackers
Grilled quesadilla with corn tortillas, sliced cheddar cheese, diced green chili's and sliced tomatoes.
Gluten-free sliced turkey meat, wrapped around cream cheese, and roasted red peppers
Vegetarian bean chili served with tortilla chips and a drizzle of sour cream.
Dinner
Baked lean turkey burger topped with tomato sauce and melted low-fat mozzarella on a lettuce bed with steamed broccoli
Roast chicken with rice and a marinated mixed vegetable salad
Grilled zucchini and eggplant lasagna, layered with ricotta cheese and organic gluten-free tomato sauce, plus a three bean salad with olive oil and balsamic vinegar
Grilled skirt steak, with gluten-free Mexican seasoning, served with corn tortillas, fresh salsa, cotilla cheese and lime slices
Skillet fried pork chops with salt, pepper and sage, served with organic applesauce and a side salad
Baked salmon cooked in aluminum packets with fresh herbs, sliced onions, carrots, garlic, cumin, and lemon served over rice.
Snacks
Banana and peanut butter
Yogurt shake with fresh strawberries
Gluten-free protein bars or nut bars
A handful of almonds with raisins
Gluten-free rice cakes with almond butter and jam
Corn chips with gluten-free bean dip
Air-popped popcorn
String cheese and gluten-free crackers
Cottage cheese and sliced tomato
Receiving a diagnosis of Celiac or gluten insensitivity can be quite a shock. To feel your best, you may need to completely reset your relationship with food, and focus on healthy gluten-free meals eaten at regular intervals. Working with a nutritionist is a fast-track way to reach your goal of healthy eating. You will reduce the amount of trial and error that may be involved in establishing a new diet, and will have the moral support of an expert, who can help guide you through the process. Here are some links so you can find a nutritionist near you.
References