After finishing a work out at the gym, going for a long bike ride, or running a marathon you may find yourself craving a nice, cold glass of water. When it comes to re-hydrating after intense exercise you may be surprised to learn that you have many choices of water, some of which offer incredible health benefits. Knowing that our bodies are made up of 60% water, it is clearly important to thoughtfully choose a water brand (1).
One bottled water option to consider is a performance water brand on the market since 2004 called AQUAhydrate, a Southern California-based company. Ever tried Aquahydrate water? The company is privately owned by a group of investors including Ron Burkle, Mark Wahlberg, and Sean Combs.

AQUAhydrate Beginnings
A Forbes magazine article describes how Mark Wahlberg first discovered the water and got involved in the company. Wahlberg was in the midst of training for his role as a boxer in The Fighter movie when a friend of his gave him a bottle of AQUAhydrate water. With the intense physical activity involved in training for a role as a boxer, Wahlberg was consuming over a gallon of water a day and struggling to feel hydrated even with all of that water.
After drinking AQUAhydrate, he felt so much better and was instantly interested in the company. He shared the water with a few of his friends including Sean Combs, who gave the water a try after a long night out in Las Vegas. Combs claimed the water helped him recover faster from his hangover than any other water he had tried so he joined Wahlberg and invested in the company.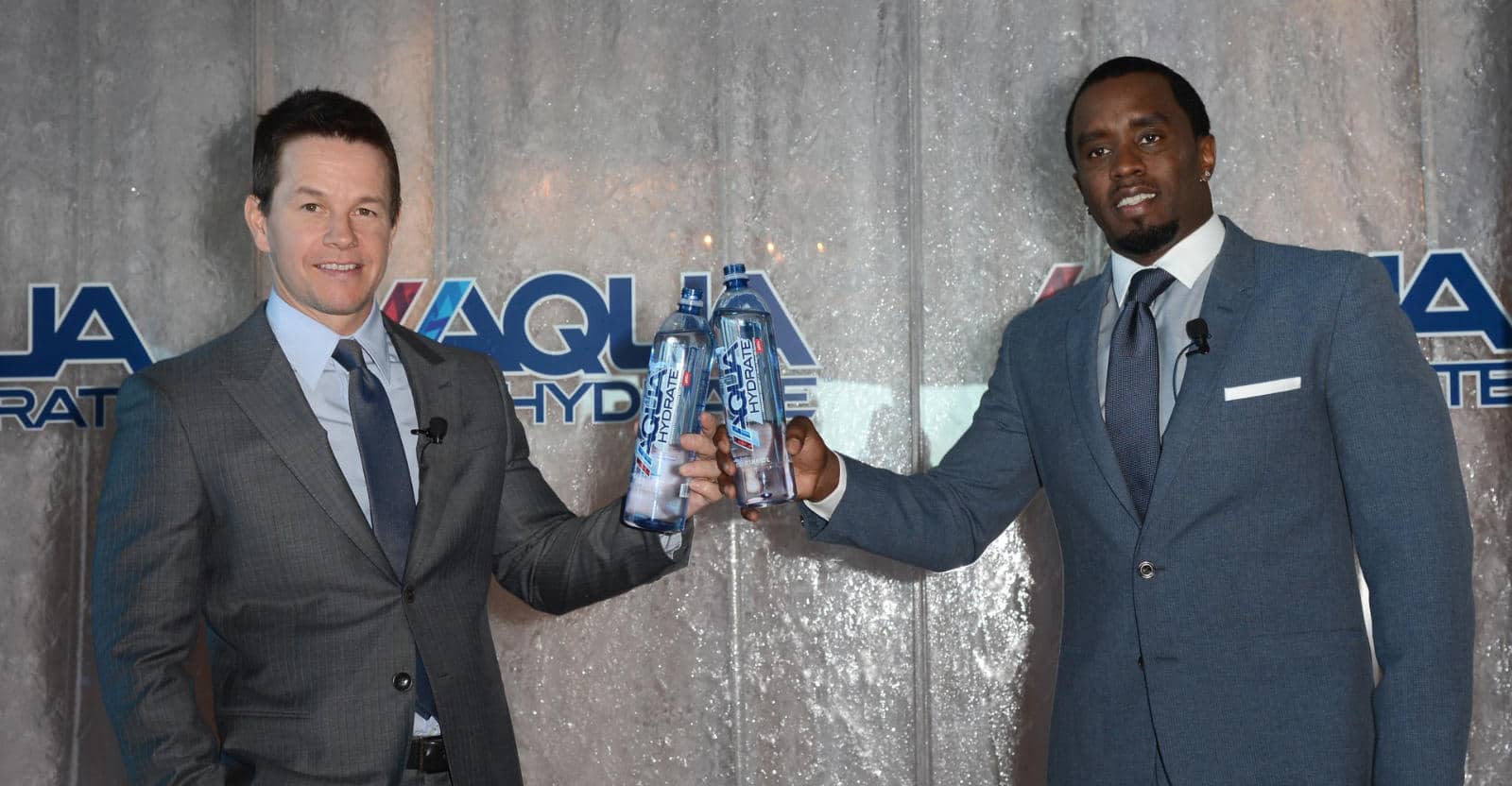 AQUAhydrate Water Alkaline Process
AQUAhydrate uses a proprietary, three-step process to purify, supplement with electrolytes, add natural trace minerals, and raise the alkalinity of the water.
1. Pharmaceutical Grade UV Filters
First, pharmaceutical grade UV filters are used to purify the water and remove impurities and any unwanted chemicals. While some companies find it important to mention where the water comes from, AQUAhydrate does not state where the water comes from but boasts that the patented filtration system can create quality water from any source.
2. ConcenTrace
Second, ConcenTrace, a blend of electrolytes and minerals sourced from the mineral-rich, lake regions of Utah, is added back into the water. The level of electrolytes in AQUAhydrate water is two times higher than the electrolyte levels in the water of their competitors.
A lot of athletes or active individuals looking to replenish electrolytes have turned to sports drinks like Gatorade or SmartWater. AQUAhydrate believes that with their high levels of electrolytes, their water offers all the benefits of a sports drink but without the added fillers, chemicals, or calories. On the nutrition label, you can find sodium, chloride, and magnesium listed since they make up some of the electrolytes that are added back to the water in high quantities.
3. Electrolysis
Third, using electrolysis, the company boasts an alkaline pH level of 9 in their bottled water which is actually quite high compared to some of their counterparts. In addition to the high pH level of 9, AQUAhydrate has perfected their patented process so that the water's alkalinity can be maintained for longer than most of their counterparts. The process they use does not add in any products to make the water alkaline and allows the water to remain in an alkaline state for approximately 2 years. Some other companies add chemicals like sodium or potassium bicarbonate, sodium or potassium hydroxide, or magnesium hydroxide. With these chemicals included in the water, AQUAhydrate's competitors are only able to maintain the alkalinity of their water for 4 weeks. Make sure you check out our article on more of the health benefits of alkaline water.
AQUAhydrate Mission
According to their website, AQUAhydrate's mission is:
"We create, craft and deliver innovative and high quality beverages that provide you with a healthy balance of nutritional benefits so you can perform at the top of your game, no matter what drives you. We never overpromise and will always strive to over deliver by working harder, pushing the boundaries of what can be achieved and living by our beliefs and core values. We exist to passionately encourage you to explore the new. Stretch yourself, perform well and accomplish your goals (2)."
Reading the mission statement and looking through their website, it is clear their target audience is athletes and those physically pushing themselves to their limit. Supporters of AQUAhydrate are mostly professional coaches and athletes who embody and live out the company's mission. A few of the supporters include: Vince Wilfork, a professional football player for Houston Texans; Wilson Chandler, a professional basketball player for Denver Nuggets; Jenny Kropp, a professional beach volleyball player; Carmelita Jeter, a professional track and field sprinter; Evander Kane, a professional hockey player.
Not only has AQUAhydrate worked with individual athletes but also with entire teams. For example, during the 2012-2013 season, AQUAhydrate partnered with the LA Clippers professional basketball team and stocked their water in the training facilities and at all the games.
Buying AQUAhydrate
If you find yourself interested in trying AQUAhyrdate water, there are several different ways to purchase their water. It can be ordered online either through GNC.
If you prefer the convenience of buying your water along with the rest of your groceries, you can find AQUAhydrate water in most Safeway, Target and Kroger stores. If you aren't sure where the closest location is for you to purchase their water, you can find a convenient store locator on AQUAhydrate's website.
Compared to other bottled alkaline water on the market, there are a few things that set AQUAhydrate water apart. First, their water has an excellent pH level of 9. Second, for those looking to replenish electrolytes lost through sweat from intense exercise, their water has twice as many electrolytes as other bottled waters on the market. Third, their water has been independently tested to prove that it has a great shelf life of 2 years compared to other bottled alkaline water brands with only 4 weeks of shelf life. If you are living an active lifestyle and want to feel refreshed and rejuvenated you may want to give AQUAhyrate water a try today!
And if you are concerned about the actual pH levels, we recommend testing it yourself with a pH water meter.
Sources
Aquahydrate Water Review
Taste

pH Level

Price

Nutritional Value
Summary
Aquahydrate has a lot of hype around it! But don't let that put you off. All in all, it has a pretty great taste and a high pH level. Definitely great for work outs and is a healthier alternative to other sports drinks without any added fillers, chemicals, or calories.