Here is the complete Firehouse Subs gluten-free menu.
They have a good selection of salads. Most locations in the US and Canada also now have gluten-free sub rolls. However, it's only offered in the medium size.
Firehouse Subs gluten-free menu 2023
Bread
Firehouse Subs does have a gluten-free sub roll in all US and Canada locations, excluding airports and universities (source). The gluten-free rolls can be substituted in any medium sub for an additional charge.
However, in my experience, they run out of gluten-free bread a lot. In fact, there have been a couple of months where they don't have it at all. Because of this, I can't really recommend anyone try Firehouse Subs, as it might be a wasted trip. Jersey Mike's is way better. I've been going there for years, and they never run out of bread.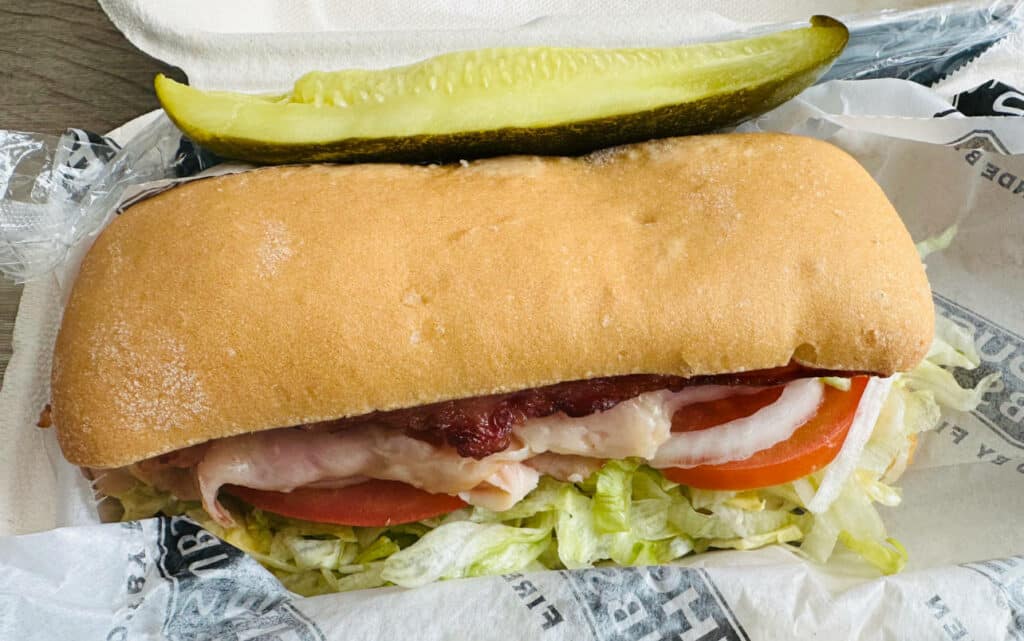 Note: Although the gluten-free sub doesn't contain any gluten, their restaurants use bread with gluten. Therefore you should be careful about cross-contamination.
Chopped salads
Chopped Hook & Ladder Salad
Firehouse Chopped Salad, No Meat
Firehouse Chopped Salad with Grilled Chicken
Firehouse Chopped Salad with Ham
Firehouse Chopped Salad with Turkey
Firehouse Chopped Side Salad
Italian Chopped Salad with Grilled Chicken Salad
Salad add-on toppings
Banana Peppers
Black Olives Add-On
Jalapeno Peppers
Salad dressings
Balsamic Dressing
Honey Mustard Dressing
Italian Dressing
Light Italian Dressing
Oil & Vinegar
Peppercorn Ranch
Soups
Broccoli & Cheese Soup
Chili
Sides and chips
Chili
Coleslaw
Pickle Spear
Catering salad platters
Catering Salad Chopped
Catering Salad Chopped Deluxe Chicken
Catering Salad Chopped Deluxe Ham
Catering Salad Chopped Deluxe Tuna Salad
Catering Salad Chopped Deluxe Turkey
Catering Salad Platter
Cheese
Cheddar Cheese
Monterey Jack Cheese
Pepper Jack Cheese
Provolone Cheese
Swiss Cheese
Meats
Chicken Breast
Oven Roasted Chicken
Pepper Bacon
Pepperoni
Salami
Sauteed USDA Choice Steak
Smoked Honey Ham
Smoked Turkey Breast Roast
Tuna Salad
USDA Choice Beef Brisket
USDA Choice Corned Beef Brisket
USDA Choice Pastrami
USDA Choice Roast Beef
Toppings
Au Jus Mushrooms
Avocado
Black Olives
Cherry Pepper Rings
Chopped Green Peppers
Chopped Pickle Spear
Coleslaw
Iceberg Lettuce
Onion
Pickle Spear
Tomato
Condiments
Balsamic Dressing
Cajun Mayo
Cajun Seasoning
Captain Sorensen's Datil Pepper Hot Sauce
Honey Mustard
Italian Salad Dressing
Italian Seasoning
Jerk Mustard
Light Mayonnaise
Marinara Sauce
Mayonnaise
Peppercorn Ranch Dressing
Spicy Mustard
Sriracha Sauce
Sweet Baby Ray's BBQ Sauce
Sweet Mustard
Add-on toppings
Banana Peppers
Black Olives Add-On
Jalapeno Peppers
Oil and Vinegar Dressing
Sources
If this Firehouse Subs gluten-free menu was helpful or if you find something inaccurate please let us know below.
Not happy with the Firehouse Subs menu? Let them know we want healthier gluten-free options.
Firehouse Subs gluten-free menu
Summary
Firehouse Subs has a great selection of salads. It really depends on the location of your Firehouse Subs. Some have gluten-free rolls, while others don't. They also run out of gluten-free bread a lot.