Most of us have grown up eating cereal for breakfast because it is a fast and wholesome choice that tastes great with milk. These days, cereal is also a great choice for on-the-go snacking and goes well with fruit or yogurt.
It's hard to imagine a diet without cereal, but 20 years ago, there were very few options for people diagnosed with Celiac Disease. Now, there are dozens of gluten-free cereals available that can help you avoid reaching for unhealthy pastries or donuts in the morning. Here is a list of our favorites:
Top 11 gluten-free cereal brands
1. Chex Cereals by General Mills
Chex cereals are one of the most popular brands on the market today, and General Mills makes Chex in Vanilla, Chocolate, Corn, Honey Nut, and Rice varieties that are gluten-free, as well as gluten-free granola. Look for the 'Gluten-Free' label on the left side of the cereal box, just to make sure. The Wheat Chex cereal is obviously not gluten-free, so make sure you don't grab a box by mistake.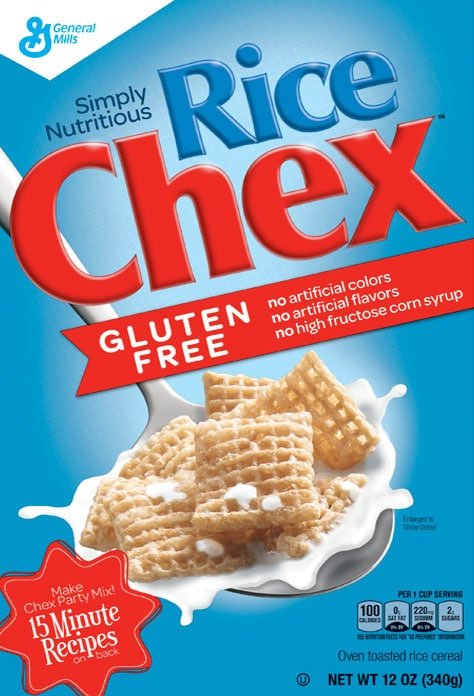 On the Chex website, you can find easy and tasty ideas for snacks and treats you can make with their gluten-free products, including fruit sundae cups, apple cereal muffins, and no-bake ginger peanut bites.
2. Kellogg's
Many of us remember Special K cereal as a typical food for a weight loss diet. But now, everyone tries to be careful with their calories, and Kellogg's makes Special K in a gluten-free variety that is really tasty! This is an excellent cereal to layer with yogurt and fruit for a quick parfait. Kellogg's also makes several varieties of gluten-free bars and protein shakes.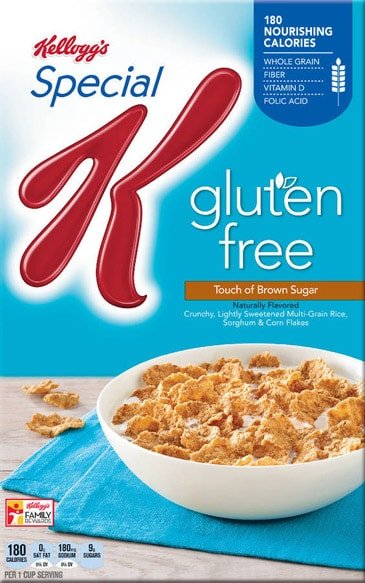 3. Nature's Path
Nature's Path makes over 50 gluten-free products, with over 20 varieties of cereal. The company was founded in 1985 and is a family owned manufacturer of certified organic products. Favorite cereal choices include a gluten-free Fruit & Nut Granola, Crunchy Maple Sunrise, Fruit Juice Sweetened Corn Flakes, and Gorilla Munch (a kid favorite). But our personal favorite is the Summer Berries Granola!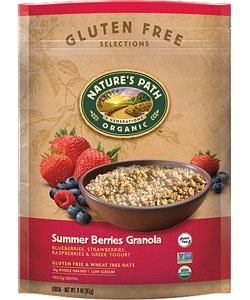 4. Barbara's Bakery
Barbara's Bakery has been making gluten-free cereals for decades now. Some popular choices for your children are their Honey Rice Puffins and Multigrain Puffins cereals. Adults may prefer Barbara's Corn Flakes, or Brown Rice Crisps cereals. Barbara's also has a commitment to the Non-GMO Project, to verify that all of their products meet the project's standards for wholesomeness.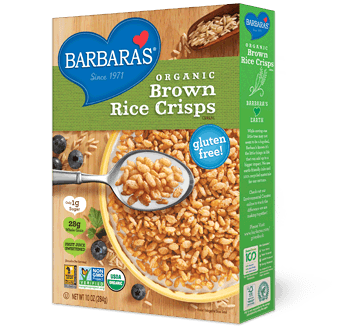 Buy Barbara's Bakery on Amazon
5. Kashi
Kashi believes in innovative nutrition that is derived from plants. They are also mindful of and support sustainable and ethical farming practices. Kashi offers a few gluten-free cereals including Indigo Morning Gluten-Free Corn Cereal and Simply Maize Organic Corn Cereal. One of Kashi's newest gluten-free cereals is Go Lean Clusters that are made of popped sorghum, crispy yellow peas, smashed red beans, and pepitas mixed in real vanilla. This sounds like a great cereal to take along on a hike or walk. Kashi's cereals are also Non-GMO Project verified.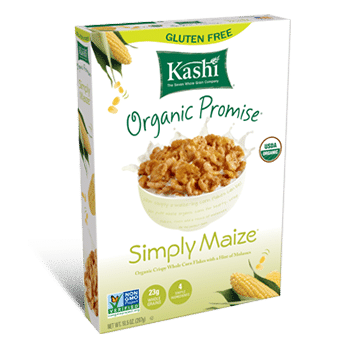 6. Arrowhead Mills Maple Buckwheat Flakes
Arrowhead Mills is primarily known for its stone-milled organic baking products. But they also have two gluten-free cereals and proudly display a gluten-free label on these and their other gluten-free baking products as a symbol of their commitment to integrity and purity of the ingredients. They carefully monitor their production sites to make sure that there is no possibility of cross-contamination.
Arrowhead Mills has been making their Organic Gluten-Free Maple Buckwheat Flakes for many years now, and recently added the new Organic Gluten-Free Sprouted Corn Flakes.
7. Kay's Naturals
Kay's Naturals focuses on creating products that have a healthier balance of nutrition, and all of their products are gluten-free. Kay's claims that many gluten-free foods are high in starch and lack essential nutrients, whereas their products have between 30-35% natural soy protein and fiber to ensure complete nutrition. Kay's Naturals is Gluten-Free Certified by the Certified Gluten-Free Organization.
Kay's Naturals offers three different flavors of cereal including Apple Cinnamon, Honey Almond, and French Vanilla. Each serving has 12 grams of protein and 4 grams of fiber, making Kay's Naturals cereals a breakfast powerhouse. Their products are also low glycemic.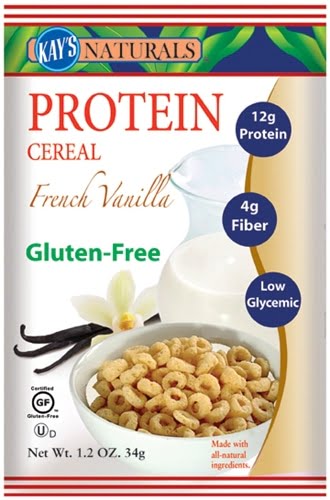 8. Erewhon Organics – Crispy Rice Cereal
Erewhon was a leader in the organic foods revolution back in the 1960's, and promoting the philosophy that "if what you eat is good, and pure, and true to its source, all else will follow." Erewhon offers a light and tasty Crispy Brown Rice cereal that is gluten-free. All of their cereals are USDA Organic, Non-GMO Project verified, and are made in a tree nut and peanut-free manufacturing facility.
9. Julian Bakery
For those who are gluten-free and on a Paleo diet, Julian's Bakery has an excellent option called Organic Paleo Cereal, which is gluten-free, low-carb, GMO-free, and soy-free, made from just three organic ingredients including coconut meat, coconut water and palm starch. When you are on the Paleo diet, it can be hard to find snacks that are crunchy! This cereal will satisfy your urge for a quick afternoon pick-me-up.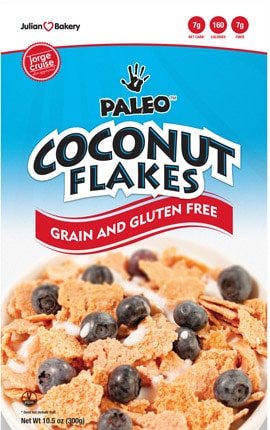 10. Cheerios
Another popular cereal on our list is Cheerios. Recently the company worked to revamp their sourcing and manufacturing process so that stray wheat, barley, and rye did not enter the oat supply. Theoretically, this would make Cheerios based on oats gluten-free.
But, not everyone agrees that oats are part of a nutritious gluten-free diet. According to the University of Chicago Celiac Disease Center, oats are gluten-free, and contain a type of protein known as avenins, instead of glutens. But, cross-contamination with gluten products is a real concern, especially since wheat and oats are often grown in the same fields on a rotating basis. So only make the decision to eat oats after consulting with your doctor or nutritionist. If you get the green light, then add Cheerios back as one of your breakfast and snacking options!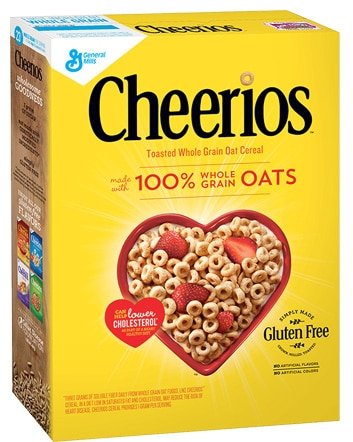 Cheerios varieties that are gluten-free:
Honey Nut Cheerios
Original Cheerios
Multi-grain Cheerios
Strawberry Cheerios
Apple Cinnamon Cheerios (my personal favorite!)
Frosted Cheerios
11. Lucky Charms
One of the most recent cereals from General Mills to go gluten-free is Lucky Charms. Of course, these are by no means a healthy cereal. But if you ever ate these as a kid and have a sweet tooth, you can now indulge yourself in some gluten-free Lucky Charms. Make sure when you are in the store to check the side panel for the "gluten-free" label at the bottom of the nutrition information.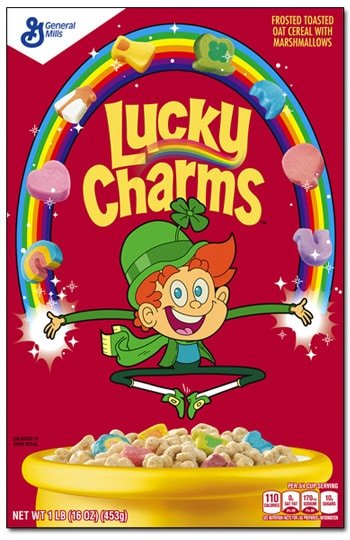 Summary
Did we miss any good gluten-free cereal brands? If so, let us know below in the comments!