When I was diagnosed with Ulcerative Colitis back in 2014, I was trying products left and right to see if it would help my condition at all. You name it; I have probably tried it. Everything from probiotics, to organic lotions, taking more fiber (Metamucil), juicing, different kinds of milk (Soy, Coconut, Almond), and an assortment of vitamins that you can't even imagine.
Figuring out how to tackle my Ulcerative Colitis wasn't fun, and I was trying everything I could to improve my misery. At the time, I was probably going to the bathroom 15-20 times a day. Let's just say; that is no way to live. You can check out my full story.
Being an entrepreneur, I have always been a fan of the Shark Tank show. On November 14, 2014, the Squatty Potty aired, and it immediately piqued my interest. They started talking about how squatting was better for your colon. After that, I immediately started doing my own research.
I ordered a Squatty Potty the next day, and the rest is history. Below is my review of the amazing Squatty Potty and how it has become another household item for me. I wouldn't call a place home without one.
What is the Squatty Potty?
To put it simply, the Squatty Potty is a bathroom toilet stool. It sits in front of your toilet and allows you to put your feet on top of it. This forces you to sit in a squatting position on your stool.
Health benefits
Now to tackle the nitty-gritty stuff. If talking about poop scares you, you are definitely on the wrong website.
The science behind the Squatty Potty is simple. When you are sitting in a squatting position, this allows your muscles to relax, specifically the puborectalis. It also unkinks your colon, which is usually at more of an angle when sitting down.
Think of it as pooping like the cavemen used to, or modern-day apes. If you have constipation, bloating, etc. this should help make going to the bathroom a little bit easier. And if you were curious, the Squatty Potty is registered with the FDA.
There are a couple of different kinds of Squatty Pottys now available. I started with the original one and am currently using the bamboo version.
The Original Squatty Potty
The Original Squatty Potty is made from a durable plastic material. There is a 7" (which is the standard height for most) and a 9" inch version. It is made in the U.S.A, and you can grab it on Amazon for under $25.00.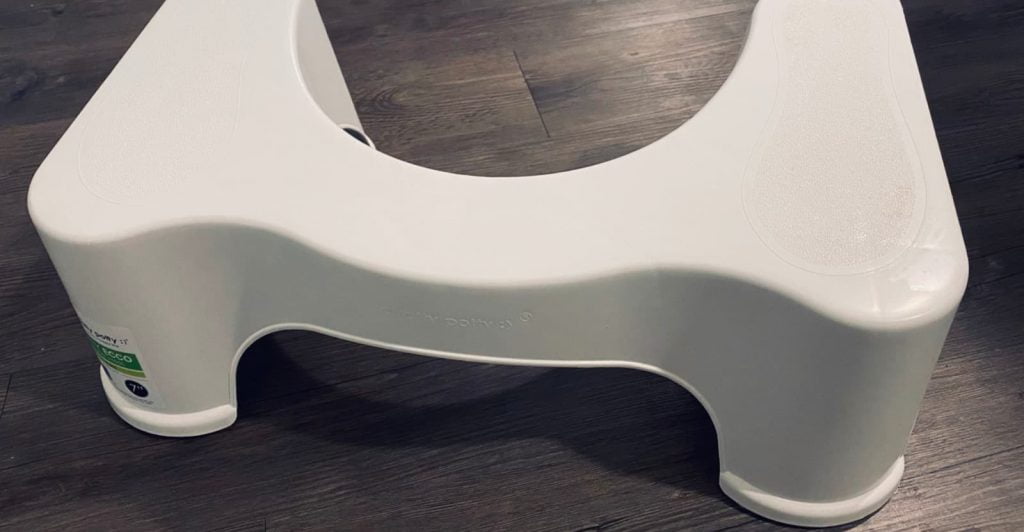 Another bonus is that it is really easy to clean! And yes, for those of you males out there, this is going to be important.
Squatty Potty The Original Bathroom Toilet Stool Height, White, 9 Inch (Pack of 1)
The #1 Way to #2 – Human bodies perform more efficiently if we squat instead of sit when we poop. Squatty Potty toilet stools help you reduce strain and time spent on the toilet.
Unkink Your Colon – Doctor recommended toilet stool to reposition your body into a squat (from 90° to 35°) to loosen your puborectalis muscle for a more efficient elimination. Helps you poop better.
Sizing Details – The 9" stool is optimal for more advanced squatters, anyone with a comfort toilet, or for those with shorter legs. Comfort toilets are 16.5–18" from floor to the top of the bowl.
Simple to Use – Just put your feet on the step and go. Your body will be in a squat.
Easy to Clean – Clean our bathroom toilet stool with soap and water or your favorite cleaner.
The Squatty Potty Bamboo Flip
I used The Original Squatty Potty for about five years before moving on to the bamboo one. Why did I move? Merely due to aesthetics. I already am in love with the product, and since I have wood floors, I wanted something that would look a little better. This might also be important to you if you have guests over.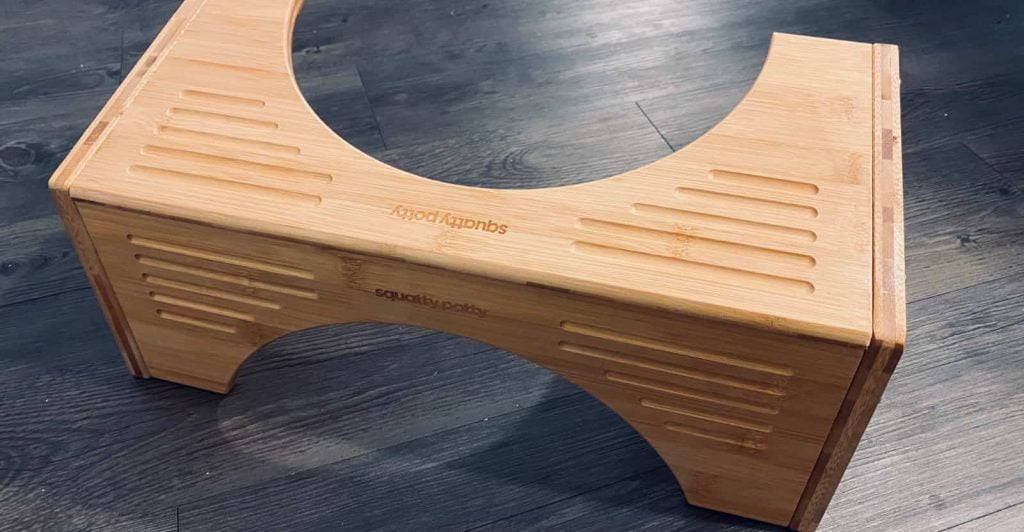 The Bamboo one is easy to put together; I was up and running in about 10 minutes. It is 100% natural bamboo, and it is easy to alternate between the 7" stool and 9" stool. You get both sizes in one. The quality of the build, in my opinion, is nice.
Note that the bamboo one is quite a bit smaller in overall size compared to the plastic Squatty Potty. However, this doesn't impact how effective the product is in any way.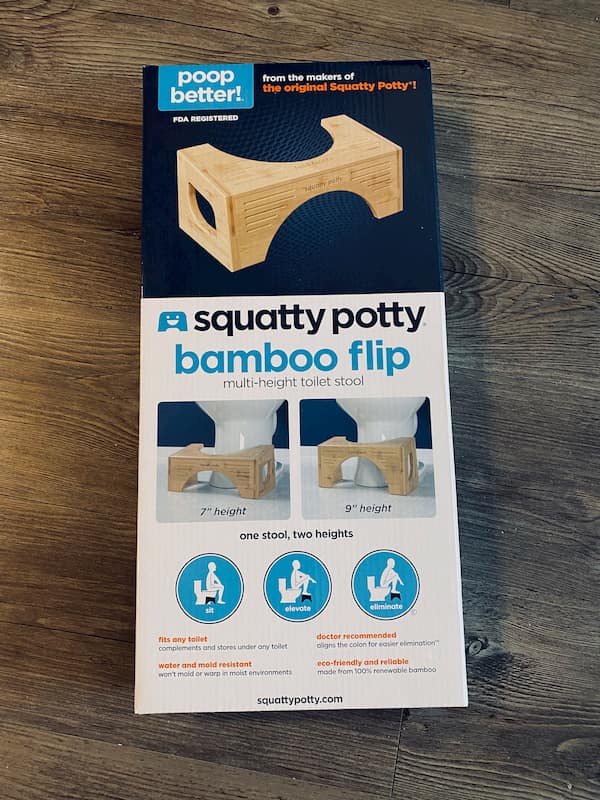 It is also easy to clean and is water and mold-resistant. You can grab it on Amazon for under $40.00.
Sale
Summary
I have been using the Squatty Potty for over six years now. I wouldn't ever live without one. The biggest issue I have now is that when I'm on vacation or out around town, it is simply not as pleasant going to the bathroom.
I would love to hear from you guys! Do you own a Squatty Potty already? Or do you have any questions about it? I would be happy to answer them. Feel free to drop a comment below.