Everybody craves a treat occasionally, and candy is an easy and delicious way to satisfy your sweet tooth. But if you or a family member have celiac disease or a sensitivity to wheat and gluten, it is very important to know which candies are safe for you to enjoy. Obviously, candies that contain crackers, cookies, cookie dough, wafers, or crisped rice must be avoided.
Fortunately, these days there are many different types of candy that are completely gluten-free, including some of your old favorites. The candies listed in this article do not have any protein from wheat, barley, rye, or other grains that are known to contain gluten. However, you should still always read the label of every type of candy before you eat or serve it. Many companies regularly change their ingredient list, and you should confirm that the ingredients are gluten-free before you buy.
Gluten-Free Candy List
Chocolate
Many types of chocolate bars and candy are gluten-free.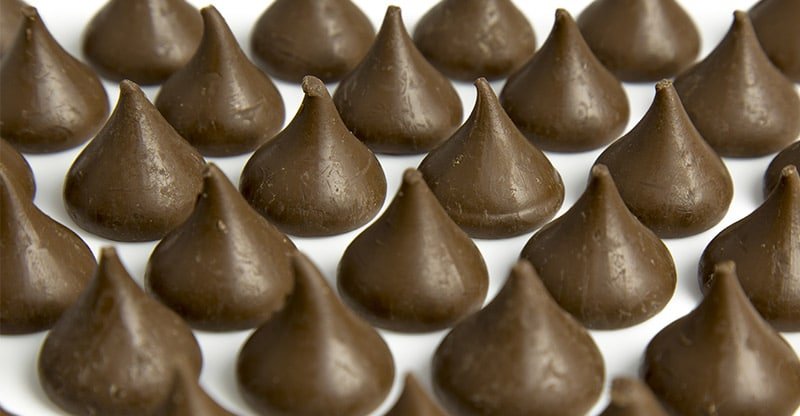 HERSHEY'S offers a wide range of choices, including:
Almond Joy Candy (except Almond Joy Pieces)
Mounds Bars
Payday Candy
Reese's Fast Break Candy Bar
Reese's Nutrageous Candy Bar
Reese's Peanut Butter Cups (except seasonal varieties and unwrapped minis)
Brookside Dark Chocolate Fruit & Nut Snack Bars
Heath Bars
HERSHEY'S Baking Chips
HERSHEY'S Kisses, in Milk Chocolate, Mildly Sweet Chocolate, and Mint Dark Chocolate Truffles Candy
HERSHEY'S Nuggets, in Milk Chocolate, Milk Chocolate with Almonds, and Special Dark with Almonds
HERSHEY'S Milk Duds
ROLO Caramels, Milk Chocolate
Skor Toffee Bars
York Peppermint Patties (not including York Pieces Candy, York Minis, or York Shapes)
Other types of chocolate bars that are gluten-free are listed here:
M&Ms, except for a couple variations
3 Musketeer Bars
Butterfingers (only the original flavor is gluten-free)
Milky Way Midnight Bar
Milky Way Caramel Bar
Dove Chocolate bars, except ones with graham crackers, cookies and cream or cinnamon
Baby Ruth
Oh Henry!
Cella's Dark Chocolate Covered Cherries
Cella's Milk Chocolate Coverd Cherries
Charleston Chew
Junior Mints
Sno-Caps
Goobers
Raisinets
Justin Nut Butters Dark Chocolate Peanut Butter Cups, as well as the milk chocolate, white chocolate, mini dark chocolate and mini milk chocolate peanut butter cups.
Melster Chocolate-Covered Marshmallow
Melster Compound-Coated Marchmallow
Melster Chocolate-Covered Creme Drops
Hard Candies
Hard Candies are a great choice to put in a purse or backpack for when you need a quick pick-me-up. Here are some gluten-free hard candies and lollipops that are easy to keep on hand.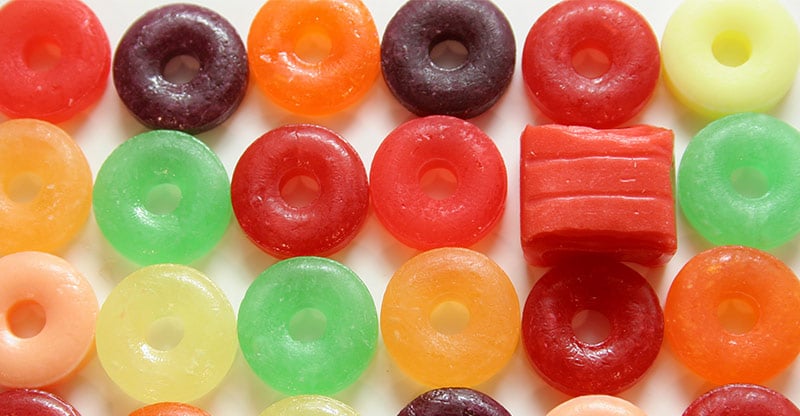 Dum Dum Lollipops
Lemonheads
Life Savers
Creme Savers
Nips
Tootsie Pops
Caramel Apple Pops
Fruit Smoothie Pops
Tropical Storm Pops
Charms Blow Pops
Charms Squares
Charms Sour Balls
Charms Candy Carnival
Sugar Daddy Pops
Necco Wafers
Necco Chocolate Wafers
Sweethearts and Conversation Hearts (only available in February for Valentine's Day)
Brach's Candy Canes
Brach's Cinnamon Disks/Imperials
Jawbreakers and Jawbusters
Warheads Extreme Sour Hard Candy and Candy Minis
Warheads Super Sour Double Drops
Atomic Fireballs
Tic Tac Mints – all flavors are gluten-free
Saf-T-Pops
Pez Candy (and nothing is more fun than a Pez dispenser!)
Chewy Candies
Most kids love chewy candies (even if their dentist doesn't!) Here are some delicious gluten-free options: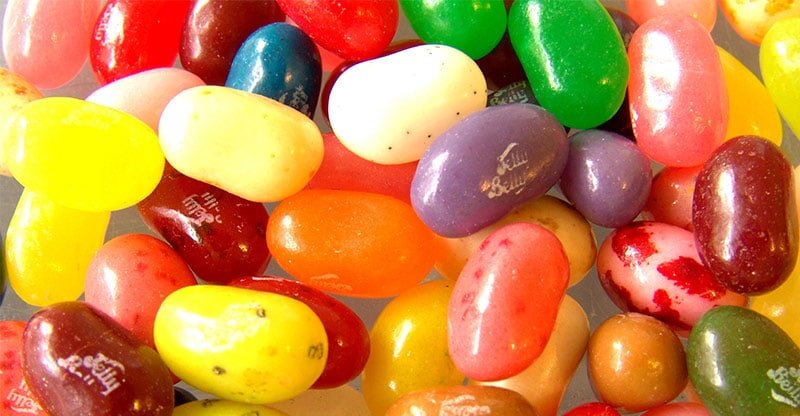 Starburst
Airheads
Skittles
Laffy Taffy
Laffy Taffy Rope
Hot Tamales
Tootsie Rolls
Now & Laters
Jelly Belly jelly beans (all flavors)
Bit-O-Honey
Fruit Rolls
Crows
Dots
Red Hots
Tropical Dots
Sugar Babies
Necoo Banana Split Candy Chews
Brach's Candy Corn
Brach's Wild 'N Fruity Gummi Worms
Brach's Jelly Bean Nougats
Cherry Sours
Chewy Lemonhead & Friends
Berry Chewy Lemonhead
Tropical Chewy Lemonhead & Friends
Warheads Sour Chewy Cubes
Melster Salt Water Taffy
Melster Circus Peanuts
Melster Sanded Marshmallow
Melster Coconut Toasties
Mike and Ike Original Fruits
Mike and Ike Redrageous
Mike and Ike Berry Blast
Mike and Ike Italian ice
Mike and Ike Lemonade Blends
Mike and Ike Tangy Twister
Mike and Ike Jelly Beans
Mike and Ike Tropical Typhoon
Zours
Goldernberg's Vintage Peanut Chews
Sweet's Salt Water Taffy
Crazy Candies
Crazy Candies – when you want something really different!
Wonka Fun Dip
Lollipop Paint Shop
Warheads Super Sour Spray Candy
Fluffy Stuff Cotton Candy
Gum
Gluten-Free Gum is another good treat to have around when you are battling a sweet tooth. Here are some gluten-free gum choices.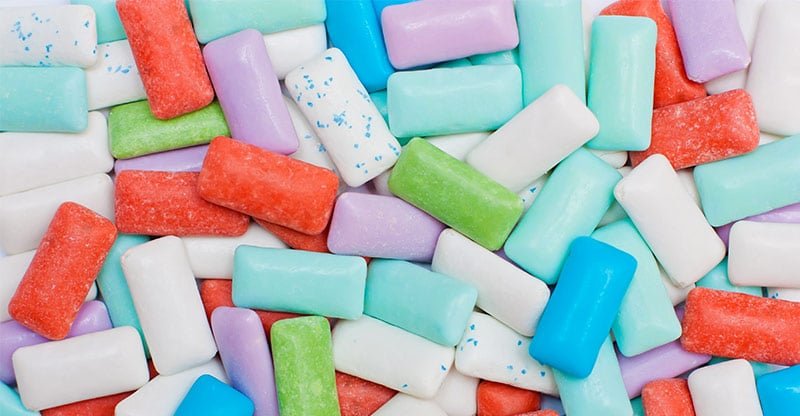 Trident, including all regular flavors, Layers, Vitality, Xtra Care, White and Splash
Wrigley's gluten-free gum products include 5-Gum, Big Red, Doublemint, Eclipse, Extra, Freedent, Juicy Fruit, Orbit, Spearmint, and Winterfresh.
Bazooka Bubble Gum
Bubbilicious Gum
Bubble Yum Gum
Chiclets – both regular and tiny size
Fruit Stripe Gum
Now, just in case this article did not provide you with enough candy options, you can always try making your own gluten-free candy at home. For instance, it's extremely easy to make sugar-coated nuts. Measure 1/4 cup of white sugar into a heavy pan and heat the sugar slowly until it turns into a syrup. Then toss in a few handfuls of nuts, like pecans, walnuts, or almonds. Try a variety of your favorite nuts. Stir in the pan until the nuts are coated then turn them out onto waxed paper or aluminum foil. Once cool, you can break apart the nuts. These treats will keep for up to 2 weeks in a covered tin or plastic container. Sugared nuts a great chopped up over ice cream. You can experiment with different flavors by adding cinnamon, cardamom, or paprika for a spicy sweet taste.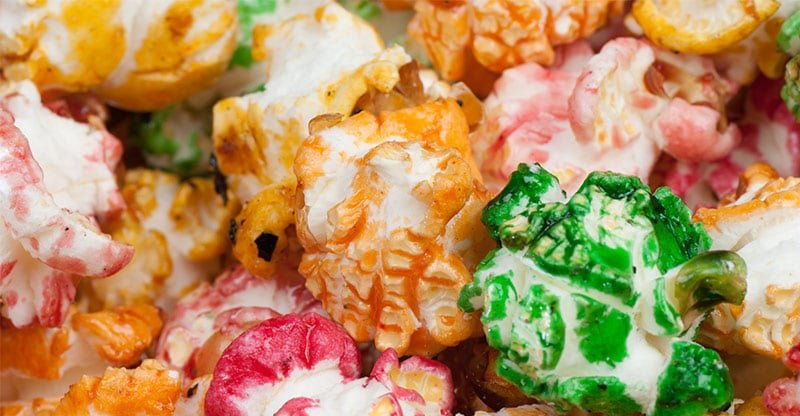 Another tasty treat is candied popcorn. A super easy way to make this is by melting three or four packages of Rolo Caramel candy. Melt the candy slowly over low heat. In about ten minutes when the candies are completely melted, just add three to four cups of freshly popped popcorn. Butter your hands up well, and when the mixture is cool to the touch, grab a handful of coated popcorn and mold into a ball. Wrap these popcorn balls up individually in plastic wrap to store. That is, if there are any left! This is an especially fun candy snack to make with your children or grandchildren when it is cold outside. Serve a popcorn ball with a cup of steaming hot cocoa as a fun winter treat. You can also add gluten-free candies from the list above to these popcorn balls. Try adding in Red Hots or chopped up Mike and Ike candies, or Sugar Babies. Use your imagination to make up your own unique gluten-free candy popcorn balls. Finally, if you are really ambitious, check online for recipes to make your own gluten-free taffy or caramel.
Summary
There is no reason to feel deprived if you or anyone in your family has celiac disease or is avoiding wheat and gluten-based foods for their health. Next time you go shopping, make sure to take this list with you and bring home some delicious candy to share with all of your favorite people!
References